The many faces of MOGAMBO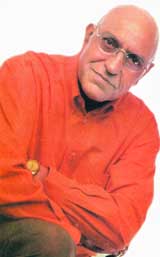 His villainy on screen remains unforgettable; his positive roles memorable. Amrish Puri excelled in whatever character he essayed. His acting prowess, towering height and baritone voice would often put to shade even the lead actors in the frame. He was the highest paid "villain" in the country, and Steven Spielberg called him his "best villain". With his imposing presence in 300 films, both Hindi and regional, this star actor will be remembered for getting into the skin of his characters and immortalising many a role.

In his autobiography The Act of Life, released posthumously, Amrish Puri retraces the journey of his life as an actor, theatre artist, family man and, above all, a human being who was always willing to learn, adapt and grow. He believed in living and acting with all the spunk he could muster. Excerpts.

T

his is the memoir of an old man. I entered the world of cinema when I was nearing 40. Had I made my debut by 20-21, perhaps that much experience would have added to my quality of work. Then a thought flashed across my mind, having looked at the graph and status of our heroes, whose fame and popularity became instrumental in getting them to play character roles after they retired from playing the romantic lead. For all good, powerful, author-backed roles, such heroes would always get the first preference even in their advanced age. And potential roles are especially written for these stars. Perhaps, if I had started early and had I been in that league, I too would have probably got much stronger author-backed roles to play. But then fate is fate. I was destined to first undergo the rigorous training in theatre. And I feel gratified that today I am honoured and recognised for whatever I am. Probably, the respect and appreciation of my work might have been of a lesser degree and my desire to play a vast variety of demanding character roles would not have been as intense, had I been in that wishful category`85.

Now in hindsight, it seems it was theatre that I really cherished and it became the stepping-stone to make forays into the film industry. All the glory that cinema has brought into my life, I attribute it to theatre. I must accept in all humility that theatre has made me what Iím today. I salute my guru, Pt. Satyadev Dubey, and Iím indebted to him for whatever he ingrained in me in this lifetime. I do feel somewhat guilty that this medium, which has given me everything, did not get back from me in equal measure. I bow my head in gratitude to all my teachers of theatre that in a way became the workshop of life.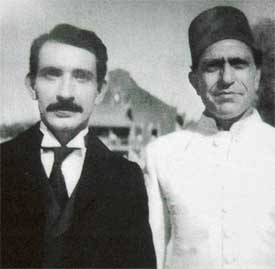 With Ben Kingsley in Gandhi
I just worked and worked relentlessly. I do not remember how and when I got popular with the filmmakers and what they sought in me, considering that they found my face a bit too harsh and rugged-looking, to begin with. Now that I look over my shoulder, perhaps it was imposing presence, since I was tall and well built; and my voice had a booming tenor, what they chose to label in multiple ways as baritone, base, vibrant, sonorous, booming, pleasant, deep, resounding. Thanks to my masters that I got to train my voice in hardcore theatre. In other words, my bastion was solid and strong. And thatís what was required. But at times, I feel ashamed of so many mistakes I committed, when I was gawky or obnoxious. For that matter, one still aspires for perfection and this incompleteness shall remain so.
Early yearsThere was only one thing in college I was completely hush-hush about. We had an Amateur Artistes Association and we performed some plays that really honed my theatrical skills. We were staging plays both at the Gaiety Theatre and Kali Bari Hall. And many decades later that song sequence, Main nikla gaddi laike, picturised in the film Gadar was shot at Gaiety Theatre. The producers got it renovated for this number. I travelled back in time and recalled what the stage looked like. In fact, I remembered each and every block there. That was also the time when other theatre groups would come to Simla, and there were professional theatre actors, but we had our own kind of distinction. As I was interested in both theatre as well as music, I earned some acclaim in Simla.
***
Although I found this job at ESIC painful, I was hanging on as my first romance was budding in this office`85. At my adjoining table in the office, Urmila Divekar was to assist me. We both had joined the office around the same time. I was an upper division clerk and she was a lower division clerk. An extremely shy girl, she would not even talk to me without my official reason. I was 22 and she was the same age. I developed a great liking for her and wanted to be friends. No chance, because she would not answer any of my questions besides those related to our work. It took me six months before I could manage to approach her. She was a docile, bashful girl, but extremely proficient at her work. As soon as I saw her, I knew she was the woman for me. She had all those qualities I wanted in a wife. I was very particular that the woman I marry should be a ĎBhartiyaí in her ethos and Urmila was the one. She was independent without being assertive and I admired her for that. I fell for her innocent looks and simplicity. I suddenly felt I needed this woman. It was love at first sight.
Road to villainyEventually, I sorted out this complexity of making cinema my career, because stage could have never provided for a decent living. I never made money in theatre. Urmila was also working, but I did not depend on her and I had to earn. That is why, even after I made my debut in cinema in 1969, I resigned from the job only six years later after gaining a foothold in the industry. I also calculated that the amount of money I was getting from films would be enough to meet my requirements. I consciously gave time to my family and ensured I did not neglect them. We had a smooth sailing and the credit goes to Urmila. If she had not endorsed my decision all along, Iíd not have been here today.
***
It is very difficult to be popular in villainous roles, because you are not a villain in real life. You are just bringing out all the poison and venom inside you to play that character and playing it to the hilt is even more difficult. Many, many heroes came and went, but you can count the number of successful villains on your fingertips. So many of them attempted but they merely served the purpose for the sake of the film. But to attain that peculiar quality a villainous character should display, an actor needs far more spunk. And that is why even when I started doing positive roles, I never said that I would not do a negative role again. I was not being diplomatic making this kind of a statement.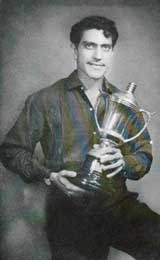 Recognised as a potential theatre actor, by Ebrahim Alkaziís Natya Academy, in 1962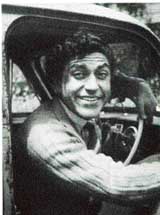 Aspiring to be a hero, Amrish got his portfolio done in Bombay, but to no avail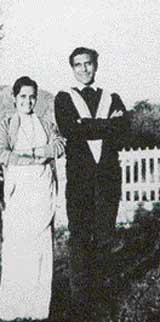 REAL LOVE: With wife Urmila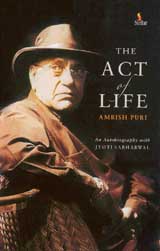 ***
I noticed that Spielberg always looked pleased whenever I did my shot. He would say, "You are the real devil." He would just sit and observe, while his assistants handled the camera movements, since the scenes were discussed in detail earlier. He was so clear about the character he wished you to portray, and I played the role to the best of my ability`85. Indiana Jones was an all-time experience for me. And when we parted, Spielberg surprised me as he scrawled a message across a still from the film saying, "To my best villain..." I take enormous pride in this note, in fact, Iím quite boastful about it. He didnít compare me with anyone and said, "You are the best and I couldnít have got this performance out of any other actor."
***
I was delighted that both my international films, Gandhi and Indiana Jones became such great hits. Since both the roles were so different, their impact and effect was as different. One was depicting stark reality that revolved around the life of a historic figure and the other was an outright fantasy. Attenborough is so thorough and Spielberg is indisputably a genius. Now I fully understood why their films have such a perfect finishing touch, and are watched around the globe.
Me Mogambo
Never did I think that Mogambo and Amrish would be like peas in a pod. That too in such a mind-blowing way! When youngsters and old alike come and address me as Mogambo, it feels I indeed have crossed the age barrier in this role`85.
I admit I would never be able to shake off the Mogambo tag. Indeed, I was really khush as this character became a milestone entry into hardcore commercial cinema, and I began to command a still better price. And what really is that price? It is an amount for which an actor sells himself`85. I have been told that at times even I have been paid more than the hero. I accept it with humility even though I have no idea of that amount. Yes, Mogambo changed the market parameters for me. Soon after, I signed 25-30 films, and cautioned my producers that they may not get my dates; after all, there are only 24 hours in a day.
***
But what indeed perplexes me is that even after having done numerous films in a positive role, I am introduced as the biggest villain in the industry. And I have won more awards for my character roles than for my villainy. Perhaps that proves people are more drawn to the baddies and one needs far more energy to bring alive a villainís role. A good man is easier to identify with, but one has to work harder to be really bad, indulging in heinous acts, and performing them with finesse requires extra talent; you have to make it appear so real that the audience is repelled. This is the forte of a villain.
***
For an actor it is very important to have a support system to face all kinds of pressure ó moral support from family, friends and professional associations. You are not an island by yourself. The moment you are left alone, it is disastrous for your personality. You need a word of encouragement at every step. It gives you the right pep and that is why it is essential to nurture your relationships, for man is a social animal.
***
Gen Now
The emphasis is more on stardom than acting skills. Itís all about high-tech productions. I do feel very nostalgic about the olden times and wish if I had those dedicated actors around even now, it would have added another dimension, because ultimately it is a matter of interplay between different actors and characters. Today cinema has become much more commerce-oriented`85. And when I see todayís heroes building so much muscle, I feel they have this wrong impression that good bodies make good actors. These actors have stopped thinking or talking about acting and are more worried about their latest cars and their latest women. But one thing I really find promising in todayís generation is their fresh ideas. These youngsters are much more broadminded and their goals are more clearly thought out, and hence, theyíre more focused about what they want out of life. But then the flip side to this attitude is they donít know where they stand in terms of calibre, for they are so full of themselves.
***
As I ruminate, I strongly feel that the face of our industry has constantly been changing. There has been a revolution over the past fifty years in the kind of people associated with the industry ó the quality of technicians, or the equipment. Although I wasnít a witness to the films that were made during the 1930s and í40s, I have to admit that they were made with a high degree of honesty. No matter how antiquated the cameras were or how unskilled the technicians, they were twenty-four hours into their jobs. Even the actors would think of their role every moment of the day. Compare it with the films of today ó they are far more mechanical and although the sophisticated equipment and computer wizardry enhance a filmís technical aspects, there is more gloss and polish than soul and spirit.
Excerpted from The Act of Life: Amrish Puri ó An Autobiography with Jyoti Sabharwal. Stellar Publishers. Pages 408. Rs 595