COOL STUFF
Exciting 'Chakkar Takkar' Offer
Britannia Tiger, the most popular biscuit brand for children in the country has introduced a new activity of fun and competition for kids – Tiger Cream "Chakkar Takkar" Offer. Under this offer, each time you purchase a Five Rupee Britannia Tiger Cream Pack (Orange or Elaichi flavour), you get to collect Fork Shooters, Spinners and Finger Shooters, which are Plastic Game Toys in various colours and designs.
These safe and easy-to-play hand toys are fun items which lets kids have great thrills by spinning them on the ground or shooting them in the air, whether they are playing alone or in competition with each other.
The Chakkar Takkar Offer is available in all major biscuit retail outlets in Haryana, Punjab, Himachal Pradesh, union territory of Chandigarh and other states across the country. The offer is valid upto end of July 2006 or till stocks last.
Healthy drinking with Tupperware
The pioneering kitchen solutions provider, Tupperware has always been at the forefront in introducing offerings that are in tune with consumer trends and needs of the season. Come summer and water is a precious commodity in all of India. With temperatures soaring and access to pure water becoming critical, conservation and effective storage are also key to healthy drinking. The Cool Aqua Safe fridge bottles from Tupperware just introduced in the market is reflective of this commitment. Made from food safe plastic, which is environment friendly and ideal for multiple use, Tupperware Fidge bottles will keep water fresh and hygienic.
Tupperware 1.1 ltr cool blue Aqua Safe fridge bottles are ideal for storing water, juices, lassi, and milk.The easy to open – close spout is suitable for use by one and all in the family and is available at a price of Rs 299/- (per bottle)
Also apt for all occasions, be it indoor or outdoor, the Tupperware Aqua Safe Water Dispenser in an attractive new colour and with a Caroler has a capacity of 9 ltrs, is equipped with a Classic Round Seal that is both liquid tight and air tight and is available at a price of Rs. 950/-
Summer collection
Sprint. Dash. Race. Get into all the sporting action with the football world cup in Germany and the cricket series in the West Indies around the corner. Red tape shoes unleashes its summer sports collection, for the fashionable and sporty male for this season.
Red Tape's Summer Sports Collection kicks off this sporting season with an absolutely new look that defines attitude, style & comfort. Whether you are chilling in your favorite lounge bar or watching your favorite game with friends, this smart and easy going Summer Sports Collection has an extra wide foot bed for that optimum lightweight comfort. Crafted with leather uppers, the stylishly, lightweight and funky collection is aesthetically designed for the adventurous soul.
"The new Summer Sports Collection is truly a fashion statement that embodies all facets of quality, fit and design. This segment is an attractive extension to our well-established formal & semi-formal line," said Mr. Rashid Mirza, Managing Director, Mirza International Limited. The new Summer Sports Collection comes to you in a choice of stunning colours Sunset White, Navy, Khaki, Stone, orange and Black, Priced between Rs. 1995/- & Rs.2195 /-. The Summer Sports Collection truly a must buy, is available at exclusive Red Tape showrooms, chain stores and leading Multiple Brand Outlets across India.
Cool quotient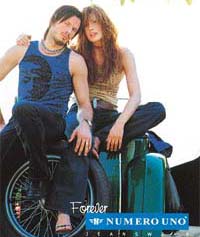 Take off your dark clothes and prepare for a sunshine as Numero Uno, the flagship brand of Hi Fashion Co, one of India's most fashionable Denim wear brands, unveils its Summer Collection 2006. The highlights of the season include an assortment of cool cargoes and flat knit t-shirts for both men and women.
For men, the look is more adventure driven on the whole, be it military or hiking inspired. Casual, sporty and heavily fashioned, these loose fitting cargoes will add the chill factor to your wardrobe. The colours for the collection vary from olives, Khakis, mastics, whites to more distinct shades like tones of mustard, red, rust, blue and purple. This new collection of cargoes is priced at Rs. 1,449/- for men, while the girls can pick them up for Rs. 1,399/-
Numero Uno's fresh range of striped flat knit tees is also out for both men and girls. The tees are perfect, whether you are chilling in your favourite lounge or trekking in the hills. Wear one and watch the heads turn! These flat knits are priced between Rs. 649/- to Rs. 699/- for men and are available at Rs. 499 for girls.
'Football Fever'
Tata Indicom, India's leading telecom service provider, today announced the launch of their latest Value Added offering - 'Football Fever'. Complimenting FIFA World Cup Soccer beginning today, Tata Indicom is offering exciting updates, downloads and games to keep the spirits of football enthusiasts soaring.
'Football Fever' offers an exciting opportunity to Tata Indicom subscribers to play along with their favourite football players and teams, catch the latest updates, download scores or play a challenging soccer game.
Tata Indicom subscribers can acces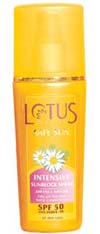 s the 'Football Fever' content via Tata Zone. Access to the FIFA World Cup site will keep subscribers engaged through interesting wallpaper downloads, official FIFA true tone download and thrilling soccer gaming options.
Intensive sun-block spray
Lotus Herbals has launched an intensive sunblock spray with SPF 50.This easy to use fine mist spray offers convenient and quick protection from both the UVA and UVB rays. Its non-greasy formula absorbs quickly, providing a fresh and clean feel. The 80 ml spray bottle is available for Rs. 195.
The lure of fragrance
Ignite the passion with Imari, the newest Cologne Spray for women from the fragrance stable of Avon. The latest fragrance is a rich, elegant fragrance blossoming with incense, musk and a hint of spice.