Ambujam Anantharaman on gangwomen, an integral force of the Railways, who ensure the safety of passengers by manning rail tracks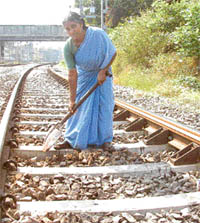 HARD DAY'S WORK: A gangwoman maintaining rail track
Behind every successful and safe train journey is the hard work and care of thousands of gangmen and gangwomen, who inspect and maintain the railway track. Gangmen and gangwomen work as guards on the railway tracks, ensuring that the 10,000 trains of the Indian Railways can ferry millions of passengers and tonnes of freight safely across the country.
Prior to 1980, the Railways hired only men for gang duty, mainly due to the arduous nature of the work. The gangs are exposed to extreme weather and often work in hostile terrain. The need to create more employment avenues for women, besides the commitment to provide jobs to widows and female dependants of deceased railway staff, made the organisation encourage women to do this kind of work. It is also a fact that women, prior to the 1980s, were not applying for these jobs.
Today, there are over 3,000 gangwomen with the Railways, and around 500 are posted with the Southern Railway. The numbers are likely to increase as selections are now being done through the Railway Recruitment Boards (RRBs). The selection involves running 400 metres, lifting weights and clearing a written test that examines the candidates' general knowledge and arithmetic skills. "Strangely, most of the women who apply are literate," says Priyamvada Viswanathan, Member Secretary, RRB, Chennai. In several cases, gangwomen hail from railway families.
Each gang has 10 to 12 members, headed by a supervisor, and its fundamental role is to clear the track of ballast and check track fittings by 'deep screening'. In a layperson's language, this means cleaning the stones of caked mud, shards of broken material and garbage — like plastic cups on which the tracks are laid; restoring loose stones to their original position under the track; and checking whether fasteners are in place.
These jobs are vital for rail safety. Uneven ballast can make the ride bumpy or even cause a derailment. As for track fittings, if they are not secure, accidents will occur.
The Indian Railway Permanent Way Manual (permanent way or P-Way is technical terminology for rail track) lays down the duties of gangmen or gangwomen. They have to be conversant with safety rules and track geometry.
The equipment they are required to carry indicates the complex nature of their duty — level-cum-gauge (an instrument to measure the tracks), hemp cord, metre stick, keying or spiking hammer, fish bolt spanner, hand signal flags, detonators, marking chalk and rail thermometers, and hand signal lamps at night.
The rail thermometer, for instance, is used to measure track temperature. If the track is too hot, it will buckle and cause the train to run off the tracks. The gangs pour water to cool the track down.
Come rain or sun, these hardy women carry shovels and crowbars, inspecting the track and performing routine maintenance. In South India, many can be heard shouting 'ailasa, ailasa' (which means 'lighten the burden' in Tamil) while working.
Kumudha, 47, whose work belies her spare appearance, says with pride, "Yes, it is very tough and physically exhausting but I do it as well as any man can." Manavalan, her superior, agrees. He says the all-women gang —comprising 12 women and a supervisor in the Chennai division of the Southern Railway — does the job as well as the men would do. Moreover, "they are punctual and regular."
The day for Kumudha and her fellow gangwomen begins at 4 am, when they wake up and cook for their families and themselves. They report for work at 7.30 am, take an hour's break for lunch, and then end the day at 4.30 pm. All gangmen and women are dressed in sky blue. Women usually wear sky blue saree and blouse.
In recognition of their service and dedication, the gangwomen of Chennai Division were conferred the Divisional Railway Managers Award during the Railway Week in April last year.
The gangs are responsible to the P-Way Inspector, who has a length of track as his responsibility. The work is assigned to gangs on a planned basis and they work eight hours daily with a weekly off on Sundays, when no track maintenance work is done.
The gang is equipped to deal with minor problems such as fixing small deviations in gauge or elevation of the rails, rearranging ballast, etc.
Kumudha is illiterate, while her colleague Pasupathi, 52, is a Class 6 passout. Their husbands, who were part of IR, died on duty.
The Chief Track Engineer, Southern Railway, S K Gupta, says gang women have become an integral part of the railways. Acknowledging that women work better in a gang when they have other women with them, the Railways has also formed all-women gangs. In other gangs too, rarely is there a single woman among many men.
Pasupathi says that apart from regular salary, she gets free medical aid, free travel, subsidised housing and pension after retirement. Dakhshayani, who has been a gangwoman for 15 years, says emphatically that she cannot think of doing any other job.
Kumudha says her work has equipped her to send her daughter to an engineering college to study information technology. The high point of her career was when she saved a young woman from committing suicide on the tracks. — WFS