Career HotliNE
Only the best make it to NASA
Pervin Malhotra
Q Please tell me how I can get into NASA? How much does an aerospace engineer earn?
— Amanjeet Kaur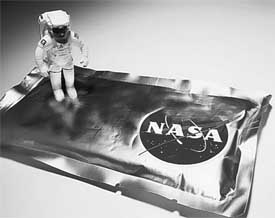 A Every few years when the word goes out, thousands of Americans submit their applications to NASA, hoping to embark upon a voyage of discovery. The men and women who make up America's astronaut corps must possess a unique blend of personality traits.
A glance at the biographies of the less than 1 per cent who do make it through NASA's week-long screening process reveals top scholars, decorated pilots and accomplished scientists.
But astronauts spend years of training before they can lift off into space. They learn to operate shuttles, perform experiments in zero gravity (and eat bugs if they must survive in the wilderness should a practice flight go out of control).
Astronauts today face narrowing opportunities to fly. Here are some eye opening statistics. Since 1978 NASA has selected 248 astronauts but till 2002, 53 of the 116 active members of the corps were still to explore "space — the final frontier". In fact NASA has reduced its shuttle flights from 28 to a mere 15 while space stations are equipped for lodging a few people at any given time. This means that the last unflown astronaut from the batch of 2000 will in all probability be waitlisted to fly till 2010.
In order to succeed, you must be adventurous but not reckless. You must be a leader who can follow. An optimist and a doer with a strong drive to achieve. Early missions used to be short and dangerous. Now astronauts are trained for the long haul. So, you must be capable of negotiating long periods of isolation, extended confinement, boredom and uncertainty drawing on inner resources to sustain yourself.
With space missions getting longer and trickier, the Russian and American space programmers have developed morale boosters for their crew.
ISRO's successful GSLV-D2 launch has once and for all established our capability of producing world-class commercial satellites. It has finally given India the capability of entering the commercial satellite market dominated by the US, EU, Russia, China and Japan.
Indian-born American aerospace engineer, Kalpana Chawla, who was selected by NASA as a specialist to fly aboard the Columbia Space Shuttle STS-87 on its special mission, made history before she crashed in the ill-fated Columbia. A student of Aeronautical Engg from Punjab Engg College, Kalpana was the first Indian American to go into space twice over — the second time as the mission's flight engineer. After acquiring a PhD, she put in several years of advanced research in leading-edge institutions in the US like Texas University etc.
US born Sunita Lyn Williams nee Pandya of Indian origin, made headlines recently when she was selected by NASA as a back-up crew member of the latest International Space Station Expedition which is expected to begin this fall. This will be the maiden space flight for Sunita who is a graduate from the Florida Institute of Technology and was selected for NASA's astronaut programme in June 1998.NASA also reserves some slots for non- Americans. In fact, about 36 per cent of NASA employees are of Indian origin.
A fresh aerospace engineer with an MTech from a reputed university starts off with Rs 2-2.4 lakh in India.
To be an astronaut you need to specialise in Aeronautical/ Aerospace engineering.
B.Tech, MBA combination
Q I have finished my BE this year. Now I am thinking of pursuing a management-related course in my field. Am I doing the right thing by not sticking to pure engineering? Could you please suggest an appropriate course for me?
— Sukhdev Singh
A Go to any business school and chances are that six out of every 10 students have an engineering background. A large number of engineering graduates, including those from top IITs, have been doing precisely that (just see the breakup of a typical IIM class). And this also holds true for many mid-career engineers.
The reason is pretty simple: an engineering degree followed by a good MBA is a very desirable (read lucrative and versatile) techno-management qualification to possess in a global economy. By and large, managers are preferred for top jobs and get a better pay packet in most companies over plain engineers (unless the company's core business is manufacturing).
And even if you pursue a career in engineering, you'll find that a significant part of your job content, a few years down the line, will be increasingly administrative in nature — managing the project, leading your team, handling the financial aspects of the project etc. As the MBA programme is more holistic and covers a wide range of subjects, it broadbases your options and helps you develop an all-round personality and equips you with confidence to adapt to varied functions and environments.
While a year or two of working in the field will certainly help you make the most of your MBA programme, be prepared to be placed on a par with a bright but relatively fresh batchmate from your B-school. If your work-ex is in sync with the area for which the company is recruiting, it's an asset. Not necessarily otherwise.
Besides looking at the leading B-schools, you could opt for courses specially designed for engineering graduates offered by sectoral business schools. The major objective of the schools listed below is to groom graduate engineers as competent managers for technology-intensive global business operations that can respond to the changing requirements of the Indian industry.
Besides, as an engineering graduate, you have another clear advantage at the very outset.
The MBA entrance exams (CAT and its variants, JMET) are also somewhat weighed in favour of engineering graduates.
Although one can't automatically presume that a good engineer necessarily makes for a good manager, but engineering students tend to be relatively more disciplined in their approach, better grounded and acquainted with systems and processes and the practical application of theory.
Of course this is not to say that non-engineering students don't fare well. Many do.
Microbiology prospects
Q I am doing MSc in microbiology. Can you please tell me about the job prospects in this field?
— Ranjana Choudhary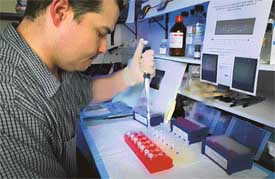 A One of the frontier fields in Life Sciences, microbiology has varied applications in research & industry. While some research-based jobs abound for postgraduates in this subject, those with a doctorate are obviously in greater demand.
In medicine, microbiologists work in hospitals and pathological laboratories.
The pharmaceutical, cosmetic, food and beverage, water processing and bottling industries, swimming pools and hotels also employ microbiologists.
In the pharmaceutical sector, microbiologists study microbes and organisms that cause diseases (in humans, animals as well as plants), evaluating antibiotics and developing vaccines, manufacturing drugs by fermentation etc. Agricultural microbiologists work in the area of plant development, plant disease and tissue culture.
You could also work with manufacturers of medical disposable goods, cosmetics and antiseptics. Some openings can be found in the sales and marketing departments of manufacturing companies in these fields as well.
In municipal or public water departments, you will undertake routine testing of water supplied to industrial and domestic users. Other destinations include university departments, research councils and government-funded research institutes.
Similarly, openings for microbiologists exist in the R&D and scientific departments in industry, public sector labs like CDRL, hospitals and universities. You can also take up teaching jobs in schools and colleges. The Civil Services is another option.
Genetics, bioinformatics offer good scope
Q I have done my MBBS. What are the prospects of branching out into biotech or bioinformatics?
— Deepak Verma
A Biotechnology is India's sunshine industry and with your qualifications, you are well-placed to join any research lab, biotech or chemical firm of your choice.
However, a specialisation in biotech at this juncture would be more advisable. You must decide the area in which you would like to specialise in. Both genetics and bio-informatics offer interesting avenues of research, as they entail the decoding and study of billions of gene structures that make each person an individual entity.
If you are computer savvy and enjoy handling and analysing reams of information, bioinformatics may be a good career choice.
Rural management
Q I am a science graduate. I am keen on pursuing a career in Rural Development & Management. Could you please tell me about the postgraduate courses in this field?
— Paramvir Singh
A Most of India lives in villages. Rural Management programmes impart basic management skills necessary for managing a rural enterprise or co-operative. It therefore deals with all the functional areas such as marketing, managerial accounting, finance, rural behaviour, rural environment and production, rural research methodology, field studies of rural producers, human resources, integrated rural management, etc.
Anyone with an agricultural background or leaning, who is interested in working in a rural set-up, is well suited for a career in rural management.
You can find meaningful work in rural development projects with NGOs, the government and corporates in their rural initiatives and various agricultural or agri-business cooperatives and international/ national development agencies.
HLL has Operation Streamline to penetrate the rural market, Videocon sells its products via cycle shops, sweet shops and garment shops in towns where the population is between 50,000 and 1 lakh.
Some of the leading institutes offering MBA or PG Diploma in Rural Management/Development/Marketing are:
Birla Institute of Mgmt & Technology, Centre for Rural Mgt, Delhi (www.bimtech.ac.in )
Course: MBA (Rural Bus Mgt) as part of the dual specialisation programme.
Ch. Charan Singh Haryana Agricultural University, Hissar (Har).
Course: MBA (Agricultural Mgt).
Eligibility: Bachelor's degree (50% agg). Selection: all-India written test.
Ch. Charan Singh University, Meerut 250005 (www.ccs university .org )
Course: Advanced Diploma in Rural Mgt (1-yr).
Faculty of Management Studies, Delhi University, South Campus Benito Juarez Rd, N Delhi 110021 (www.fms.edu )
Course: MBA in Management of Services.
Psychological Engineering
Q Could you give me some details regarding Psychological Engineering? Could you tell me where it is offered in India?
— Gurkirat Singh
A The concept of engineering psychology (EP), which is essentially a research branch of psychology, is still fairly new to India. Using experimental design and quantitative psychology, engineering psychologists develop a database mapping the ability and limitations of the human body to sense, store, and process information. This information is then utilised to design a blueprint for optimising the use and maintenance not only of machine systems but also improve functionality of the human body. For this external environmental factors affecting system performance need to be factored such as lighting, noise, ambient pollution etc. Depending on your area of interest you can pursue research in the following areas: the interface between humans and machines, impact of environmental stressors, perceptual/ motor aspects of systems design, human performance and skill
Although full-time courses in Engineering Psychology (EP) are offered abroad, to the best of my knowledge there are none in India.
In the absence of specific courses in EP, you can take up a course in ergonomics/ human factors offered by Humanities and Social Science (HSS) Department or the Department of Design at the IITs. The IITs have a system by which different approved courses are offered in different semesters; so depending on the demand, EP may be offered as an elective subject.
The job opportunities in India continue to be limited as the industry and service sector are still not familiar with EP as a specialisation. However, industrial ergonomics and the field rehabilitation etc are the potential areas of application.
Physics course in engineering institutes
Q I want to do a three-year degree course in physics from one of the top engineering institutes. Could you please tell me where these courses are offered and their admission procedure?
— Pawanjeet
A While IIT-Mumbai offers both a four-year BTech in Engineering Physics as well as a five-year Integrated MSc in Physics, IIT-Delhi, IIT-Kanpur and IIT-Kharagpur offer five-year Integrated MSc programmes in Physics after 10+2.
Entrance is through merit in the IIT-JEE (Joint Entrance Exam) for students who have passed Class XII with physics, chemistry and maths.
The question papers are in English/Hindi.
BITS, Pilani also offers an integrated 5-year MSc in Physics. Selection is on the basis of an entrance test (BITSAT).
The writer is a noted career consultant
Please send in your query, preferably on a postcard, along with your full name, complete address and academic qualifications to: Editor, Jobs and Careers, The Tribune, Sector 29, Chandigarh-160030, or at careers@tribunemail.com