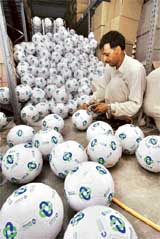 1 Who is India's nominee for the post of the United Nations Secretary-General?
2 Who is the only Indian President to have made sortie in a supersonic jet?
3 Which Sikh Guru's 400th martyrdom anniversary is being observed this year?
4 Which pass on the Sikkim-Tibet border is planned to be re-opened for trade?
5 Which country leads the world in using cloud seeding to induce rainfall?
6 Who has scaled Mount Everest a record 16 times?
7 Name India's unmanned lunar mission slated for launch in early 2008.
8 Name the world's most advanced humanoid robot.
9 Which singing legend was known as the Nightingale of Punjab?
10In which city is the country's first silicon chip-manufacturing facility being set up?
11Who has been appointed the new Chief Election Commissioner of India?
12Name the Indian artist who has created sand sculpture, representing the Football World Cup trophy, for the fourth Sand Sculpture Festival in Berlin.
13Which north-eastern town in Pakistan exports about 60 million footballs in a year?
14Who won this year's men's singles tennis title at the French Open?
15Who has become the first player of Indian parentage to have played in a Football World Cup match?
Name………..……....………
Class……………..…...…….
School address……….....…..
Winners of quiz 260: The first prize by draw of lots goes to Rohit Singh, VIII-C, St Joseph Convent School, Ram Colony Camp, Hoshiarpur-146001. Second: Ish Preet Singh Bala, 9-C, St Annes Convent School, Sector 32, Chandigarh-160047. Third: Kamna, VII, Sarvahitkari Vidya Mandir, Sector 71, Mohali-160071.
Answers to quiz 260: Brazil; Japan, Iran, Saudi Arabia and S. Korea; Shyam Saran; Congressional Gold Medal; Aurangabad; Indian Iron and Steel Company; Wular; 1912; Dilli; Skin; Varun Chopra; $ 43,500; Rafael Nadal; Marvan Atapattu; Saina Nehwal.
Cash awards of Rs 400, 300 and 200 are given to the first, second and third prize winners, respectively. These are sent at the school address.
Note: Kindly mention the pincode of your place to facilitate the delivery of the prize money.
Answers can also be sent at quiz@tribunemail.com
— Tarun Sharma