Misty rains may even now be a week away. But Monsoon collection of denims and other apparels have already flooded the market to wash the blues away, says Saurabh Malik after wading through the deep of jeans in the arcades

The sun may still be playing hide and seek with the dense dark clouds hovering overhead threateningly, but Monsoon collection of denims and other stuff has already lashed the city with full fury.
If you haven't witnessed the cloudburst, just wade through the deep of shoppers flowing through the passages lined with temptations in Sector 17, or any other arcade in the city. Look around and you will find a deluge of Monsoon special stuff that promises to soak you with pleasure in the rainy season of 2006, gorgeously and glamorously.
Guys, you have guessed it right. The showery dance and rhythmic beats of raindrops have brought along with them denims that wouldn't save you from getting drenched — for that you will still have to buy waterproofs — but promise to keep you dazzling, rain or shine.
Torrent of colours
And it's not just a sizzling ensemble of washed-down jeans that's causing ripples among the bubbly youngsters gushing through the narrow streets of life on their single-cylinder motorbikes. You also have hot pants, and even spaghetti tops in vibrant hues, that guarantee to bring the temperatures close to the boiling point, even as the mercury is plunging.
Right, the feel-good fabric and the hues guarantee to make you feel relaxed and comfortable in the sultry conditions, besides assuring clean-look that hides all those loathsome stains so closely allied with the dirty weather. The entire collection is spruced up with refreshing elements like colored leather, printed denim labels and enameled rivets.
"Just in case you haven't picked up the stuff, look out for tops in grays, tans and beiges that are uplifted with embroidery," says Amanbir Singh of Denim Republic. The store was inaugurated in Sector 17 just this week.
You can also go in for "distressed foil prints" that add glamour to the drenched-with-style tees. "The stuff, an integral part of the Monsoon collection, can be teamed strikingly with light-weight trousers in paprika, elm, tan and clay colours," suggests Amanbir Singh.
Burst of style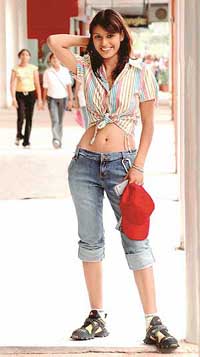 Guys can go in for jeans in crisp raw to heavy fades. Then they have fabrics like pigment-padded crosshatch, broken twill, streaky indigo and the forever favorite stretch denim. The stuff sees an addition of metallic studs in pewter, bronze and nickel. Besides, decorative repair stitch details, like multi-hued threads, add stare value to every pair of jeans that you pick up.
"Then there are two new fits for men. To begin with, you have the Cowboy fit with a curved inseam that will help you strut in glory through the falling weather. You can also go in for low-rise straight leg option. It's back in vogue," says young city-based fashion designer Tanya Vashistha. She is working with a Sector 35 boutique.
For all you girls eager to zip down the fast track of life in driving rain, there is a distinctive look with softer colours, styles and patterns to choose from. The denim line showcases jeans, capris, skirts and hot pants with details like cobbler stitching, appliqué in reverse broken twill, logo prints and lace.
The non-denim line sees combat pants, cuffed capris, roll-up wader pants and mini skirts in summery fabrics like poplin, tussore and peached twills. So folks, get ready to bathe in pouring style, heavily.
Photos Pradeep Tewari