An English Garden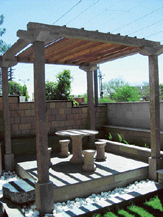 Before we set out to design the European concept of a garden room, let's first deal with the doubts, which might have risen, in your mind. You don't need to have a large house with separate room to enjoy the beauty of your garden room, and please, don't discard the idea for the benefit of flat owners. Instead, it's an area within your home with a garden theme.
Cool haven
Create a garden room anywhere in your house and reinvent summer by having the comfort of greenery combined with the luxury of an air-cooled room. You may choose a dining room, guestroom, living room, quiet reading corner, terrace, even bathroom, verandah either glazed or shielded with chics and rolling blinds.
Delightful splashes
Color is important to create an overall calming sense to your room. Use dominant colors of nature such as green, yellow, white, blue, etc. Choose a principal color that will shade the walls of your room and duplicate it with other elements such as a plant or two. Green and off white are good choices. Think about contrasting tones such as pink, rose, yellow or purple which can be duplicated with garden objects you choose for your room such as decorative birdhouses, or architectural elements such as an old window frame or gingerbread house.
Seasonal flowers and houseplants will further add colour alongside the silk bushes or rice paper flower arrangements. Old furniture from junk market or odd-body family heirlooms will be perfect for your garden room. Paint them a white or cream color or if you love color, then try a marine blue or raspberry shade. Continue with these colours by painting a couple of terracotta pots in same shades.
Swinging holders
Baskets hold plenty besides plants. Build your own trellis against one wall and weave a grapevine through it. Whiskey barrels for seats and tree trunks for benches. Use birdbath as magazine holder or planter with rattan furniture, flower pictures, birdhouses, and birdcages to hang plants. Ivy topiaries, tiny bud vases, pottery collection, old watering can painted bright will complete the picture.
What's a garden without water? Birdbath or bird feeder in an enclosed area won't do but can certainly be used in an open verandah or terrace. Small decorative pond or self contained water fountain, or an aquarium would be perfect to keep you company.
Wafts of freshness
Duplicate nature's sweet smells indoors by using candles, joss sticks and incense sticks. Choose nature inspired scents such as pine, lilac, rose, honeysuckle or lavender to light up when you feel an urgent need to get back to nature. Other alternatives are using natural essential oils in tea candleholders available in glazed terracotta or ceramics. Harvest some lavender from your garden, dry it, scrunch it up into a miniature painted flower pot, and add a few drops of essential lavender oil to scent a room for days. This works well with rose petals, and other flower pieces can also be used as a potpourri base. Hang orange pieced with cloves and enjoy wafts of spicy freshness. If all else fails during bleak seasons, treat yourself to a bunch of fresh flowers from the local florist.
Maintain humidity levels reasonably well to keep plants healthy and hydrated. Close your eyes and enjoy soft music inspired by nature unless you are inviting real little birdies inside. It's a wonderful element that can transport you away from day's stresses and strains. Think of waterfalls, sea waves, leaves rustling, rain showers, violins, chellos, tinkering of piano keys and most soothing of all; the humming chorus.
Now either dip into your bathtub or sit back in your overstuffed chair, feet propped up on a pretty pillow atop a painted old tree stump—painted a pretty willow green. There's the smell of lavender in the air, and raindrops ringing in your ears.
Courtsey: A.P. Singh
Besten & Co.