AUDIO SCAN
Aadesh impresses
Alag
(Times Music)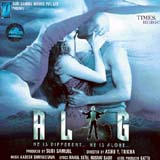 Every now and then Aadesh Shrivastava comes up with inspired compositions. This is one of them. What makes the effort all the more creditable is the fact that he has achieved the results in the company of singers who are relatively newcomers.
Itís not as if keeping up with the title of the film, the score is different from others. Itís just that the overall impact is considerably impressive.
The title of the film figures in several songs. In fact, the opening song itself is titled "Sabse alag`85" (sung by Kunal Ganjawala, Shaan, Hemachandra, Nihira Joshi and Gayatri Ganjawala). The song is noticeable less for its singing and more for its instrumentation.
The same song figures again as the closing number in the solo voice of Kunal Ganjawala, who has given a good account of himself in this album.
Then there is also The Soul of Alag in the voice of Ujjaini and Hemachandra.
Among the female singers, Hemachandra is the crooner to watch. Her well-modulated voice is good not only for high-pitched peppy songs but also for soft romantic ones.
But about the finest here is Saanjh ki pighalti, sung by Ujjaini, Anand Sharma and Krishna. The album does not mention which of the two lyricists, Rahul Seth and Nusrat Badr, has penned it but whoever has done has the right to be satisfied with his creation.
On the other end of the scale is the tapori number Apun ki toli`85 where Aadesh Shrivastava joins Shaan, Kailash Kher and Vasundara Das.
Another accomplished duet is Hai junoon`85 by Shaan and Vasundara Das.
This numbers recurs as DJ Suketu remix as well.
Blossom
(Rebecca Music)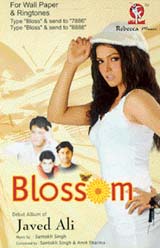 This is the debut album of Javed Ali. His is not a bad voice. It is just that he has been done in by below-par lyrics of H.S. Bindra. It is one thing to make a song fit for the dance floor and quite another to do so at the cost of lyric aesthetics.
Incidentally, let it be added that these are Punjabi solo songs. It is necessary to mention this because, inexplicably, the list of songs does not happen to be on the outside of the album, as is the norm, but is printed on the backside of the cover, with the result that one does not know what one is buying.
Most of the songs focus largely on a youthís pining for a beloved. The general standard of them all can be gauged from a typical creation: "Munde vekh kudian nu kehnde, hai patola`85"
Such "high-flown" thoughts have been set to music by Santokh Singh.
ó ASC