'art and soul
Tambi: A delightful figure
His was no grave, looming presence, by no means cast in the Guru mould. Tambi was a bohemian at heart, writes B.N. Goswamy
Every man has poetry within him. Poetry is the awareness of the mind to the universe. It embraces everything in the world'... It is a universal force and like God it can never be discovered, although it will always be present directing thought'... Poetry is a descent to the roots of life.
— Tambimuttu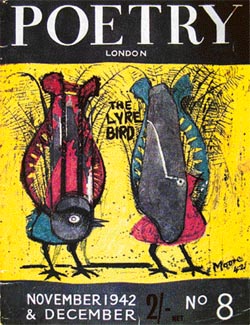 Cover of Poetry London, no. 8, with lyrebird design by Henry Moore. 1942
The manner in which, sometimes, a rank outsider, a maverick figure, arrives from nowhere and becomes a leavening agent affecting the cultural life of a people, always takes me by surprise. When a colleague in San Diego last year mentioned the name of Tambimuttu as a person who had left a deep imprint on her mind, I dipped into my own memories and came up with a vague recollection of the name because a poem of this Srilankan man was included in our 'syllabus' for English literature at college. But not much more than that I could come up with. Till, of course, intrigued, I started reading up. And the more I read, the more fascinated I became with this unusual life.
Tambimuttu's name – his full name was much longer – was a mouthful, "a maternal sound, like a prayer to a forgotten Indo-European mother goddess", as someone described it. Linked by ancestry to an old aristocratic family from Jaffna, nephew on the one side of Gnana Prakasar, great Jesuit lexicographer, and on the other to the celebrated indologist and art-historian, Ananda Coomaraswamy, this young man, barely twentythree years of age, arrived in London in 1938.
Apparently, however, he came as no ordinary tourist or visitor, but as one armed with ideas and ambitions about starting a poetry journal there. One can imagine the insecurity, but also the daring of it all: a young Asian, virtually unknown to anyone, member of a subject nation, alien to the literary field in London, hoping to impact the literary and artistic scene in an unfamiliar and somewhat supercilious land?
He could, initially, sense a natural hostility. There was some jeering, and some sniping, but Tambimuttu rode all that, and launched together with a friend, his magazine. Poetry London is how it was christened. And guess who all contributed to the very first issue? Some of the most renowned names in those parts: Dylan Thomas, Stephen Spender, Herbert Read, Lawrence Durrell. Suddenly, there was a stir in literary circles. Other great names started appearing in the magazine: T.S. Eliot, Iris Murdock, Kathleen Raine, Sacheverell Sitwell. The year of the launch was the same in which the second World War began.
What is astonishing at the same time is how many artists – apart from writers and poets – Tambimuttu was able to associate with his enterprise. Some of the biggest names in the world of art in England painted covers for Tambi's journal, illustrated poems, provided decorative tailpieces: Henry Moore, Graham Sutherland, Barbara Hepworth, Ceri Richards, Lucien Freud. The list kept growing, all on a shoestring budget. And one begins to wonder what was it about Tambi that drew people towards him? His lithe and handsome appearance? Fascination for a man from the mysterious Orient? Openness of manner? The warmth with which he came across? The sheer passion for poetry which he felt, and others sensed in him? Perhaps a bit of all of these. But, whatever it was, one is struck with the enormous affection in which he came to be held by so many people from so many different fields.
Consider this passage from Timothy Leary: "In the twenty-three years since our first meeting, every time I think of Tambimuttu a light glows in my brain and I smile and feel a little better. And everytime our paths intersected, the glow would increase and my smile break into a happy laugh of welcome." There were those who saw him as a transmitter of ancient wisdom and beauty. To continue with Leary: "Perhaps he was not an entity of this time and place. There was this mystery about Tambimuttu, that Merlin sense about him that transformed an ordinary situation into something a bit magical, raised us up a level or two on the splendour dial." But clearly Tambi was no grave, looming figure, by no means cast in the Guru mould. He was a bohemian at heart, and there are stories about his drinking parties, his hand-to-mouth living, slovenly quarters, bouts of frustration and anger. But always one ends up reading how utterly disarming he could be: this man who had become within a few short years a highly regarded poet, critic, editor, publisher.
The press that Tambi helped launch was called the Lyrebird Press, and it is wonderful to see him insistently persuading different painters to paint the lyrebird for his covers. The lyrebird is a native of Australia; the male of the species has a lustrous plumage, brilliant to behold, dazzling in its colours, which he raises like a lyre or harp in the mating season. In natural ways it reminds one of our own peacock, except that it is much smaller in size, and has a quality that the peacock does not possess: it can imitate the cries of all manner of birds, causing great confusion but also great merriment. Perhaps Tambi liked the bird so much because he was a little like one himself: light of touch, possessed of seductive plumage, capable of speaking in many tongues at the same time.
The story of Tambi's life – which ended in 1983 – is long and crowded with literary events. But Michael Horowitz said it feelingly in a poem written after his funeral:
What's left/ of a life - / old bones/ underground/ or burned away/ to a lingering scent/ brief embers/ of ashes, turned/ to faint shadows - /smoke bruising/ then leaving/ the afternoon air./ What's left?/ The blank/blue page/ of your passing.