'You've to create your own path'
After Rang De Basanti, Kirron Kher is smiling. With several releases slated one after another, she will be seen soon in Kabhi Alvida Na Kehna and Apne. Vickey Lalwani catches up with the talented actress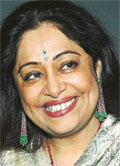 Kirron Kher
Could you elaborate on your roles in Fanna and Kabhi Alvida Na Kehna?
In Fanna,I play Kajol's mother while in Kabhi Alvida Na Kehna, I play Shahrukh's mother. Actually, I have a guest appearance in Fanna. It is produced and directed by the Chopras. We have known them for long, and even Anupam has done many films under the Chopra banner. Kabhi Alvida Na Kehna focuses on human relationships. This one from the Johar stable will rock. My character in this film is a strong one; I play a modern woman Kamaljeet Saran who makes some unconventional choices in life.
What's your role in Apne?
In Anil Sharma's Apne, a story set in Punjab, I have Dharamji as my co-star.
Seems you have become the lucky mascot for film-makers?
Have I? (Laughs) I guess I've just been lucky to be in films that were meant to do well. My career has managed itself. I attribute it to destiny. So many people work hard, are talented — but yet do not make it in`life. My favourite saying is, 'If you want to make God laugh, tell him about your plans.'
Not so long ago, you were hardly seen in commercial films. But these days...
(Interrupts) I have done offbeat films like Bariwali and Khamosh Paani. But art-house films are few, and an offer for the role of the protagonist, rare. At the time I was acting in parallel films, Bhansali offered me a role in Devdas. People started to realise that I was interested in commercial films as well. That was the turning point in my career. Then Hum Tum happened.
The rest, as they say, is history?
Yeah. You can say that again. (Smiles).
Your views on Rang De Basanti?
Rang De Basanti takes mainstream Indian cinema a step further in terms of its cinematic language and screenplay. I received a heart-warming feedback, in spite of my small role. And the minute I saw it on screen, I knew it was a cult film.
Also in the offing is an English film titled, It Could Be You, with Nasseerudin Shah?
I love to do films that have some sort of ethos. They have more credibility; in fact, I am reading one such script.
You are a part of your husband Anupam Kher's acting institute?
Anupam himself needs to spend a lot of time on the training. Right now, I would like to focus on my own work. The institute is doing very well.
Your son Sikander is making his debut in Vikram Bhatt's film; you have much to look forward to.
The film industry is not like a family business. You have to create your own path here. An actor gets both bouquets and brickbats. Haven't several newcomers despite having Godfathers bitten dust? Of course, as parents, we advise Sikandar to be completely focused and take everything in his stride. We have told him that success and failure are two sides of the same coin. Those with lesser talent may fare well but nobody wants actors who create problems on the sets.
Something about your stunning performance in Khamosh Pani. The film won the top Golden Leopard prize at the 2003 Locarno?
This film was about a Sikh woman left behind during Partition and instead of jumping in a well marries one of her abductors. Her true story comes out later. I think it was amazingly satisfying to make an anti-fundamentalist film in a fundamentalist country. For me making this film was pure nostalgia. I'm Sikh and I have aunts who migrated to India and I grew up hearing all those stories of pain and loss. It was as if I was playing a woman I had already met.
You visited Pakistan during the time of Khamosh Pani?
In Pakistan I was revisiting my roots all over again. It was like a pilgrimage for me. My mom hails from Pakistan. I was completely bowled over by Pakistan. I visited a very old friend of my mother's when I was there. I had only known her through letters. She was dying and I was happy that I could see her at least once before she died.
Anupam has said you took almost 15 years off to raise your son Sikander, which was very brave of you. How did you see the industry change in that period?
I felt it was very important to raise my son well. Sikander and I travelled a lot with Anupam during that time enjoying each moment of being there with him. The industry was so hypocritical. I was with Anupam as his girlfriend for a little while and then as his wife and of course I became bhabhiji (revered sister-in-law) overnight for the film industry. — TWF