Comrade Parduman: the man behind pension schemes in India
Varinder Walia
Tribune News Service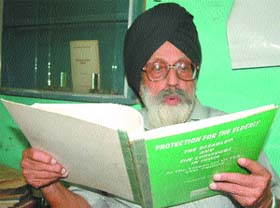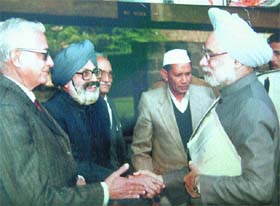 The Comrade with Prime Minister Manmohan Singh and other dignitaries
Hailed as the "Father of Pension Schemes in India", Comrade Parduman Singh has been a ray of hope to the downtrodden and the distressed. Comrade, as he is affectionately called, was from childhood attracted to helping the lowly and the downtrodden.
There has always been something unique about Comrade Parduman Singh. He is a silent worker and you will find him bringing peace and solace where there is misery and sorrow. His work for the downtrodden reflects his altruism. Owing to his relentless efforts, nearly 35 lakh retired workers or their families (in case of death) are enjoying the benefits of pension.
In 1980s, he conceived an old age, disability and survivors' pension scheme for industrial workers who are members of the EPF by partial conversion of provident fund. He put his proposal before the Central Board of Trustees. The board accepted the proposal, and eventually the Government of India promulgated such a pension scheme for 40 crore private and public sector employees on November 16, 1995.
In a function held on November 23, 1996, on the completion of one year of the scheme, he was hailed as the "Father of the Pension Scheme" by Mr P.A.Sangma, the then Labour Minister, Dr D. Mishra, Secretary to the Government of India, Department of Labour. Mr S. Gopalan, former Labour Secretary, Secretary General, Lok Sabha, said he should be awarded a golden scroll of honour for his contribution in evolving the pension scheme, and making it acceptable to workers.
Peeved at the fact that not enough was being done for development and extension of social security in India even by the trade unions, he mooted the idea of forming a non-government organisation, which was to be a non-partisan organisation. At his initiative and with the active help of Mr R.K.A. Subrahmanya, former Chairman of the Central Board of Trustees of the EPF, and Additional Secretary, Labour, the Social Security Association of India was formed in 1991. The association was inaugurated by Dr Manmohan Singh, the then Finance Minister. He continued to be founder-president of the organisation. He gave up this office two years back. The governing body of the association elected him as Emeritus President for life. This organisation is a body of social security experts, academicians, labour economists, former functionaries of the International Social Security Association and the ILO, and officers of social security organisations. The two biggest social security organisations i.e. the EPF and the Employees' State Insurance Corporation are its institutional members.
Comrade Parduman Singh was born on March 7, 1924, at Jehlum (now in West Pakistan). He was educated at various district headquarters in Punjab due to regular transfers of his father, Mr Ram Singh, who retired as the ADC. He graduated from the prestigious Government College, Lahore, in 1944 that was considered Asia's best college.
Mr Satya Pal Dang, veteran CPI leader, was senior to him by two years in the college. He organised a strike on January 26, 1940, which was at that time celebrated as the day on which the resolution for "Complete Freedom" was passed by the Indian National Congress (now celebrated as the Republic Day).
While in Class X, he took part in various strikes organised in colleges in support of the students' demand. He was very active in collecting funds during the Great Bengal Famine in 1943-44.
After completing his studies, he joined the Sarvodya Movement of Mahatma Gandhi along with a friend by going to a village near Amritsar and cleaning the streets and distributing medicines among poor people. During the days of Partition in 1947, he worked actively for the amelioration of sufferings of refugees from Pakistan and saved the lives of many innocent victims. After this, he and his friend were offered officer's job. He declined this offer because the Congress had accepted Partition of the country. His friend accepted the job and retired as DPI.
He joined the CPI and started the work of organising industrial workers in trade union under the banner of AITUC in 1948-49. And he had to remain underground for about two years, warrant of arrest having been issued against him. During that period, he worked in villages in Amritsar for organising the rural masses.
After the warrants of arrest were withdrawn, he became whole-time functionary of AITUC in 1950. The period of 1950, 1967 was the time of acute unrest amongst the industrial workers due to low wages, lack of all types of amenities like bonus, paid casual leave and sick leave, grades and scales of pay, gratuity etc. Dozens of strikes, struggles were fought during that period, and he was one of the top leaders of the workers, being the General Secretary of the Textile Workers' Union, which became the Textile Mazdoor Ekta Union when AITUC and INTUC merged.
Two general strikes involving more than 25,000 workers each time for 36 days and 52 days, respectively, were fought in 1955 and 1965. He was the convener of the joint action committee of the trade unions in both strikes. During those strikes, he was arrested many times, first in 1953, when he underwent imprisonment along with 20 other trade union leaders and workers who were sentenced to a 10-month term that was reduced to six months following an appeal in the High Court. He also remained in confinement in the Central Jail, Ambala.
Later, he further intensified his activities and was arrested a number of times. He remained in Amritsar Central Jail for periods extending between 15 days and three months. Reason: he led various strikes against rising prices and rise in bus fares.
He was elected secretary of the Punjab State Committee of AITUC during that period. He was elected a member of the All India General Council in 1953 and its all India Vice-President in 1994. In 1980, he wrote his first book on the history of trade union movement.
During the period 1980-92, when terrorism held its sway in Punjab, he was one of those who mobilised and involved not only workers but also common people against separatism, in spite of the dangers involved. A party committee was formed for this purpose. They organised 'parbhat pheris' and mohalla meetings in various parts of the city. The committee, including CPM, Congress, BJP, Janta Dal and Akalis, was formed at his initiative as per the decision of the City Committee of the CPI. He acted as the convener of the committee. The result of all these activities was that the people of Amritsar were involved in fight against terrorism.
He, on behalf of the CPI, took an active part in the CPI-organised national and international events. During the wars with Pakistan, they organised canteens for Army personnel. During the Vietnam War, they organised a procession against imperialism.
He has authored many books on social security in India, Asia-Pacific and in developing countries of Asia, Africa and South America. His maiden book "Social Security and Struggle for Human Dignity in the Developing Countries" hit the stand in 1988. The World Federation of Trade Unions translated it into French also.
He has penned reports on "Exempted Provident Funds" as the Chairman of a committee of the CBT, "A Manual of Social Security in India" and "Social Security in Asia and Pacific". His "New Approach to Minimum Wages as Measure of Social Protection" appeared in three volumes (co-authored with Mr RKN Subrahamanya, Secretary General, Social Security Association of India).
His other books are "A Monumental Cooperative Study of Social Security Systems in 86 Developing Countries of Asia, Africa and South America", "Protection for the Elderly, the Disabled and the Survivors in India — at the threshold of 21st Century", "Health protection in India in the Year 2000" and "Unemployment Benefit Scheme in Developing Countries — A Case For Unemployment Benefit Schemes in India".
His two booklets on "Employees Pension Scheme" were translated in many regional languages. Five of his books have been published by the German Foundation — Friedrich Ebert Stiftung. Some of his books have worldwide circulation.