Little moves Grand gains
Parimarjan Negi has become the youngest Grandmaster in the world. M.S. Unnikrishnan on the big strikes of the 13-year-old and a set of other young players from the Capital who are checkmating the best in business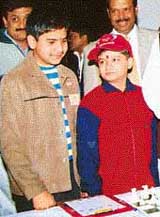 Negi with Sahaj Grover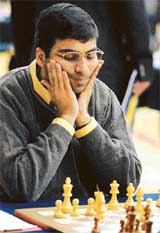 ROLE MODEL: Viswanathan Anand


Call it chaturang, shatranj, chess or whatever you will, but the 64-square game has spawned a new genre of players who will settle for nothing but the moon. Focused, committed, hardworking and intelligent, they come with a soaring ambition and an absolute sense of purpose, to boot. They set long-term goals and achieve short-term targets with firm and sure steps. And, move toward their final destination with care and confidence.
Parimarjan Negi's Grandmaster title at the tender age of 13 years and 142 days has come as no surprise to those who have been following the career graph of the boy wonder. He is the fifteenth Indian and the youngest in the world to achieve the feat. Ever since he made his bow at the age of four and a half years, he has not ceased to surprise, as winning titles has now become a habit with him.
When the news filtered out about his becoming the youngest Grandmaster title holder and the second youngest in the history of the game after he secured his final GM norm by holding Russian GM Ruslan Sherbakov to end up with six points from nine rounds in the Chelyabinsk Region Superfinal Chess Tournament in Satka, his family and well-wishers heaved a sigh of relief. They knew that it was coming, but not so soon. Negi thus unseated Norway's Magnus Carlson as the youngest Grandmaster in the world — a record which will be hard to break for a while. He also erased the Indian record of Hari Krishna, who became the Grandmaster at the age of 15 years and 91 days in August 2001.
Hari himself had improved upon former world champion Viswanathan Anand's 14-year-old record of 18 years and 19 days achieved in 1987. Sergey Karjakin of Ukrain holds the record of being the youngest Grandmaster at 12 years and seven months in 2002.
Anand was the first Indian to enter the GM hall of fame. He was followed by Dibyendu Barua, Praveen Thipsay, K Sasikiran, Abhijit Kunte, P Hari Krishna, Surya Sekhar Ganguly, Sandeepan Chanda, Koneru Humpy, Tejas Bakre, R.B. Ramesh, P. Magesh Chandran, Neelopat Das, Deepan Chakravartty, and now Negi.
It is indeed a great honour for Indian chess that the country has produced three Grand Masters during the last six months — Neelopat Das, Deean Chakravartty and Parimarjan Negi. Early this year, when Negi returned home after attaining his first GM norm, he had asserted that he would capture the GM title before the year rolled out. But he has completed the task half way through 2006 to show how confident he was about the task ahead.
Negi came to international limelight when he won the Asian Under-10 title at Tehran (Iran) in 2002. He won the Commonwealth Under-10 title in 2003 but the bigger success came in his way in the winter of 2003 when he achieved his maiden International Master (IM) norm during the Bad Wissen tournament at Hamburg. He got his remaining IM norms in 2005 at the Dubai Open, Sort Open in Spain and the Essent Open in Holland before drawing the year on a triumphant note by capturing his IM title, defeating GM Sergey Erenburg of Israel, in Hastings (England).
Negi is among the handful of new crop of chess players from Delhi who have been carving a definite niche for themselves. A few years ago, it was the preserve almost of Tamil Nadu to throw up International Masters and Grandmasters at regular intervals after Anand's success at the world level created a virtual chess renaissance in the state. Gone are the days of Tamil Nadu monopolising the Masters' stake. Now Delhi, Kolkata, Hyderabad, Mumbai et al vie for the chess pie.
More and more young boys and girls in Delhi are being initiated into chess, thanks to the determined bid to promote the game by many prestigious public and government schools, and of course, by the Delhi Chess Association (DCA). The DCA started promoting the game seriously only since 2000 as earlier, the association's activities were confined to just a week's tournament play.
Now it spans over 25 days in various age groups, though the time limit is still too short for the young players to compete in various age groups. But the portly DCA secretary, Bharat Singh Chauhan, is very optimistic that with the backing of Pradeep Jain of the Parsvnath Group, the DCA would be able to host more and more prestigious tournaments in the coming years to widen its scope and reach.
"Chess is big business out there. But our thrust is to promote junior talent, as our future lies in them," Chauhan asserted.
For the present, at least something is being done by the DCA to give out hope for chess enthusiasts. And in this resurgence of chess, the coaches are making a killing too. A coach charges a minimum of Rs 500 for a one-hour session, and it can go up to Rs 8,000 an hour, depending upon the quality and standing of the coaches and the trainees.
Promising players
Sahaj Grover stormed the world by lifting the World Junior Under-10 crown last year. And now, Negi's GM title has placed Delhi as a potential city of chess champions. Another promising player on whom a lot of hope is pinned is Prince Bajaj who recently won the gold in the Under-8 section at the Tehran Championship. Sankalp Moduwal is also an exciting player who became the youngest Delhi State Champion at 15 years this year.
Another factor responsible for the profusion of talent in Delhi is that a lot of ex-internationals have taken up coaching as a full-time career. Surprisingly, the top three prodigies from Delhi do not have any family background in chess. They have reached a position of eminence with dint of hard work, inherent talent and committed parental support. Their parents have invested heavily on them in coaching and foreign exposure, and the results are now there for everyone to see.
"I had no idea what chess was all about till Parimarjan started playing it. He was introduced to chess by a friend from my JNU days, Dr Vinayak Rao, who is with the UN now," recollected Negi's father J.B Singh, working with the Air Traffic Control at IG Airport in Delhi. With Negi earning his GM title — though the ratification by the Federation Internationale des Echecs (FIDE) or World Chess Federation will take some time — he will now start getting appearance money for playing in tournaments.
J B Singh says about Rs 4 lakh is spent on Negi's coaching every year as good foreign coaches charge about 250 Euros per day. And someone like Nigel Short, under whom Negi plans to train, will cost more.
There is no money in chess till a player attains the GM norm, though promising juniors like Tania Sachdeva, Sahaj and Negi have been lucky to enjoy the backing of liberal sponsors. Tata Tea provids Rs 15 lakh for Negi's foreign trips, while Air India gives him free tickets. Tania was first sponsored by Hughes Software Ltd and later by Indian Airlines and Oil and Natural Gas Corporation. Sahaj Grover is sponsored by the Khemka Group to the tune of Rs 30 lakh per year, and the deal will continue till he turns 18, which helps his mother Sangeeta Grover and coach Gurpreet Pal Singh to accompany him on his foreign trips. Money is no problem for the performers, and fortunately, the Delhi kids have been consistently delivering, which makes a gambit in chess an interesting proposition for the sponsors.
The young breed of players from the Capital are set to change that image, matching the best in the business, move for move, ever ready to checkmate.
The young kids on the block are no daydreamers; they are path-breakers. Negi's GM title is the best example of how to court success with planning, support, proper guidance, foreign exposure and talent. He will now get to play with the best chess masters in the world, and earn money too. He has already secured entry for a four-star tournament in Athens, and more are expected to follow.
Negi had put himself in line for the GM title early this year when he earned his first GM norm — the youngest to do so at 12 years and 330 days — at the Hastings International Chess Congress in England. He is an attacking player, who is slightly weak in "positional play", but his game has been chiselled by an army of coaches like Kazakh GM Evgeny Vladimirov, International Master Vishal Sareen, G B Joshi and others. He spends six to seven hours on the chessboard daily. "A player of Parimarjan's calibre should never stick to one coach. More (coaches) the merrier should be his motto as there will be more inputs, more ideas and better strategies with more coaches around," observed Chauhan.
Chess culture
And in this chess revolution, the role played by the Russian centres in Chennai, Kolkata and Delhi cannot be underestimated. The Botwnik Club in Delhi, the Goodrik Academy in Kolkata and the Michael Tal Academy in Chennai, all being run from the Russian centres, have played major catalytic roles in promoting and popularising chess in the respective states and others took the cue from them to spread the chess culture elsewhere in the country.
In Andhra Pradesh, former Chief Minister Chandrababu Naidu's irresistible offer of a lap top and cash awards ranging from Rs 10,000 to Rs 25,000 to winners of junior tournaments created a virtual stir as parents pulled their wards out of schools to make them concentrate on chess. And the exploits of Grandmasters like Humpy and Hari Krishna at such a tender age only cemented the belief of the parents that their children could make a career and living out of chess. And quality emerged from quantity to make Andhra one of the pioneers in the game.
Anand, who created an altogether new chess culture in the country, meanwhile, is going strong as the year witnessed him winning the Corus Championship for a record fifth time and crossed the 2800 ELO rating for the first time in his career. He also retained the Amber Blindfold rapid and overall championship to continue to inspire millions of Indians and new converts into chess. Long live the king of chess!



Tania Sachdeva was the first to blaze a golden trail in Delhi when she emerged the Asian junior chess queen. She has since achieved the Woman's Grandmaster (WGM) title, and out of the 11 World Championships she has played, she finished among the top 10 in ten of them. She was spotted by seasoned chess players of Delhi when she was just six years old, and tutoring from eminent coaches like G.B Joshi, I.M.Koshy and Grandmaster Vladimirov helped her become a 'complete' player.
Tania has been listed in the Limca Book of Records as the youngest ever to win an international title in 1993 when she lifted the British Under-8 Championship in Scotland. And in 1994, she created "history" when she became the first girl to win the boys title in the British Championship in Norwich for the first time in the history of the 86-year-old championship.