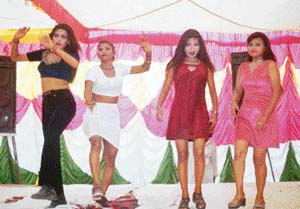 Most dancing girls come from poor families.
— Photos by Inderjit Verma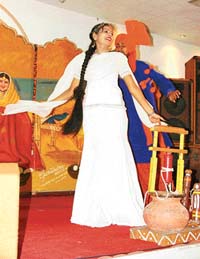 Sixteen-year-old Sapna often skips school. The reason: She dances in marriage pandals. A student of ninth class in a government school in Patiala, she took up dancing to support her poor parents and four younger siblings.
Though she's subjected to ogling and lustful cries of men from the audience, Sapna, who took to this entertainment trade three years ago, has more or less accepted her fate and doesn't think much about not leading a regular life. Her mother Beena too shows little concern about her neglecting her studies. "What will education give her? I studied till plus two but could not earn enough as a seamstress to feed my children," says Beena.
The mother, however, admits: "Do you think I can sleep at night when my daughter is away? I keep tossing and turning in my bed until she is home."
Sapna is one of the many dancing girls in various parts of the state. With more and more people going in for lavish marriage celebrations, the number of dancing girls is increasing by the day. And as the demand for loud entertainment grows, more and more girls are continuing to be wooed by orchestra owners.
The ban by the Maharashtra Government on dance bars has only encouraged the trade in Punjab. With the state's multicrore marriage business and dollar-rich NRIs organising grandiose marriages and literally throwing money at such festivity, many troupes of bar girls have migrated to Punjab to continue their line of work.
Nadira (name changed), who now lives in Ludhiana's Industrial area with her three daughters, was till a few months ago dancing in a bar in Mumbai. Her daughters too were working in bars. Forced by the ban, they headed for this place and hope to return once the issue gets settled in Mumbai.
Most of the dancing girls usually come from poor homes. They take up this form of livelihood as it promises fast income. But along with the money also comes social stigma and, in many cases, exploitation at the hands of their employers. The minor girls are at times even lured into prostitution.
While the Maharashtra Government banned dance bars, claiming that it was encouraged crime and anti-social activities, the Punjab Government is yet to address this emerging trend.
Though a few sociologists and non-government organisations have sought the attention of the government to this issue yet nothing concrete has been done so far. In 2003, however, reports in The Tribune had forced the Ludhiana district administration to ban the infamous 'zinda dances' at Chappar Mela.
Besides marriage parties, dancing girls, surprisingly, are made to perform at election and political rallies too. Little can be expected from politicians to check the exploitation of girls in the trade when you see scantily dressed girls entertaining crowds at a political rally, particularly when a leader is arriving late.
Almost all marriage parties in the state have girls dancing on the stage to entertain guests. Some prefer Punjabi numbers with dancers wearing traditional attires, while others have scantily clad girls gyrating to popular Punjabi pop. With minor girls staying away from their houses for most part of night, they face the danger of getting exploited. Many of them confess they are being forced into prostitution by dance group owners.
As one dancing girl put it: "Our life story speaks of poverty, sheer exploitation and a feeling of remorse. We take to this profession out of need for money but then find ourselves in a situation from where there's no going back. From where there's nobody who can rescue us."
"I am paid Rs 500 for a night. This is a lot of money for us. I have to dance like a machine continuously for hours. Finally, when most of the guests leave and men in an inebriated condition are left, we have to bear all kinds of excesses with a smile. Many rich brats even follow us. But what can I do? I have no option," said another dancing girl, resting in her rented house in Rajguru Nagar, ludhiana.
''We have to wear revealing clothes otherwise nobody would hire us. Now it does not make much difference to me but earlier I used to feel very uncomfortable. I am a daughter of a poor and widowed mother, who made me pick up this work," said a 17-year-old girl, sitting beside her mother in their humble household in Ludhiana.
Her mother narrates her own tale of struggle: "I lost my husband when my daughter was just a toddler. I was not educated so could not find a job. I met a group of dancing girls and started going with them. I danced for 10 years. Now my daughter is earning more than I was. I taught her dancing and dressing up. She is a favourite with the orchestra people."
"I do not want to think about her future. She had to leave her studies when she was in sixth class. I am not sure whether anybody would marry her. At times, I feel guilty about forcing her into this. When I see girls of her age enjoying themselves in the protection of their homes, I feel sorry that I send my daughter into the bad world. With every passing day, she is losing her innocence and her nightmarish experiences have added 10 years to her age. The need for survival forces you to do so many things," philosophically added the mother.
There are some households, where dancing has been a profession followed by generations. Sheela Rani took to dancing when she was young and after she put on weight and was rendered useless by her employer, she started sending her daughter with the dance group. When she was asked why did she force her daughter into this profession, she blamed it on her husband, "Her father does not do anything. He sits at home. I had started dancing for money. I am growing old now and my daughter has to do it to run the family."
"I don't know whether somebody would marry her or not. I started it after marriage. I hope she finds a husband who would accept her and give her a better life," said the mother.
Sunita has no remorse in sending her three daughters for dancing in marriages and other parties. Aged 18, 16 and 13, her daughters started dancing four years ago. The mother realised that this work was much more paying than anything else so she asked them to quit school.
"We were into flower business, which wasn't doing well. There somebody asked me to send my daughters with a dance group. Initially, I had inhibitions but when he took me to some functions where other girls were dancing, I made up my mind. Now they are leading a good life with all luxuries of life. I could not have given them a better life," she says.
Admitting that they have to live life in isolation as neighbours and relatives refuse to have any ties with them, Sunita said that nobody came to help them when they slept hungry.
"My younger daughter feels terrible at times when our neighbours do not allow their daughters to sit with her. She gets hurt and wants to go back to her school. But then there would be no refrigerator, big TV screen and other material things which they enjoy while they're not at work."