Difficult daughters
Shalini Rawat
Whither Justice: Stories of women in prison
By Nandini Oza. Rupa. Rs 195. Pages:188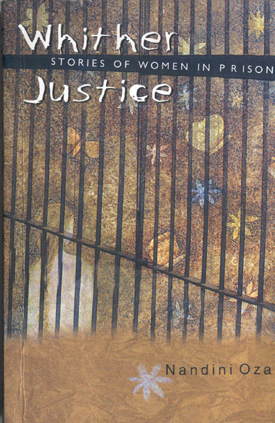 A UN representative in Turkey observed a strange phenomenon—that of forced suicides of women. Women who are supposed to have brought 'shame' to the family name are locked alone in a room—with a rope or a loaded gun at their disposal. The end is quiet. The dispute resolved. Honour restored.
Women who languish in jails in India are far less fortunate. The law of land for them is always implied—they are guilty till proved innocent. Nandini Oza, in the course of her field-work or arrests as an activist of the Narmada Bachao Andolan, encountered many of these women and decided to tell their tales. The outcome is powerful stories of women jail inmates, who have been cornered by the very system that was supposed to nurture and care for them.
Oza's stories are thinly veiled cries for jail reforms as much as a fight for women's dignity and human rights. Our cruel 'punishment' system inherited from the British fails in its purgatorial purpose and merely pushes the inmates deeper in the bog of despair and sometimes even towards crime. Add to that the exploitation of the jail staff inside and ostracism of the society outside and the fate of most women inmates seems sealed.
Oza's first brush with the brutality of the mighty state came during graduation when she lodged a complaint against a ragged woman pick-pocket with two children. Only to discover that the police nicked the 'recovered' purse, while the woman is jailed for three years-with one of her children dead and the other snatched from her to be sent to a remand home. Oza's faith in the system was shattered.
There are places like the Dallas Freedom House in the US, where women prisoners are taught life skills such as financial planning, parenting, cooking sewing etc., offered de-addiction facilities and reunited with their babies. Oza's experience with Indian women prisoners, however, was depressing. Their monotonous, backbreaking work, insipid meals, unhygienic living conditions were designed to break them in body and spirit. Moreover most women had been abandoned by their families and could not even go to the court if their case came up as they couldn't afford to bribe the cops. Neither could they avail of parole as there was no one who could vouch for them.
There were some who had been awaiting trial for years. Some who had had their kids in jail, the innocent co-accused travelling along with their mothers on the agonising path. Kids, who had been brought up without any toys, games or books in an extremely stifling environment only to be violently snatched from their mothers at five years of age to be sent to remand homes. (One wonders what becomes of the boys, brought up mostly by women and sent to all-male remand homes?) Only two, strictly censored, letters a month are allowed. A 20-minute visit once a month also comes at a 'price'.
All this to women who would hardly be considered criminals by a saner system. A convict, e.g., had murdered her second husband who had been sexually molesting her eight-year-old son. Another had killed her husband who came home with another woman and tried to evict her and her four children from land that was rightfully hers. Yet another, was gang raped by policemen and jailed because she refused to evacuate her home in favour of a dam.
Extending Beauvoir's quote we can say: "One is not born a woman criminal. One is made one." Dallas or Turkey? We need to search our souls to see which one are we following.