Clairvoyant commentator
M. S. Unnikrishnan
Tragic Idiom—O. V. Vijayan's Cartoons and Notes on India
Editors Sundar Ramanathaiyer, Nancy Hudson-Rodd. D C Books, Kottayam (Kerala).
Pages 261. Rs 1150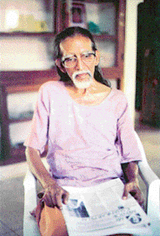 O.V. Vijayan
THERE has always been this debate about O.V. Vijayan's standing as a cartoonist and writer. Though Vijayan straddled both worlds effortlessly, one school of thought firmly believed that he was a better cartoonist than a writer (at least in his Malayalam fiction).`A0 He appealed to the classes as a writer, but was rarely accepted among the "masses as well as the classes". Vijayan's genius as a cartoonist appealed only to the connoisseur—the thinking, conscious people. He did not pander to the taste of the ordinary, did not draw to provide mirth, or create a laugh. His cartoons were searing social commentaries, impacting the marginal people and starkly portraying their plight, with black humour.`A0
Vijayan himself provided insight into his cartooning ethos when he wrote: "It is an unutterable sadness which punctuates the reality that I am called upon to portray, and yet the dominant superstition of my profession demands that I raise a laugh. If you are depressed and morbid, I am reminded, there is a custom-made laugh even there, for did not Thurber mourn his epoch with laughter? But I am what Thurber could never understand. I am a 'Third World' cartoonist. In my world, there are children who are fed on grass, and whose eyes, as they peer out of an Oxfam ad, are full of infantile senility that Thurber might never have encountered...I think of this tryst with grass, and when I do that, I want, in one suicidal sweep, to repudiate all those who lie to me about the tryst with destiny.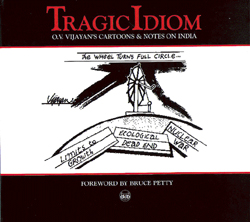 Now, how do I make that into a political cartoon?" Well, Vijayan indeed made that into a political cartoon, and much more. Didn't we see that in the cartoon wherein an airplane "back from Cancun" is about to land, and the impoverished father and son, gaping at the flying bird, making this sardonic comment, "It's a great feeling, dad—being a government of the poor by the rich—for world seminars!"
A0 He was an internationally acclaimed cartoonist who drew for a wide spectrum of readers from Shankar's Weekly to Patriot and Link, to The Hindu, The Statesman, the Far Eastern Economic Review, Illustrated Weekly and Newstime among others. Tragic Idiom—O.V. Vijayan's Cartoons and Notes on India fully captures his angst of the world around him. Vijayan was a political animal and very disturbed by the inequalities of life—and his cartoons truly reflected this.
His brush spared none and at times was prophetic too. Most of the issues he touched upon are relevant even now, and editors Sundar Ramanathaiyer and Nancy Hudson-Rodd (foreword by Bruce Petty of The Age, Melbourne), have done an immaculate job of putting together some of Vijayan's masterpieces.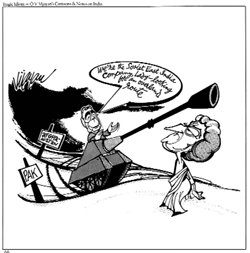 "This collection is much more than a retrospective of clever observations. Vijayan seems to represent a rare restless witty intelligence, moving from literature to political cartoon, intertwining the two, searching for a way to affect opinion in the most complex and challenging of nations, and at the same time, reflecting on the process itself", writes Petty in his foreword.`
In the evening of his life, Vijayan was a shattered soul who stopped drawing cartoons, as he was disillusioned with the politics and corruption all around. "His concern for an India searching for a just society is`A0the great story of modern humanity. What Vijayan has commented on all his career is relevant to human future in a`A0way Western cartoonists can never be", observes Petty.`A0 The book is divided into nine sections, with subjects as varied as the State of the Nation, Foreign Encounters, Democracy Wall, State of the Economy, Rite of Rehtoric, State of the States, The Domestics, Nuclear and The Emergency, showing the breadth and depth of Ottupulackal Velukutty Vijayan's vision, whose dream to set up an Academy for Cartoonists remained fulfilled.