Food Talk
Awadhi flavour
The joys of boti kebab are gentler. It should not be confused with mutton tikka,
says Pushpesh Pant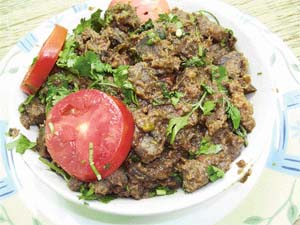 FEW these days refer to succulent chunks of mutton as boti and fewer we found out are familiar with the delicacy boti kabab. When we mentioned this Awadhi delight recently, the reference evoked interesting responses. One lecherous friend was reminded immediately of a Punjabi play full of double entendres a la Dada Kondke dating back to the late 1960s that ran for weeks to a packed Sapru House: Boti Naram Soti Garam. We shall not be deterred by such snide shooting from the hips and proceed anon to more mouthwatering context where boti rhymes so very deliciously with roti.
Good friend Alauddin, a talented youngster who was serving a tiring apprenticeship in Aminabad till he was spotted by the great headhunter Jiggs and groomed to play a stellar role as a kababiya, treated us to a large plateful of boti kebab just before he left for London on his first assignment abroad.
CHEF'S SPECIAL
Recipe
Preparation time: 30 minutes (after overnight marination)
Cooking time: 30 minutes
Serves: 4-6
Ingredients
Mutton (boneless pieces cut in small cubes) 1 kg
Malt vinegar ¼ cup
Raw papaya paste 1 tbsp
Butter 2 tbsp
Salt to taste
The Marinade
Hung yoghurt (whisked) 200 ml
Ginger paste 2 tbsp
Garlic paste 2 tbsp
Red chilli paste 2 tbsp
Garam masala 2 tsp
Refined oil ¼ cup
Salt to taste
Method
Mix the papaya paste with salt and vinegar in a large bowl. Leave the boti in this mixture for at least 30 minutes, ensuring that each chunk is well coated. Blend all the ingredients listed under this head and put the boti in this marinade overnight. Heat ghee/oil in a very shallow or wide flat pan. Add the boti with the marinade and cook on low-medium heat turning frequently with a spatula for about 15 minutes and very little moisture remains.
This was his going away gift and a reminder of the sad fact that it is not only the brain drain from IITs and IIMs that is depleting the Indian talent pool. The creative genius of artistes in the kitchen is no less valuable part of our national heritage than the surgeons, engineers and managers.
Alauddin who was employed by the Radisson in Noida till he was lured by savings in forex, one hopes, will return soon. Till then one will have to rely on DIY with the help of the recipe that follows. The alternative is to travel to Lucknow and savour the original at Sakhavats the legendary 'hole in the wall' fine dining eatery in the Gymkhana there.
There are some philistines nay boors who insist that the over spiced chewy dices of meat comprising the filling in a khati kebab are in fact boti kebab or Calcutta's interpretation of this classic; no lover of food can take this absurd claim seriously. Nor should the boti kebab be confused with mutton tikka—the worthy Punjabi of tandoori ilk. But the robust should not be mixed up with the refined. The joys of boti kabab are gentler.
Of course, once you prepare the kabab none can stop you from using it as a 'filling' in a roll or a wrap you prefer. Jiggs likes to render his offerings more exotic by incorporating his 'proprietary' aromatic garam masala enriched with mace, nutmeg, cloves and cardamom. We are quite happy with the unadorned, less pretentious recipe we share with our readers. You are free to make your own choice.