The changing cycle
India may be the second largest producer of bicycles in the world but precious little has been done to promote the cause of cycling in the country. Shveta Pathak reports that the cycle industry is today churning out beauties that could easily make a style statement but the road ahead is rough for the two-wheeled bikes. And, the status-conscious still refuse to adopt them as a mode of transport.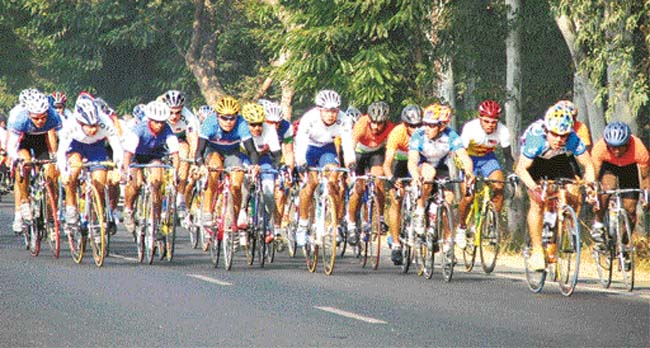 DO you remember the tinkle of the bell as daakiya Rajesh Khanna delivers the post in the song Daakiya daak laya? Or, the very urbane Aamir Khan making your breath stop for a while as he competes for the famous race in Jo Jeeta Wohi Sikander? If you do, you mustn't have forgotten the spirit lent to these moments by the good old bicycle.
India is the largest cycle manufacturer in the world after China. The Indian industry doles out 1.25 crore bicycles every year — with almost each day witnessing new designs, colours and features. Even as environmentalists and the health-conscious worry about the rising number of motorised vehicles on our roads, the easy-on-pocket two-wheeled vehicle still pedals its way to almost every Indian household.
The good old black or green cycle bought by your grandpa and passed on to your father has now given way to a mind-boggling range to choose from. In short, today you could make a style statement with your bike.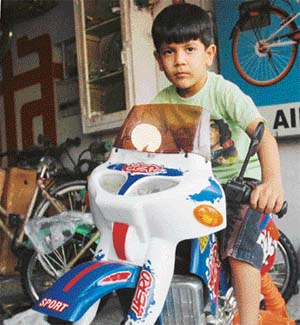 Kids spell big business for the bicycle industry in Ludhiana, which is the biggest in India. — Photos by Sayeed Ahmed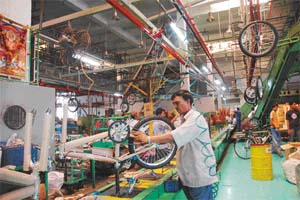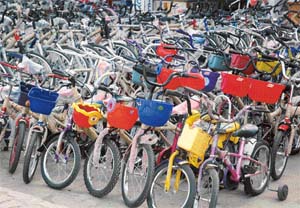 As 14-year-old Shreya, who has changed three bicycles so far, puts it: "After using a tricycle, my dad bought me a bicycle of his choice when I was four. Since then I have changed three cycles and each time I find out the latest models available so that the bike I go in for is not just strong, but also looks stylish and trendy."
Market players say they are bringing varied innovations to cater to the changing demands of the consumers. Onkar Singh Pahwa, managing director, Avon Cycles India, one of the leading cycle producers in the country, says: "The regular black or green bicycles dominated the market a few years ago and the customers ranged from workers and office-goers to school and college students. However, the customer profile has enormously changed and the proportion of those relying on cycles as a mode of transport is declining. A significant number of buyers now are school-goers and to attract them, we are coming out with a large number of models with variations in colours, shapes, accessories, key features and the type of material used."
As per estimates, the proportion of those going in for standardised bicycles has come down from 90-95 per cent to 50-55 per cent in the last five-10 years. The consumer segment that is speedily getting bigger comprises kids. This brings relief to cycle-makers as the affordability range is higher and there is more scope for innovations. Thanks to this segment, the loss in terms of volumes is covered up by the revenue inflow.
No wonder school-goers on fancy bikes are a common sight. To attract the young, there are all kinds of attractive colours to choose from: silver, golden, red, hot pink, turquoise, fluorescent shades, etc. The same applies to designs that could have a K, R, Y or a diamond-shaped frame; raised handles, handles with elbow rest, bar ends; brakes with a side pull system; foam-padded saddles; wheels with plastic discs; and an in-built dress guard for ladies' bikes.
The designs cater to needs as well as the budget of cyclists. So besides the regular bikes for routine cycling, the market offers sports bikes, mountain terrain bicycles, bikes with gears, and roadsters that accommodate two riders. One of the latest offerings includes the battery-operated bikes.
"Earlier purchase decisions were instant on account of the limited options. But these days people like to know about the many varieties and are much more conscious," a dealer says.
Priced Rs 15,000 onward, the battery-operated bikes are the latest attraction. On a single charge, they can run 40-60 km at a speed of 23 km an hour. These bikes, however, would be preferred by those who are planning a purchase for reasons other than health improvement.
"Considering the rising fuel costs and pollution, these bikes are ideal. They are low on maintenance cost too," says Pahwa. The company is targeting office-goers and students for these slick bikes and is hopeful of an encouraging response.
"Howsoever much might be the rise in number of cars, motor cycles et al, it remains unlawful to hand them over to kids. In contrast, battery-operated bikes need no registration and licence to ride them."
Indian companies, which have come out with a large variety of bikes, have a long way to go even as they effectively combated competition that came from global market leader China.
The Chinese bikes have failed to attract customers in India as they are not considered durable. A year ago, colourful Chinese bicycles had flooded Indian markets. Now too these attractively coloured bikes are being sold but the shopkeepers like to pass them off as Indian bikes.
The available bikes from China are mostly for kids, in sizes up to 18 inches. These bikes come with attractive designs as well as features. For instance, Indian companies have just recently launched battery-operated cycles but Chinese companies had offered them much earlier. Local markets still have battery-operated bikes from China for children.
Even as their designs and colourful appearance remain a plus point, a quick survey by The Tribune revealed that many local manufacturers or dealers import bikes from China and sell these under their own label.
"People do not have much faith in Chinese cycles. Using our own labels, we are able to sell them. They look quite attractive — a factor that attracts kids," a dealer in the cycle market in Ludhiana said on condition of anonymity. The pricing too came in the way of China capturing this market. Owing to heavy duties, the difference in the pricing of Indian and Chinese bikes remained small.
For a regular cyclist, however, there is no dearth of options. For routine usage, a cycle could cost you anything between Rs 1,500 and Rs 8,000. Dominated by Indian brands like Hero and Avon, this segment brings variations in not just the appearance but features like quality of frame and wheels.
It is bikes imported from the US, Germany, France, Russia, Thailand and various other countries that carry a handsome price tag. Popular brands are America's Track, Colonage and France's Team Really. The price starts from Rs 50,000 and could go up to Rs 70,000.
Bikes used for stunts, users of which are limited in India, are the costliest and could run up to lakhs of rupees.
Ludhiana-based cyclist Raminder Singh, who works with Punjab Agriculture University (PAU), says, "Sports bikes are quite expensive as they are imported. Their cost runs into lakhs. One is dependent on the stuff institutions provide. Indian companies too should start coming out with these so that they can be afforded by the middle class. This way the sportsperson would get encouraged and the sport too would become popular."
Raminder Singh, who gave up athletics for cycling, is of the view that encouragement to the sport would also mean more cyclists on roads. This would ultimately lead to a better environment, less pollution and improvement in the health of citizens.
The diminishing number of cyclists is a cause of worry for environmentalists and economists. While manufacturers attribute the change in trend to rising income levels, the other factors could be easy finance options for motorised vehicles, urbanisation and status symbol attached to expensive vehicles. "Despite studies coming out with shocking details on rise in diseases like heart attacks, people are more worried about their status," remarks Pramod Sharma, co-ordinator, Yuvsatta, an NGO that has also launched a project to promote cycling.
Sadly, efforts to motivate people to take to cycling remain negligible when compared with the situation in other countries. Most countries provide separate tracks for cyclists, have regular cycling tours and even film festivals promoting bicycles.
New York and London are celebrating the sixth annual bicycle film festival, and it is quite common for various organisations in most countries to conduct cycle tours. This phenomenon is rare in our country.
One might find a few tour operators giving an option to "foreign tourists" for cycle tours, but there is no such attractive offer for domestic tourists and the general public.
The industry rues that the government is not taking measures to promote use of cycles. Barring places like Chandigarh that have cycle tracks (which incidentally are not put to much use), a cycle rider is not safe on Indian roads keeping in view the stupendous increase in fast-moving motorised vehicles.
"Time and again we have been asking the government to take measures in this direction. Come to think of it, the bicycle is the need of the day given the increasing pollution, rising fuel costs and health hazards on account of leading a fast-paced life. Unfortunately, efforts in this direction do not seem to be a priority with the government," says a leading manufacturer.
"Safety is a major concern when it comes to using the cycle as a mode of transport. Unless people feel safe about the vehicle, the usage is unlikely to increase," says Tejinder Singh, director, physical education, Sri Aurobindo College of Management and Commerce, Baddowal.
If the cycle industry is to continue growing, India has to ensure the safety of cyclists and popularise cycling as sport too besides generating awareness about its other benefits. Otherwise, we would lose out on not just the industry but also on a healthier and cost-effective means of transport, say industrialists.


ONE of its kind in the country, Greentire, a project launched by Chandigarh-based NGO Yuvsatta, is an endeavour to "motivate more and more people to ride bicycle more often". Says co-ordinator Pramod Sharma, "We have got a good response and some of our members, who include students and office-goers, have even taken to going to offices on bicycles."
The NGO promotes use of cycles by forming cycle clubs, organising cycle tours around Chandigarh and by holding cycle games.
Quoting a recent study, Sharma says: "Considering that every third death in a place like Chandigarh is due to heart attack, using the cycle becomes all the more important."
A major hurdle is the mindset of the status-conscious against using the cycle. Sharma insists that it is important to break this mind-set. "Unlike other countries where people do not make a fuss about cycling and happily take to it, people here consider it below their dignity to cycle to office. It is from here that excuses like time consumption arise."
Insisting on the need for efforts from the government, he says building cycle tracks would be a step in the direction. "Barring Chandigarh, no other city has them, which is sad. We are perhaps the only country that doesn't even seem bothered about the issue."
Despite the odds, this NGO has had many successes in terms of various people, including bank and corporate employees, shedding their initial hesitation and taking to cycling as a mode of transport.
"While it would require a lot of effort to make people use it for transportation, we have been quite successful in gathering people for cycle tours and games," he smiles.
For the status-conscious, Sharma suggests: "May be they could go in for the Mercedes bicycle, priced at Rs 1.5 lakh plus. Even though the bike wouldn't get the luxury of six-lane metalled roads, the pleasure is every bit worth it."