Laughter the Punjabi way
Punjabi comedians have been a rage for long unlike comedians from other parts of the country who credit the recent TV show The Great Indian Laughter Challenge for making them popular, says Anandita Gupta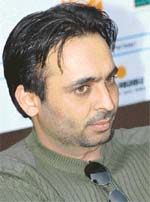 Bhagwant Mann
Punjabis laugh their hearts out, be it on Santa Banta jokes or on life's ironies. No wonder Punjabis are great comedians themselves. Perhaps that explains why Punjabi comedians are going places leaving everyone in splits.
Not so long ago, these small-town wits used to sleepwalk through most of the year. The only time they'd burst into life was when Jalandhar Doordarshan telecast programmes like Ronak Mela and Jhilmil Tare. Though their earthy humour, sharp wit and satirical scripts strung with references of daily existence, provided for hearty chuckles, their appeal remained confined to Punjab.
A new lease of life (or limelight, to be more specific) was first provided to these entertainers by Jaspal Bhatti, an engineer by profession. This Chandigarh-based comedian churned out some popular satires (Ulta Pulta, Shah Ji Ki Advice) on the system by deftly blending biting jokes with rib-tickling characters and heaped ridicule on social inadequacies. The country loved him and asked for more — not just Bhatti, but other comedians too. Jalandher-based brothers Bhottu and Kake Shah, who started their career as anchors at jagrans, melas and star nights, released their album Cycle Mitran Di in 2000, which became a hit.
Then there was this endearing Chacha-Bhatija duo then — Jaswinder Bhalla and Bal Mukand Sharma, who revived the bhand form of comedy. Their annual satire Chhankata was a fast-paced medley of comic conversation and became very popular in Canada and America.
"So much so that we made 24 issues of Chhankata in 1988 on public demand. We have also come up with videos like Massi Nu Tarsange, Chacha Sudhar Gaya, Jadte Te Koke that have been received quite well in India and Canada," laughs the duo.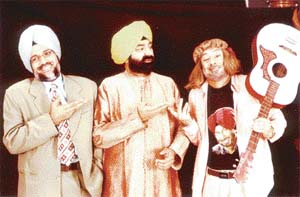 Gurpreet Ghuggi, Jaspal Bhatti and Jaswinder Bhalla have won many hearts in India as well as abroad
Another provincial talent which leapt into international limelight is Chandigarh-based Bhagwant Mann.
"I started my career in 1992 with an audio album called Kulfi Garmagarm and now my audio cassettes have broken many sales records," confesses Mann who has 30 cassettes to his credit.
Also, making the state, country and other countries laugh with him is Gurpreet Ghuggi, the endearing comedian-cum-scriptwriter-cum-anchor. His crackling wit has earned him many fans in Pakistan, Singapore, Switzerland and Dubai.
"I was chosen by prominent Punjabi comedian Chacha Ronki Ram as Ghuggi (a bird) in his Raunak Mela and today my audiences adore me", beams Ghuggi.
Call it the homesickness of Punjabis settled in alien lands or the earthy humour of these simple-hearted Punjabi comedians, these humorists are going places for sure.