Johny arrives on small screen
Srabanti Chakrabarti chats with Johny Lever about his foray into television with the recently launched Johny Aala Re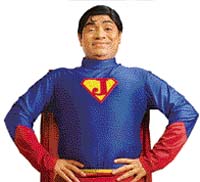 THE usual trend is to leave television and venture into Bollywood. The lure of the big screen is often too difficult to resist. And even if an actor from the big screen moves to the small screen, mostly it is because he is running out of options. But Johny Lever has never followed the trend. Despite being a successful comedian on the big screen, he has moved to the idiot box to launch his own comedy show Johny Aala Re on Zee TV.
Why this sudden move from the big screen to the small screen?
Frankly, I was getting bored with films. I have spent 25 years in the film industry and felt that there was nothing exciting left for me in films. So I decided to try out something new ó television. There is no way you can deny the existence and popularity of television. Even an actor of Amitabh Bachchanís stature has done television shows. Moreover, the producers of the show, Akashdeep and Sheeba, have been friends for long. Few years back, I had discussed with Akashdeep a similar show. But somehow it did not materialise. So this time, when he again came up with the idea, I thought I must make it. Thatís how Johny Aala Re came about.
What is it that makes the show unique?
It is the fact that you can watch this show with your family. Most of the comedy shows are currently on air crack lewd jokes and discuss issues you wonít be able to watch with your family. Johny Aala Re is an out and out family entertainer, where there is no competition, no SMS ó just unadulterated humour. For the show, we have a dedicated research team whose job is to scan the goings-on in our vicinity and identify humorous elements from there. But like other shows, even Johny Aala Re depends on celebrities for higher ratings. Celebrities definitely add a lot of glamour to the show, but that is not the only reason why they will come to my show. The audience will see a completely different face of their favourite celebrities. You will see how well they mimic their peers ó itís a completely new talent.
So are you bidding adieu to films?
Not at all. But I will become very choosy about my films now. Unless there is a really nice and challenging role, I donít think I will take up any film just for its sake. After a quarter century in the industry, I guess I can have that luxury. Another dream I have is of producing an out and out comedy film.