You can bank on Hanks
Tom Hanks's youthful looks and exuberance belie the fact that he completes 50 years today. Double-Oscar winner, his landmark performances have made him one of the top actors of our time, writes Vikramdeep Johal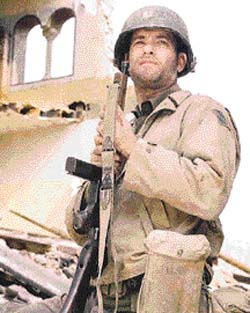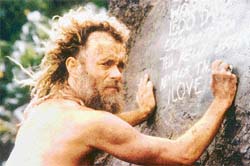 Tom Hanks in Saving Private Ryan (top); as the modern-day Robinson Crusoe in Cast Away (above)
Likable, saleable, durable — Tom Hanks has been one of the most "able" Hollywood stars in the past decade or so. His youthful looks and exuberance belie the fact that he completes 50 years today — half of which he has spent in the film industry.
After all these years, Hanks still has that air of vulnerability and innocence about him. He was the perfect choice for the role of Harvard professor Robert Langdon, who is wrongly suspected of murder in The Da Vinci Code. For many viewers, Hanks was the only redeeming feature of Ron Howard's so-called thriller.
His film career can easily be divided into two phases — pre- and post-Philadelphia (1993). Before the release of this landmark film, Hanks was regarded as an actor tailor-made for comedies and romantic flicks. He had fallen in love with a mermaid in Splash! (1984), caused mayhem as a boy trapped in a man's body in Big (1988), and solved a murder with a dog's help in Turner & Hooch (1989).
It was a bold decision by Hanks to accept the role of an AIDS-afflicted gay lawyer who sues his firm after being fired unjustifiably. As an actor, he entered uncharted territory with the portrayal of a tragic hero. It was a classic example of Method acting, and he showed that he could match the intensity of great actors like Robert De Niro, Al Pacino and Dustin Hoffman.
Hanks lost 30 lb for the scenes in which the fatal disease starts debilitating his body — even though it fails to weaken his willpower (reminiscent of Hrishikesh Mukherjee's Anand and Akira Kurosawa's Ikuru).
Philadelphia brought him a well-deserved Oscar for best actor. His emotional acceptance speech, in which he thanked a gay teacher, became the inspiration for the 1997 Kevin Kline starrer In and Out.
Hanks followed this (awe)inspiring performance with an even better one, essaying to perfection the title role in Robert Zemeckis's smash hit Forrest Gump (1994). This is the film he is best known for, and it is likely to stay that way unless he comes up with something out of this world (his fans would be hoping that he does). One can't imagine any other actor in the part of the dim-witted but indefatigable young man who, against all odds, becomes an American hero.
Not surprisingly, he ran away with the Oscar, thus becoming only the second actor to bag back-to-back awards after Spencer Tracy, who won for Captains Courageous (1937) and Boys Town (1938). Incidentally, both Tracy and Hanks were 38 when they won their second Oscar. (Playing men of honesty with aplomb is another thing common between them).
"Life is like a box of chocolates. You never know what you're gonna get," drawled Forrest. For Hanks's fans, his output after the super success of Forrest Gump has also been like a box of chocolates — full of surprises. Keen to broaden his histrionic range, Hanks has done a wide variety of roles during the past decade. Viewers have admired him as a US Army Captain during WW II (Saving Private Ryan), a Fed Ex executive marooned on an uninhabited island (Cast Away), an FBI sleuth on the trail of a con artist (Catch Me If You Can) and a hitman (Road to Perdition). He has even tried his hand at writing and direction in the 1996 musical That Thing You Do.
In recent years, however, his performances have not really been top class. In fact, he narrowly escaped the ignominy of being nominated in the worst actor category at the 2005 Razzie Awards for his roles in The Polar Express, The Terminal and The Ladykillers. Moreover, he hasn't received an Oscar nomination since Cast Away (2000), in which he showed great chemistry with his only companion on a deserted island — a volleyball!
With Hanks no longer being a spring chicken, it's hardly surprising that he is getting fatherly roles these days. He will be seen next year in Sean McGinly's The Great Buck Howard, in which he has been cast as a man who resents his son's decision to become an illusionist's assistant. Hanks's own son, Colin, will play the boy's part.
In Lawrence Kasdan's The Risk Pool, which is also at the pre-production stage, Hanks will play a thief and a gambler who willy-nilly takes charge of his son after his estranged wife suffers a nervous breakdown.
Would one of these roles bring him his third Oscar? It is certainly long overdue. In the meantime, one can only wait and appreciate all over again the performances that have made him one of the top actors of our time.