tribute
Unforgettable Madan Mohan
Madan Mohan was not formally trained in music yet his music was richer than the work of better-qualified composers. M.L. Dhawan pays a tribute to the maestro whose 31st death anniversary falls on July 14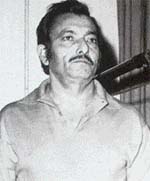 Composing for Madan Mohan was never commerce
Madan Mohan started his career as lieutenant in the Army. As an artilleryman, he received his commission (emergency) in 1943 and was stationed in Bangalore for about two years. It is believed that he could handle weapons and play the sitar, the sarod and sarangi with equal felicity. Soon he left the Army to become an assistant to S. D. Burman for Do Bhai and Munimji — made by his father's company.
With Devinder Goel's Aankhen (1956), Madan Mohan made his debut as music director with Preet laga ke maine yeh phal paya, Mori attariya pe kaga bole, Hum ishaq mein barbaad hain, etc. He made his presence felt in the industry. Lata Mangeshkar did not sing for his debut film but then onwards she was always with her Madan Bhaiyya up to his last films Sahib Bahadur (1980) and Chaalbaaz (1981).
The Madan-Lata team proved to be the most enduring. Together they came up with timeless melodies. He simply made Lata give her best in songs like Preetam meri duniyan mein do din to rahe hote, Meri veena tum bin roye, Jo hum ne daastan apni sunayee, Lag ja galey, Naina barse rim jhim rim jhim, Hai issi mein pyar ki abroo, etc. Their songs bring a lump to the throat and tears to the eyes even now. They show how commitment can overcome constraints. Madan Mohan was not formally trained in music yet his music was richer than the work of better-qualified composers.
In spite of a good start, it took quite a while for Madan Mohan to break into the big league. The Adalat numbers such as Yun hasraton ke daagh, Jana thha hum se door, Apni to yeh aadat hai, Ja ja re ja sajana kahe sapno mein aaye brought him in the front line of composers making him an alternative name for ghazal. Aapki nazron ne samjha, Lag ja gale ke phir ye haseen raat ho na ho, Jo humne daastan apni sunayee, Hum se aaya na gaya tum se bulaya na gaya, Tujhey kya sunaoo ay dilruba, Yad jab aaye teri, etc crowned him as the ghazal king.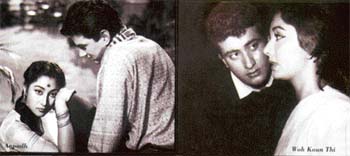 Stills from Anpadh (left), Woh Kaun Thi. Madan Mohan excelled himself in giving music for these films
There was a general misconception that Madan Mohan was good only at composing ghazals. Though ghazal was his forte, he could handle varied genres of music. Whenever he faced a complex situation while composing, he always emerged triumphant. Nothing was difficult or impossible for him. He left his stamp on whatever he composed. Be it a patriotic number Kar chaley hum fida jan-o-tan sathiyo, or a classical number Kaun aaya mere man ke dware paayal ki jhankar liye or a bhajan Preetam dars dikhao or a qawalli Kabhi ay haqiqat-e-muntzar nazar aa libas-e-mijaz mein or a lullaby Ladli so jaa or a tipsy number Sawan ke maheene mein ik aag si seene mein or a frolicsome Surma mera nirala aankhon mein jis ne daala — Madan Mohan gave abundant evidence of his creative prowess.
Madan Mohan always strove for perfection in his creative endeavours. He never settled for anything but the best. His obsession for perfection sometimes made him violent. According to Lata, he lost his temper while recording Naino mein badra chhaye when he found some musicians playing off key. He sprang lividly towards them. Instead of opening the door of musicians' enclave, he hit the glass with his hand. Bleeding profusely, he shouted, "Besura bajate ho, sharam nahin aati tum ko. Sur ke saath be-imanni karte ho."
Madan Mohan was always particular that his songs should have good poetry and it was the poetic content in his songs that elevated them to an art form. His compositions had a perfect blending of words, melody and musical instruments. With all these, Madan Mohan established a distinct identity and commanded instinctive respect from music aficionados. His quest for lyrical perfection was as legendary as his search for compositional excellence. Wordsmiths like Raja Mehndi Ali Khan, Kaifi Azmi, Sahir, Majrooh, Rajender Krishan, etc toiled tirelessly to enhance the beauty of his efforts.
Among the female singers, he saw none beyond Lata. Among the male singers, it was primarily Talat Mahmood in the beginning and Rafi later on. Manna Dey, Mukesh, Kishore Kumar, Mahender Kapoor, etc had only sketchy representations. Their songs touched chords deep down and ranked among the most intricate and challenging songs ever created by Madan Mohan.
Unfortunately Madan Mohan was a misfit in the show business. Composing for him was never a business. He hated to be judged in the marketplace. He was a musician with a mind, but marketplace also judges movies. His music was good in films that were themselves bad. May be these films let his music down and not the other way round. While recording for Jahan Ara, the producer wanted Mohammad Rafi to sing for hero Bharat Bhushan. But Madan Mohan felt that Talat Mahmood would be more appropriate for ghazals like Phir wohi shaam, Teri aankh ke aansoo pee jaoon, Main teri nazar ka saroor hoon, etc. There was a deadlock. Madan Mohan spent a hefty amount from his own pocket for recording Talat Mahmood. The film bombed at the box office, but the producer admitted publicly that he made more money out of the music of the film than from the film itself.
The same was the case with movies like Adalat, Anpad, Woh Kaun Thi, Dekh Kabira Roya, Sanjog, Dhun, Minister, Railway Platform, Nirmohi, Ashiana, Ada etc.
With the dominance of violence and vulgarity in films, tastes changed. The fusion of Hindustani music and western tunes resulted in producing ear-splitting rather than soul-strirring music. This embittered Madan Mohan who could do nothing to prevent the onslaught. He took to heavy drinking and died of cirhosis of liver on July 14, 1975, composing for Chetan Anand's Salim-Anarkali.
Even after his death, Madan Mohan created history when Yash Chopra decided to utilise for his cross-border love story Veer-Zaara, the tunes, songs composed by Madan Mohan on harmonium, hummed by him on dummy words and stored on his recorder. This was the first time that the unused tunes from a composer no longer alive were used in a contemporary film. Through his lilting, languorous, melodious, soft, sedate, soothing numbers Madan Mohan seems to be (with us) saying Main yahaan hoon yahaan hoon— appeal of his songs eternal and their freshness undiminished by time. His songs have not lost their sheen after all these years.