TELEVISION
A passion to heal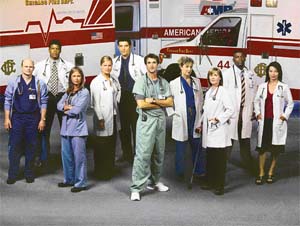 New season, new challenges on ER
Combining the extraordinary talents of best-selling author Michael Crichton and Steven Spielberg's Amblin Television, ER explores the inner workings of an urban teaching hospital and the issues faced by the dedicated physicians and staff of its overburdened emergency room.
The most nominated drama series in Emmy history, ER, has begun its Season-9 on Zee Caf`E9 on Thursdays at 10 p.m. Even after a record 104 Emmy nominations, 22 Emmy Awards and two prestigious Peabody Awards, the series continues to thrill and entertain viewers around the world.
Doctors in ER are determined to save lives in a place where nothing is taken for granted and nothing is certain...nothing except that another desperate person will be rushed through the emergency doors in the next moment, in need of their help.
Some will live, and some will die, but the dedication and passion of these healers always endures.
Dead man walking
It's a serial with all the right credentials. Directed by B.P.Singh, the man who has given two of the most successful shows running on Sony — CID and Aahat, this serial too is bound to arouse viewer interest.
Akela Tuesdays 10 p.m. is the story of Ranvir (Sudhanshu Pandey), a cop who gets shot in an encounter and is taken for dead. In reality. he goes into a coma. When he recovers after eight years he finds his fianc`E9 is married to someone else, his mother has died and he is all alone in this world.
And there is another very significant change — Ranvir discovers that he is not the same man. He has acquired extraordinary powers to communicate with the dead. He is shocked with this bizarre twist in his life. His friend, Savio, who died in the same encounter makes him realise that he's a link between the world of the living and the world of the dead and he must use this power positively. So Ranvir makes it his life's mission to unearth crime and get the culprits nabbed. Akela is a`A0supernatural drama with murders, mysteries and unrequited love guaranteed to keep you glued. — NF