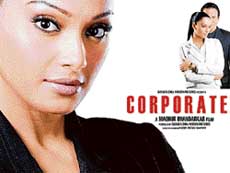 Not quite Corporate
Has Madhur Bhandarkar been able to capture a real slice of life on celluloid of the corporate world today? City CEOs say a big NO. Anandita Gupta meets men and women at the helm of affairs who are unhappy with such a depiction
Canny CEO's, dodgy dealmakers, ruthless rivalries, slimy swamis and share-market sharks: well that is supposed to be a slice of the corporate world. To top it all, a sultry leading lady styled in severe power suits with an equally severe ponytail. Sprinkled along is a dash of sex and scandal—item girls luring politicians, paid girls duping project heads and a corporate honcho being arrested for something her conscience never allowed her to do. Well, Bhandarkar has tried walking the tightrope (in his latest venture titled Corporate), mixing masala with hard-core realities.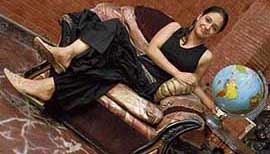 Damsel in charge
Parbina Rashid meets Megha Vaid, the 'Most Indian Indian' to be found in the exotic Caribbean islands
Megha Vaid's claim to fame is not just her famous father Umesh Kant but the Indianness she has retained in her in the distant islands of Caribbean. A dental surgeon by qualification, when Megha took up a prestigious teaching assignment at St. Georges University and School of Medicine in Grenada, Caribbean Island, she also took it upon her to spread a little Indian values among her colleagues and students. During one year of her stay, Megha has managed to achieve what she aimed for.


A yogi's mission
Yoga and sculptures? Not hard to imagine the connection as we are used to see various forms of yogis captured by many sculptors, be it at the ancient temples or museums around the country. But when a third angle, a bunch of cards are thrown into it, we get a little confused and grasping for the connecting thread, we approach Paul, aka P. S. Sawhney for a proper explanation.

ART FOR A CAUSE: P.S. Sawhney with his collection of sculptures depicting different yoga asanas. — Photos by Parvesh Chauhan
All ears to the radio
Tracking radio news is his passion and now Sukant Gupta has set a record, reports Gayatri Rajwade
Faithful companions come in all shapes and sizes, but how about the good old radio taking you right into the pages of history no less! One Morphy Richards radio, 16 years and 22,552 pages later Additional Public Prosecutor (Punjab) Sukant Gupta, finds pride of place in the Limca Book of Records 2006 for, to put it quite simply, tracking events!
CAMPUS CAFE
Back to future
Life is back on the fast track of excitement for the youngsters of colleges across the city, finally reopening for the new academic session. After staying indoors, or out of the city, for most part of their two-month long break, so many of them are out in the open again for savouring the salad days.
HOPSCOTCH
Adding Drama to Life
Drama, it is said, is nothing but life with the boring parts cut out. So this week one wishes to hop and scotch across the gamut of theatre, talking a little about drama in life and drama on stage; of plays enacted, to be enacted and plays that will never be enacted; of well-timed entries and ill-timed exits. The show must go on nevertheless. The dramatic instinct is very strong with the Indians, which is the land of the Natya Shastra with natak having been formally staged for over a thousand years and its origins considered divine. That, of course, is the formally staged drama.
Bring the beach home
Teenagers are no longer children but morphing individuals who need their own space for discovery and creativity. It's time to say goodbye to stuffed animals for an inviting space filled with productivity and fun. Teenagers are recreating who they are and need the privacy and space to flourish. Here are a few ideas to help create a space that affords comfort and plenty of privacy. And parents, please knock!
FILM & FLASHION
Beyonce turns sexier
Guys who drooled over her and girls who died of envy when she appeared and swept viewers away by her Crazy In Love video, should hold on to their breath, as former 'Destiny's Child' star Beyonce's figure has become even more sexy.
A gig with Nikhil
He revels his job at turntables, scratching, mixing and selecting club tracks. MTV VJ Nikhil Chinnapa loves doing anything that's got to do with music. Hip-hop, house, trance, reggae or hugely popular Indi-pop, DJ Chinnapa has soaked the 'feel' for every kind.
Guardian angels
To be the progeny of a celebrity in any realm of art is indeed a blessing but at the same time challenging too, as one expects one to excel or at least emulate his mentor and Guru," observed Ritesh and Rajneesh, the Junior Mishra Bandhus and sons of the illustrious Pandit Rajan Mishra. The handsome vocalists have now been fully transformed into an accomplished duo but claim to be only beginners.
Playing on
A big question mark awaits theatre graduates on graduation for what lies ahead is a long struggle. Such few opportunities await them. Survival means making a dash to Dilli or Mumbai for bit roles on the small screen to begin with, playing anchor to corporate road shows or doing workshops with brats. The intense urge to act and direct a play is often stifled and this is theatre's loss.
Designs on sound
Musical duos have become a tradition in Bollywood and who has not heard about Kalyanji-Anandji, Anand-Milind, Mandhir-Jatin, Jatin-Lalit, (now separated) Sajid-Wajid, Bapi-Tutul and Salim Suleiman. Vishal-Shekhar represents the young music genre of this convention. Vishal Dadlani along with Shekhar have composed the music for Pyar Mein Kabhi Kabhi, Jhankar Beats, Dus, Musafir and Salaam Namaste. This duo takes the easy way out-one catchy hit song per film gets a producer to shop yet again at this one hit shop.
NEW RELEASES
Another comic caper for unlimited fun
Following the success of Garam Masala, Maalamal Weekly and Phir Hera Pheri, comic capers are the season's flavour now. From a hilarious 2005, the season of comic capers still continues. The week ahead will witness a release of another comedy 'Golmaal". It has a baseline "Fun Unlimited."
YOUTH SPEAK
Failures are pillars to success
Who likes to fail? No one. The word 'failure' is the most hated-one. But still it's said, "Failures are the pillars to success." What a paradox! Whosoever hears it for the first time, please think it over. Failure either stoops a person to defeat or makes a person touch the highest peak of success. It is only this, which teaches facing the crude realities of life. We realise by our mistakes and mend them for our betterment.
---