Freshen up with mud-packs
Multani mitti is a natural cleanser and revitaliser. You can bank on it for a glowing skin and shiny locks, says Dhanvanti Keshavrao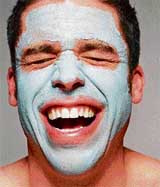 In 2001, Multani mitti (mud from Multan, an area now in Pakistan where the lime-rich clay was originally found) was used for cleaning Taj Mahal for the visit of Pakistani president General Pervez Musharraf. Subsequently, Indian and foreign conservation experts were full of praise for the cleansing job the Ďmudí had done to the 350-year-old monument.
But for thousands of years, till modern cosmetics took over, Multani mitti had been used as face-packs by women in the Indian subcontinent. Even today a packet weighing 125 grams and costing around Rs 20 is available from Kashmir to Chennai.
Multani mitti is a natural cleanser and astringent. It cleans the skin while maintaining the natural balance of skin oils. It facilitates blood circulation of the face, treats minor infections, and provides new life to skin. Through generations, Indian women have passed down homemade beauty recipes of milk, egg, honey and Multani matti to their daughters.
Also known as Fullerís Earth, Multani mitti is now synthetically manufactured and is composed mainly of silica, iron oxides, lime, magnesia, and water, in extremely variable proportions, and is generally classified as a sedimentary clay. In colour it may be whitish, yellow, buff, brown, green, olive, or blue.
The following are some of the beauty recipes with Multani mitti as a constituent:
Face tightening mask: Take two teaspoons of Multani mitti and add a teaspoon of the Mint leaves paste to it. Also add about six cloves and an egg white to this. Mix all these ingredients in chilled rose water. Apply this on the face. Make sure you donít move your facial muscles. Just lie back and relax as the mask dries. People with sensitive skins should avoid this pack.
Oily skin pack: Oily skin has very active sebaceous glands that secretes more oil. Such greasy skin attracts a lot of dirt, which clogs the skin pores. This type of skin needs a thorough cleansing routine to remove the surface grime and unclog the blocked pores. For this you need a pack that rejuvenates, tightens and exfoliates skin.
Take the juice of two lemons, two spoons of breadcrumbs, two spoons of Multani mitti and a few drops of rose water. Mix well and apply a thick layer on the face and neck and leave on for 20 minutes. Since lemons have vitamin C and certain acidic properties, they leave the skin sparkling clean. Breadcrumbs help to exfoliate dead skin, while Multani mitti will tighten the pores.
Pimples: Soak a small quantity of almonds in rose water. Take an equal quantity of sprouted moong dal. Grind the soaked almonds and sprouted moong together. Blend it with Multani mitti and use it as a face-mask for 15 minutes for 15 successive days.
Patchy skin on the face: If you have a patchy skin, make the following face pack. Take a tablespoon each of curd and Multani mitti and a teaspoon of mint powder. Soak the mitti in curd for half an hour, then mix mint in it. Apply the paste on the patchy skin. Leave it to dry and wash off with lukewarm water followed by a cold-water rinse.
Sunburn: A simple mask of the mitti with besan and rose water is effective for treating sunburn. Some mitti mixed with tomato juice and applied to the skin is also good for treating sunburn.
Blackheads: Mix four ounces of powdered almonds, two ounces of glycerine soap and one ounce of Multani mitti in a little water. Rub this exfoliating scrub on the blackhead-affected areas on your face. Massage it on the skin and rinse off.
Prickly heat: Multani mitti is also useful in prickly heat. Prepare a paste by soaking the mitti in water and then apply it over the affected areas.
For the hair
Try this dry shampoo if you are in a hurry. Divide your hair into sections and fluff a little multani mitti powder through each section. Rub in well and leave for 10 minutes. Brush out thoroughly with a clean brush. The powder will absorb most of the grease and dirt.
For damaged or dull hair, try this treatment. Moisten your hair with warm water and massage a generous amount of refined oil (sesame or apricot oil) into your hair and scalp. Cover your hair with a plastic shower cap (or plastic wrap) and a towel. Leave on for at least one hour. Next, apply a mixture of Multani mitti to your hair and scalp. Leave it on for 30 minutes. Using warm water, thoroughly rinse the mud from your hair and scalp. Shampoo as usual. Apply a liberal amount of refined oil to damp, towel- dried hair and scalp. Comb with a wide-tooth comb. Let your hair dry naturally.
For treating split ends, massage your hair and scalp with olive oil. After two hours, steam your hair for half an hour by wrapping a towel dipped in hot water. Wash your hair using a mix of Multani mitti and curd (buttermilk for oily hair). The next day shampoo your hair with a regular shampoo. ó MF