Adventure is preferred over comfort by the new Indian traveller. He wants to experience exotic locales with just his backpack, not dull packaged tours, finds Ritusmita Biswas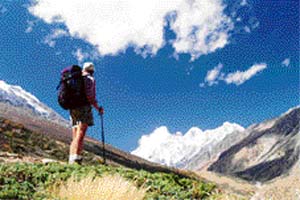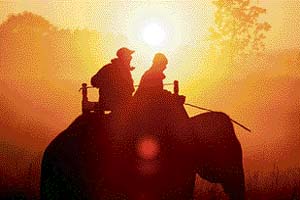 New locales and activities are being sought by vacationers
AT first I could see nothing. And then my eyes adjusted as I realised with a gasp that I was finally under the sea. The feeling was uncanny and I could see colourful organisms and fishes all about me. A sudden gasp from the woman next to me and I turned my gaze in the direction she was looking. It was then I saw it eye to eye. Eyes as mean and almost daring me to come out and face the challenge. Of course, I was safe within my cage and thankful for that. Seeing a shark from such close quarters could take a toll on my nerves, I thought, but at the same time I was elated that it was such a welcome break from the mundane holidays, says 28-year-old Shweta Pandey, finance manager with a multinational company after her trip to Hawaiian Island, where she went shark-watching.
Calm holidays comprising romance and star-gazing seem to be pass`E9 for the regular traveller these days. They look for thrill and unusual activities like underwater shark-watching during holidays.
In fact, a new kind of Indian traveller is coming up. He hates packaged tours and buffet lunches. He is out on a foreign land with just his backpack and is keen to enjoy the adventure and exotic feel of a foreign country. Comfort for him is not the key word but adventure is.
"Yes, thatís correct," says Shreoshi Moitra, a leading travel agent. "These new travellers like to check out everything by themselves. Although for most Indians I would say holidaying is sort of a comforting concept, a time to take rest, itís not for these people. They come to us demanding for exotic destinations which will have opportunities for sports-related activities." For example, a couple months back there was this traveller who wanted to go to a virgin place, somewhere no one goes. "The problem with such demands is that these places usually lack basic tourist amenities," she adds.
But some travel agents long associated with the industry point out that it is not a problem for these tourists as they are mentally prepared for it. They want adventure and fun, thanks to the programmes of National Geographic channel and other adventure series that are regularly watched in homes with cable television.
One such traveller is Anarghya Basu. A media professional working with a well-known ad agency in Mumbai, he is a mountaineer, camper and hiker to boot. "For my travel related to work I have enough five-star comfort and air travel. But for my holidays, I want it different. I keep everything necessary, including the provisions, with me. At times I hitch hike alone in a countryside, while at other times I go with my group to trek at exotic locales like Pindari Glacier."
Agrees biker and adventurer Gaurav Jani who has travelled across India on his bike. "The thrill of discovering something new, going to places people usually never go makes my holiday. Itís not about comfort but mental happiness and relaxation which make it worthwhile. After all, if you want comfort itís best to stay at home," he declares.
Keeping pace with this new kind of traveller, travel agencies have come out with new schemes and locales destined to thrill the tourists. Some of the popular activities include snorkelling and scuba diving in the Andaman and Nicobar Islands. Here one can explore the underwater world and enjoy sea life to its fullest. The best time to go is December to April.
Or one could try paragliding at destinations like Kallahaiti (near Ooty) Virar (near Mumbai) Billing (Kangra valley) and other places. The best time to try out paragliding is September to March and it costs about Rs 1,500 per day.
Then there is parasailing which one can do on Goaís famed beaches. The passenger is harnessed to a flat parachute which takes him to air from where he can enjoy vistas of the coastline or cliffs. It costs Rs 400 to Rs 700 for three to five minutes in air.
Skiing, the popular winter sport of Europe associated with highlife, is getting increasingly popular in India too. Now a Ford company is even going to start a private ski resort in the foothills of the Himalayas. Auli in Uttaranchal has steep slopes as high as 9000 km and the best infrastructure. Manali and Rohtang Pass could be the other destinations and the best time is December to March. One needs to spend around Rs 10,000 for a weekís sport and training.
Today, unlike in the past, the Indian traveller does not seem reluctant to spend money in order to enjoy these thrills. Explains psychologist Rina Basu Roy: "People today are mostly bored with the common things. They are forever craving for thrills and an escape from mundane work-loaded lifestyle. They have all the comforts they need at home. So the holiday becomes an ideal option for looking at the other side of life, experiencing nature."
Agrees trekker Soma Nath: "All of us are scared while trying out these sports however brave we might be. And only when you are scared and face near death do you appreciate what life is! After all, life is so short and you need to have all experiences in one life." ó TWF