Back to Lahore
In his evocative book Lahore: A Sentimental Journey, Pran Nevile reminisces about the land of his birth, once called the Paris of the East. The memoir recaptures the atmosphere, ambience, mood, lifestyle that existed in this bustling city in the 1930s and '40s. The famous Anarkali bazar, the splendour of Hira Mandi, harmonious co-existence of people, riotous seasonal festivities, K.L. Saigal's winning acclaim, changing fashion trends — all give a taste of the city's variety, contradictions and grandeur. In these excerpts from Epilogue: Lahore Revisited, Nevile recounts the visit to his much-loved land after 50 years in 1997. Though much had changed, much had also survived and seemed hauntingly familiar...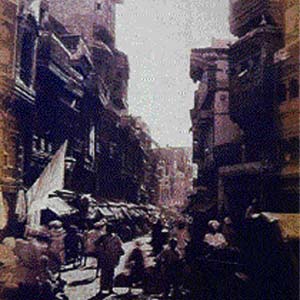 A bazar scene, Lahore, 1920. Photo courtesy: India Office Library and Records, London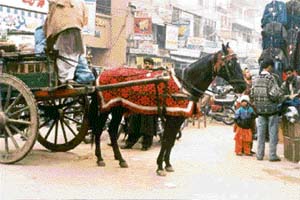 Anarkali bazar, the favourite haunt of visitors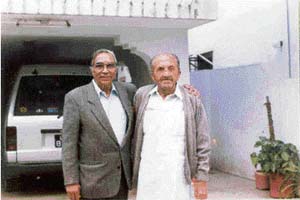 Reunion after 50 years: Pran Nevile with his classmate Saeed Ahmad Khan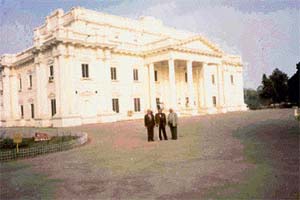 Lawrence Gardens are now named Jinnah Gardens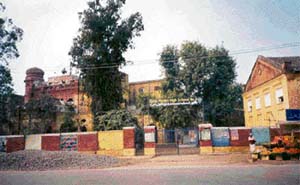 DAV High School, once the most famous school of undivided Punjab, is now called Government Muslim High School No 2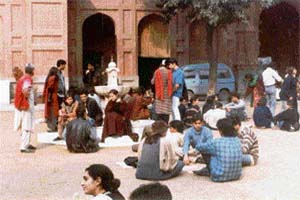 National College of Art has imparted training to many a leading artist of the subcontinent
MY visit to Lahore, the city of my birth and upbringing, in December 1997 was a pilgrimage to the past. It was my first visit since Partition, after a lapse of fifty years. I belong to the fading pre-Partition generation who were forced to leave their homeland but carried it in their hearts like the memory of a first love. We still recall the days when Lahore was feted as the 'Paris of the East', where people of different communities lived in harmony on account of their common heritage, historic legacy and Punjabi culture.
Even after fifty years and numerous social adjustments, the love that we have acquired for our new places of abode cannot quell the acute sense of loss and longing that accompanies thoughts of our native land. Most of us grapple daily with feelings of rootlessness and are constantly seeking our identity.
My emotional attachment to Lahore has found expression in this book, first published along with a Pakistani edition in 1993. This brought in its wake a number of people writing to me from Lahore. Incidentally, at the request of one of them, Dr Ajaz Anwar of the Lahore Conservation Society, I sent an appeal to the Pakistani authorities not to demolish Tollinton Market, one of the old landmarks of Lahore. A fundamental reason for not visiting Lahore earlier was my desire to preserve the images of the graceful city, as I had known it, and reproduce them in my book.
I landed at Lahore on December 19, 1997. The first glimpse of the city from the plane presented a delightful sight of a metropolis with a vast expanse of glittering lights, a stunning contrast to the old Lahore that had haunted me all these years.
Friends for life
The most thrilling part of my visit was meeting my old friend and classmate Saeed Ahmad Khan, particularly as I had been misinformed that he was no more. So much so that while dedicating my book on Lahore to the memory of my old friends, I had included his name as well. I tore off the dedication page before giving him a copy of my book. He noticed it and when I told him the reason behind it, he was vastly amused. It was a touching encounter that released the floodgates of memories.
Though meeting after an interval of half a century it felt as if we had separated only the day before. I vividly recall my first day in Government College in 1937 when I had met Saeed and struck up a friendship with him`85. We launched into a series of reminiscences about our student days`85 We recalled the exciting visits to Hira Mandi where we went to hear music from the accomplished professional singing girls of the times who also performed on Lahore Radio.
Singing star
Meeting Tamancha Jan after over fifty years was a moving and memorable experience. A singer nonpareil, now forgotten, she was the reigning queen of song during the '40s at Hira Mandi. Tamancha Jan hailed from a family of performing artists. The daughter of Sardar Begum, an accomplised performer of her time, her real name was Gulzar. Tutored by Ustad Fida Hussain from the age of seven, Gulzar emerged as Tamancha Jan after several years of intensive training in music. Even after making her debut in her salon at Hira Mandi, she continued with her lessons and riyaz.
It was in the early 1940s that I heard her for the first time, when she sang at the marriage reception of my friend's brother at their palatial mansion on Race Course Road. By then, she had achieved name and fame and was an eminent radio singer as well. Tamancha Jan's salon at Hira Mandi attracted many connoisseurs of music.
My first visit to her salon, sometime in 1945, was an unforgettable experience. She sang exquisite melodies with exotic themes, which aroused romantic feelings and amorous desires in our young minds. Her display of human emotions through the rolling of eyes, facial gestures and motion of hands served to enhance the appeal of her singing.
I had preserved the image of Tamancha Jan's youth and was somewhat shocked to see her ailing, shrunken frame, but as we began talking of the good old times, the twinkle in her eyes returned and she began narrating her experiences when she was a famous artiste in Lahore and an object of envy.
She recalled the Lahore of pre-Partition days. She recounted an amusing anecdote: an acquaintance visited her salon and after the performance gave her a cheque for one hundred rupees that bounced. As if that were not enough, he had also taken five rupees off Tamancha to pay his tonga fare!
Then she related another incident when she had declined to sing because she was indisposed. She laughed and said how she had to yield to the request of one Biharilal who threatened to commit suicide if she did not sing. She told us that one of her admirers, who had moved to England after Partition, visited Lahore sometime in the 1970s and came especially to meet her with his grown-up daughter from an English wife.
In the end, Tamancha Jan said in a disconsolate voice, 'Practically all my patrons left Lahore after Partition and so I stopped singing and shut down my salon.' Her educated daughter, who had in the meanwhile dropped in with her husband, emphasised that not only was she proud of her mother for all she had done to bring up her children, but that unlike others of her calling, she had absolutely no hesitation in acknowledging her antecedents.
City tour
The first landmark of the city to be visited was the shrine of Data Ganj Bakhsh, the patron saint of Lahore. I was immensely impressed by the magnificent and awe-inspiring new edifice that encompassed the old mausoleum.
I recalled days when people from all communities came to worship there and seek the saint's blessings for fulfilment of their wishes. As students, we also flocked there to pray for success in our examinations. The tourist in me could not but admire the city's new landscape that has emerged during the past fifty years — modern buildings, five-star hotels, shopping plazas, broad avenues and boulevards in the elegant residential quarters of Gulberg and Defense.
But I was more anxious to see the familiar sites on The Mall, Anarkali Bazar and in the Walled City. It was heartening to observe that The Mall, despite its harrowing traffic, still preserved its old grandeur. Practically all the principal buildings that adorned the road from Charing Cross up to Tollinton Market fifty years ago were still intact, though quite a few of them were in a neglected state, perhaps due to multiple or disputed ownership. Most of them also retained their old names, like Dinga Singh Building, Dyal Singh Mansions, Luxmi Mansions, Regal Cinema, etc.
The High Court and the GPO buildings continue to exhibit the majestic aura associated with the Raj. Going to the Anarkali Bazar was an exhilarating experience. The street, however, appeared narrower. I could easily spot some non-Lahorias gazing at the shop windows, obviously visitors from the mofussil, come to do their shopping in the historic Bazar. I had to jostle through the crowd to reach the end of the Bazar, where it meets the Circular Road. The once famous Bhalla Shoe Co., the dominant landmark of Anarkali, continues to be a shoe shop under the banner of 'Milli Shoes'. The other familiar name I noted was that of Sheikh Inayatullah & Co., a department store dating back to pre-Partition days.
I was surprised to see the maze of traffic at the Circular Road. I was reminded of the old scene at the meeting point of Anarkali and the Circular Road, where elegant shining tongas with sturdy horses stood at the two corners, one set shouting for passengers to the railway station, the other to Taxali Gate, a euphemism for Hira Mandi or Tibbi, which was the actual destination.
As I stepped towards Lahori Gate, I noticed that little had changed. I saw the florists and other vendors calling to prospective customers. When I passed through the Gate, I remem
bered how as a schoolboy I cycled my way towards Chowk Chakla and Sutar Mandi, where we used to live before moving to Nisbet Road in the 1930s. I found the street rather cramped with the extensions of shops on both sides. To my delight I found the halwai shops with milk bowls filled with jalebis.
I made a round of all those familiar places — Simla Pahari, Abbott Road, and finally Nisbet Road, the place where I lived during the formative years of my life. There are still a number of old structures on both sides of the road, with Dayal Singh Library as the most prominent surviving landmark. I did manage to locate the site of my house, but a new building had come up there. Another unforgettable incident was my spotting the famous icecream parlour Carryhome dating from the 1930s, at Beadon Road. It is now a restaurant but still retains the old name. My friend Dr Ajaz Anwar, who took me there for a cup of tea, introduced me to the owner who was nostalgic about Jalandhar and Hoshiarpur.
The visit to my school, DAV (Dayanand Anglo-Vedic), now Government Muslim High School No. 2, was a memorable experience. It was amusing to find that the school building stood exactly as it had over fifty years earlier. The same is the case with the DAV College, now Islamia College, on the opposite side of the road. The entire area, strangely enough, still remains spacious and quiet, unlike other parts of the city that have become noisy and congested.
As I was recalling my student days, I was reminded of the famous Bradlaugh Hall, where we used to gather for all kinds of meetings, especially those of a political nature connected with the national freedom movement. I still remember student leaders like Rajbans Krishan, Promod Chandra, Yash Pal, I.K. Gujral and Mazhar Ali addressing the student crowd at Bradlaugh Hall.
At the alma mater
Another unforgettable experience was the visit to my alma mater, the Government College, now a university. Walking around the Oval and gazing at the Gothic structure set upon a raised level, easily one of the most prominent landmarks in the city, I was struck by a wave of nostalgia for the remarkable six years I had spent there.
I went around to see the imposing classrooms, where I had entered as a shy boy more than sixty years earlier. It was a late winter afternoon and the college was closed. Someone who saw me loitering there came up to me and asked: 'Would you like to meet the principal? He is in his office.' I welcomed the idea and met the principal, Dr Khalid Aftab, an impressive personality with charming manners. We exchanged notes about college activities then and now. The only notable addition in the college complex is the mosque, near the old milk bar and cycle-stand of my days.
I also went to our favourite haunts, the beautifully laid-out Lawrence Gardens, now Jinnah Gardens, with tall majestic trees and rows of colourful flower beds. It was just the same. The only new thing that I noticed was an artificial waterfall on the hillock in the centre of the garden. The Montgomery Hall, which once housed the Gymkhana Club, is now the Quaid-I-Azam Library.
Art college
The Mayo School of Art at Lahore was founded in 1875 and had the good fortune of having J.L. Kipling as its principal (1875-1893). He showed the world that Punjab had some of the finest craftsmen in India. A premier institution of north India, many a leading painter and sculptor of the subcontinent received his education and training in this school of art. It was upgraded to the present status of National College of Art in 1958 and has won international acclaim for its high standards of education.
As an art historian, I found my visit here not only a delightful experience but also a most rewarding one. Thanks to my friend Dr Ajaz Anwar, a professor there and an eminent artist, I spent the whole day there interacting with the principal, teachers and students. I was both amazed and impressed by the ambience and environment of the college and the friendly atmosphere created by the students.
I was indeed very happy to see young girls and boys listening to music and sketching and sculpting. A youngster told me that this was the most prominent location of the vanished veils in the city of Lahore.
Another highlight of this visit was my meeting with the famous Pakistani artist Iqbal Hussain, renowned all over the world, who also teaches in the college. His rise from street punk to painter has been splashed by Time magazine and other notable print media, and his works are auctioned at Sotheby's and Christie's. This extraordinary artist proudly proclaims his heritage of belonging to the courtesans' family of Hira Mandi. Another remarkable achievement of this famous artist is his renowned restaurant Cooco's Cafe.
Cooco's Cafe
Established by Iqbal Hussain in his ancestral house, this restaurant has emerged as a greater tourist attraction than the dancing girls of Hira Mandi, especially for the elite, both native and foreign. Personally, I found my visit there exceedingly enjoyable not only for its delightful cuisine but also its fantastic ambience. The place offers an atmosphere of a medieval tavern; there is an exquisite rare collection of antiques put together in an artistic fashion displaying the master painter's aesthetic flair. One finds wooden balconies retrieved from old dwellings and havelis, marble jharokhas, redstone slabs that had once supported the projections and now serve as bases of dining tables.
Two Punjabs
I was overwhelmed by the generous hospitality extended by one and all. I was particularly delighted to meet Lahorias of the younger generation who had heard accounts of city life in the pre-1947 days. I enjoyed conversing with them in the typical Lahori parlance laced with a torrent of spicy invectives. I notice that people of the older generation invariably extol the values and quality of life in the 'good old days' and often ignore or disapprove of new attitudes, outlook and lifestyle of the modern generation. But I make it a point not to bore the young with anecdotes of the past and try to learn and appreciate their viewpoints and ideas about the life they like to lead. As the old saying goes,
Time changes mountains
Time changes rivers
Time changes when it is spring
Time changes everything, they say.
Excerpted from Lahore: A Sentimental Journey by Pran Nevile, with permission from the publisher, Penguin Books India. Rs 250. Pages 208.