Chiang Mai the land of pagodas
Inder Raj Ahluwalia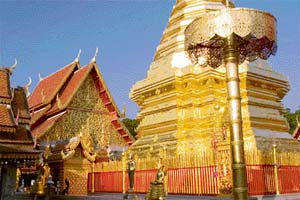 (Above) Priceless Buddhist relics are stored in Wat Phra That Doi Suthep, the 16th century golden pagoda, and (below) the Loi Krathong festival being held on a full moon night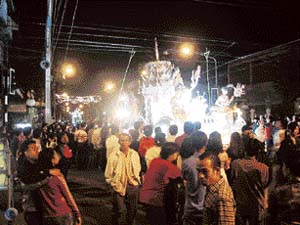 Thailandís Chiang Mai comes across as a city that is ever growing, yet wrapped in layers of courtesy. Old timers say it emerged from the mists, a symbol of natural beauty and social graces.
Chiang Maiís history is old, its past eventful and its character colourful. Some five centuries ago, it was the capital of Lan Na Thai, popularly known as Ďthe Kingdom of One Million Ricefieldsí, the first independent Thai kingdom in the fabled Golden Triangle.
Prolonged prosperity elevated the city to great prominence in religion, culture, and trade till it was reduced to a vassal state by a Burmese invasion in 1556. When the Burmese were expelled in 1775, Lan Na Thai attained instant rejuvenation and rejoined the mainstream of Northern Thailand.
Thailandís second city after Bangkok is at heart a large village with features like 14th century historical temples, misty mountains, extensive fruit and flower cultivation, courteous people, and arguably Thailandís prettiest women.
Chiang Mai is individualistic in character, best seen in the distinct local cuisine and eating habits, physical appearances, and mannerism. In this land of pagodas, some 300 temples greet you. Some are small and basic, some grand and lofty. They have their own background, mythological guardians, dragons, griffins, serpents and garudas.
Majestically perched on a hilltop overlooking the city, Wat Phra That Doi Suthep isnít just the cityís most important temple, with priceless Buddhist relics stored in its 16th Century golden pagoda, but also a vantage point for truly stunning views. Walking around the pagoda, one can see the misty mountains forming a rim in the distance in all four directions.
Like the palaces, the temples show the unique architectural style called ĎLan Na Thaií, a mix of Lankan, Burmese, Mon and Lan Na Thai styles, that makes liberal use of symbols and materials like gilded umbrellas, Naga staircases, woodcarving, angel guardians, and gold filigreed pagodas.
Wat Chedi Luang, with its massive pagoda; Wat Phra Sing with its tastefully decorated Lai Kham chapel which houses the holy Phra Sing Buddha image; and the beautiful Wat Chiang Man, the cityís oldest temple, are noteworthy temples of the region.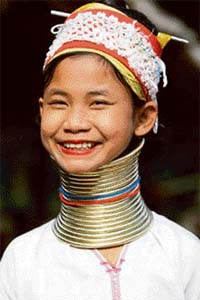 A tribal girl wears neck rings
Local sightseeing can include several other interesting and historical sites. Like the imposing, beautifully landscaped Phuphing Ratchaniwet, the Royal Winter Palace, that straddles a mountain. Here one can see some prized possessions of the royal family.
It is also worth dropping in at the Tribal Research Centre with its in-house museum and research facilities that shows the lifestyles of several tribes of Tibeto-Burman origin. One can see a bit of the local art at the Chiang Mai National Museum with its superb collection of ancient weapons and valuable old Buddha statues.
Chiang Mai swings after dark, though not in the hurly-burly, raucous Bangkok style. Night-owls can unwind in discos, bars, cocktail lounges and nightclubs, and at quality restaurants that feature Thai classical dances. And yes, there are massage parlours around.
Gourmets can indulge themselves with varied cuisine that features Italian, American, French, and true Oriental. But nothing comes close to the Khantoke meal, a local culinary, comprising five courses served in small bowls set on a low table, while you sit on the floor. A typical Khantoke meal includes meat; vegetables; curries with garlic, ginger and chillies; fish sauce; minced meat; onions; limejuice; and ground dried rice called Laah; all eaten with sticky rice.
Of the local festivals, none is more charming than Loi Krathong. Under the full moon, the devout descend on canals, rivers, and streams, and float banana leaf boats bearing a small coin, incense, a lit candle, and a flower in a poignant ritual to honour water spirits and float away the past yearís sins. It is simple and graceful, and quite poignant.
Also moving, is Songkran that celebrates the traditional Thai new-year with a three-day carousel of pilgrimages, religious merrymaking, dancing, and beauty parades. In February one gets to see the Flower Carnival with its elaborate floral floats and parades, celebrating the blooming of temperate and tropical flowers.
Thailandís undisputed handicrafts centre, the city thrives on local cottage industries that boast skilled craftsmanship in woodcarving, fabrics, silks, antiques, silver jewellery and lacquerware. Little shops line noisy bazaars and feature robust bargaining. It is definitely worth stopping by at the renowned Bo Sang San Kamphaeng road area where you can see artisans at work. The Night Bazaar is the place for anything from everyday clothes to fancy music systems, and you can pick up good stuff if you just show a little patience and do a little bargaining.
The great outdoors canít be ignored. Surrounded by hilly forests still worked by elephants, and thick vegetation landscapes studded with meadows, orchards, and silvery waterfalls, Chiang Mai lies smack in the midst of interesting excursion country. You can ride elephant back on hilly tracks, walk narrow trails, or take organised jungle treks to remote hill settlements. Seven major hill tribes with their own distinct courtship rituals, dances, and aesthetic values, reside in the region, share animist beliefs, and honour forest and guardian spirits.