Reshammiya turns down film role
I was always a singer. But one has to wait for the right moment to do things in life, Himesh Reshammiya tells Subhash K. Jha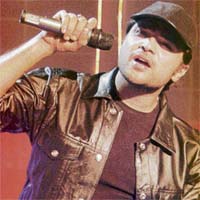 ĎI donít want any distractions to my musicí
IT looks like he is unstoppable. After fobbing off several offers to face the camera, composer-singer Himesh Reshammiya was seriously tempted by an author-backed role that gave him a chance to play a musician.
"But I said no finally. I have seen what has happened to other musicians who have attempted acting. I donít want any distractions to my music," Reshammiya said.
If there was any doubt about Reshammiyaís astonishing across-the-billboard popularity, the International Indian Film Academy (IIFA) awards earlier this month put it to rest.
Reshammiya, who again bagged the best vocalistís award for the title song of Aashiq Banaya Aapne, was given full-on rock-star treatment by the audience in Dubai.
According to eyewitnesses, hysterical fans mobbed him with far more gusto than some of the more visible stars who attended the event.
His 10-minute act, during which he performed nine of his songs live, was the biggest highlight of the IIFA this year.
Jet-lagged and over-worked, Reshammiya is jubilant. "This wasnít the first time I was attending IIFA. But the thrill of attending when I was nominated for both singing and composing, and was supposed to perform, was something else." Reshammiya shares the success of his stage performance with choreographer Shiamak Davar.
"The credit must also go to Shiamak Davar and his wonderful dancers who accompanied me on stage. I sang live and some portions of the performance I sang without any music or orchestra. Even others ó Akshay Kumar, Upen Patel ó performed to my songs at IIFA. So, I guess, I was well represented." The most moving moment for Reshammiya came later. "I called my father Vipin Reshammiya on stage when I got my award. It was a moment of great triumph for me. My dad had been a musician with Laxmikant-Pyarelal and other composers. Whatever I have learnt was through him.
"Another big moment came when Sanjay Guptaís Alibaug was launched at IIFA. Iíll be attempting a totally different musical style in Alibaug." It has been a season of awards for Reshammiya. "More of singing, though I was nominated at almost every award for my compositions in Aashiq Banaya Aapne. Itís been a heady season. But I havenít changed. I still have to compose at least two-three songs every day. I have a bank of thousands of songs." Is he happy to be as popular as a singer as he is as a composer? "I was always a singer. But one has to wait for the right moment to do things in life. Once I was established as a composer, I allowed my singing to surface. Today producers want me to do both, and to appear in music videos supporting their films.
"I have no problem with any of this. Why not? If my music and songs help a film to sell, Iíd be foolish to shy away. As long as I am not expected to act in films I donít mind. I am very firm about turning down acting assignments. I donít want to do that work." ó IANS