Maximum City
MAXIMUM FEAR
As the valiant people of Mumbai, fight and bounce back, be it after the terror strike or nature's fury, their tenacity triumphs. Neelam Mansingh Chowdhry recounts the factors that make Mumbai a symbol of eternal hope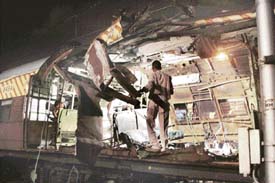 There are as many myths about Mumbai as there are pavement dwellers in it. Skyscrapers and shanty towns, Gothic towers, art deco and vernacular architecture all coalesce to form the multidimensional characteristic that gives Bombay its special temperament — a city where people have learnt to endure, a city where people have to dream to survive, and a city where hope still lingers despite floods, bomb blasts and communal feuds.

Way to the lost valley of Zanskar
One has to be a true adventure lover to trek to Zanskar in Ladakh, writes Sneh Wadhwaney
The experience of travelling to Zanskar itself is a feat to be achieved. It is a trip of a lifetime. A lot of books will tell you that Zanskar is a lonely, inhospitable land. But it is only when you reach Zanskar that you realise how lonely, lonely can get.

'India is a cinematic wonderland'
Subhash K. Jha
Internationally acclaimed talk show Inside The Actors Studio, which entertains guests like Will Smith, Hugh Grant, Richard Gere, Tom Cruise and Angelina Jolie, is coming to India and Emmy award winning host James Lipton says it is like a dream come true.

James Lipton
Panda with Punjab connection
Ramesh Seth meets Dadhiwala Panda in Gaya who says he and his ancestors are indebted to the Punjabi paltan
Gaya in Bihar is not only famous for Bodh Gaya where Lord Buddha attained Enlightenment, but is also a centre where Hindus perform final pind-daan for the departed ancestors. Many years ago, I had accompanied my father to Gaya to perform the last rites of my grandfather.
Whiteness in Mumbai films
Western Whiteness is new to Indian films. While some actresses, such as Alice Patten (Rang De Basanti) and Antonia Bernath (Kisna) have played a few significant roles, most are relegated to being backup or item song dancers, writes Shakuntala Rao
The proliferation of White Western women in Bollywood films has been gradual. While Indianised Whiteness had always existed (where heroines were expected to be lighter-skinned than most Indians), Western Whiteness is new to Indian films.
Water makes a splash
Indian Canadian filmmaker Deepa Mehta's controversial movie Water has become the highest-grossing Hindi-language film in North America for 2006, according to Box Office Guru, a website in Washington devoted to cinema.
'I've never played a small-town girl'
Bipasha Basu is playing a village belle for the first time in Omkara, which will make it to the theatres on July 28. She tells Arpana that her character in the film is very interesting and colourful
Actress Bipasha Basu plays a rustic character, an abuse-mouthing singer and dancer, in Vishal Bharadwaj's ready-to-release Omkara.
Children's classic
Director John Stephenson shows that even without too much of special effects, one can narrate an absorbing fairly tale, writes Ervell E. Menezes
IN today's world of magical cinema, special effects, Harry Potters and Lords of the Rings why should one resurrect an ancient World War I story of five children separated from their parents is hard to comprehend.