FUN WITH FASHION


Get draped in delight
In a decided shift from its graceful, elegant image, the sari is now chic, and the six-yard-wonder's designer avataar is now available in town, says Anandita Gupta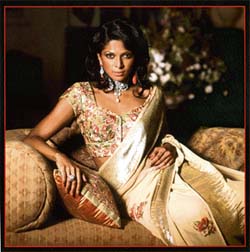 Tucked in some snug corner of an Indian woman's memory closet is the moment when she wore a saree for the first time. For, this six yards of graceful, elegant yet figure-flattering garment had transformed her instantly—from mama's little girl to a sensual, young woman.
Dollops of fun
Sita Maiya's legacy and Draupadi's pride — the unstitched garment for sure has a long history to it and is seeped in tradition. However, it's also is an evolving outfit. Once a symbol of grace, it is also becoming known for the freedom of interpretation that it offers, both to the wearer and the designer.
Prêt-a-porter
While ammas may be happy with kanjivarams and benarasis, the beti-brigade is undoubtedly experimenting with the latest versions of India's oldest garment to create their own sari chic. Not surprisingly, then most designers from JJ Valaya to Tarun Tahiliani choose to include the sari in their collections every year.
Today, Satya Paul's limited edition trouser sari is a rage, Wendell Rodricks has moved on from the lungi, bondage and sarong saris to mermaid cut pleated sari-skirts, Anjana Bhargav is using denim highlights on georgettes.
Designers' hub
And all you city-divas craving to get draped in a designer-saree, here's some good news. You no longer have to hotfoot it to the country's capital to get your hands on your favourite Satya Paul or a Manish Malhotra saree.
City roads are slowly becoming a fashionable address, quite literally, for, they are housing stores selling some of the top names in hi-end fashion. And it's no surprise that labels like Satya Paul, Manish Malhotra and Ritu Kumar have chosen these places to set up shop.
Satya Paul store opened its doors at The Taj here a few months ago. And then, there's Samsaara by Divya Kapoor that has triggered off a ceaseless celebration for saree-lovers. The store promises a heady cocktail of designer delights by Manish Malhotra, Deepika Gehani, Pallavi Jaikishan, Bharvi Jiakishan and Monisha Thahryaman and many famous designers. For you to have your pick, here's what each of these designer has created for you—
Satya Paul (Rs. 2,800-70,000)
Splashes of colour and fluid patterns flow gracefully on Satya Paul collection. His collection is a mélange of fabrics—Satins, crepes, georgettes with prints ranging from animal to abstracts, paisley to floral and delightful geometric motifs—triangles, circles, squares, checkers and pentagons. Hot picks are his calligraphy collection sarees. Right from Devnagri script to Zen and Swarovsky-dipped Om, these sarees have it all.
Manish Malhotra (Rs. 40,000 onwards)
Peppery collection of georgettes, chiffons, satins and nets, pepped up with fresh blossom prints, studded with sequins, shells. Besides, there are animal prints that dapple the urban feel with the instinct of a jungle!
Deepika Gehani (Rs.10,000 onwards)
A little madness, inexplicable style. Her two-piece and three-piece sarees represent flamboyant fun style of dressing, with loads of leather trimmings, oxidized coins, denim splashes and coloured stones.
Pallavi & Bharvi Jiakishan (Rs. 20,000 onwards)
This mother-daughter duo's sarees flaunt Indian fabrics and workmanship, Swarovsky and sippi work, delicate embroidery and embellishments. Encrusted with rich embroidery, trimmings, beading of spangles, rhinestones and crystal, these sarees are dramatic yet appealing, in all their ethnic splendour.
Monisha Thahryaman (Rs. 20,000 onwards)
Vibrant shades and mute tones, her designs are a collage of fine textures, gotta patti and stone work.
Ravage Classic (Rs. 10.000 onwards)
Groove on to some naughty numbers, laugh out loud by catching into the carnival instinct and get into merry making mood with oodles of colours and prints. An experimental collection that speaks of unrestrained revelry with ceaseless celebration. A boldly textured, bohemian sensibility is reflected through appliquéd patchwork and abstract patterns. Hot picks are the skirt-sarees flaunting a frilly, distressed style.
Ritu Kumar (Rs. 15,000-Rs.45,000)
Her monsoon line includes Aari work, sequins, kasheeda embroidery and antique work, dancing merrily on Serene whites, quiet lavenders, leafy greens, rich reds and canary yellows.
So all you fashionistas out there, let these funky sarees swish and twirl around that near-perfect figure and make you look like a princess.