Career Hotline
Get a dose of pharmacy
Pervin Malhotra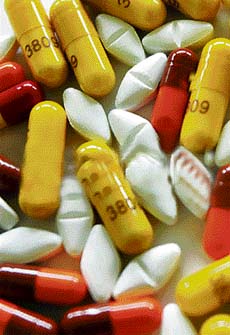 Q I am B.Pharm graduate and I am thinking of doing an MBA in Pharma Management. What are the prospects and where can I pursue this course?
— Shafi Ullah
A With over 20,000 units, the pharmaceutical industry has emerged as one of the biggest employers in the country. You can focus on the wider field of pharmaceutical management, marketing, wholesale and drug store management, finance, operations, quality assurance, R&D management, drug laws or IPR — depending on which one you find interesting.
lMaharshi Dayanand University, Rohtak-124001: PG Diploma in Pharmaceutical Marketing (Distance).
lNational Institute of Pharmaceutical Education & Research (NIPER), SAS Nagar, Mohali, a centre of excellence in advanced studies and research under the aegis of the M/o Chemicals & fertilisers, offers an MBA in Pharmaceutical Management (www.niper.nic.in / www.niper.nic.in).
Eligibility: qualifying degree (60 pc agg). GATE/NET essential. Selection: Common Entrance Test.
lNarsee Monjee Institute of Mgt Studies, Mumbai (www.nmims.edu) offers a PG Diploma in Pharmaceutical Mgt.
lUniversity of Delhi, Delhi Instt of Pharmaceutical Studies & Research (DIPSAR) Pushp Vihar, New Delhi 110017 (www.dipsr.org). Course: M.Pharm in Pharmaceutical Mgt
lIndian Institute of Pharmaceutical Marketing, Vikas Nagar, Lucknow (www.iipmindia.com) offers a Master's Diploma in Pharmaceutical Marketing Mgt (2-yr) and a PG Diploma in Pharmaceutical Marketing (1-yr) and a 4-month course after 10+2.
lGraduate School of Business and Administration, HS-02, Block F, Alpha -2, Amaltash Estate, Greater Noida (www.gbsaindia.com).
Course: Diploma in Medicine Marketing (1 ˝ -year, Full Time).
Eligibility: Biology, Botany, Chemistry, Biotech, BPharm preferred. For those looking at being Medical Reps /Execs.
lPoddar Management & Training Institute, Jaipur offers PG courses in pharmacy sales, marketing and management for providing trained professionals to the pharma industry.
lAPIC Institute of Healthcare Studies, D 62, NDSE I, New Delhi 110049 (www.apicworld.com) Courses: MBA (Pharma Business Mgt), 2-year, PG Diploma in Pharma Business Mgt (1-year).
lInstitute of Pharma & Healthcare Mktg, A-23 LPN II, New Delhi 24 Course for Medical Reps (3-month).
Experience counts for IIMs
Q What is the importance of work-experience in getting selected for the IIMs?
A Generally, 48-52 per cent of the students in the batch are freshers. That should put your mind at rest if you too are a fresher. But yes, work-experience does have some weightage, the extent of which is a matter of conjecture. The point is, it gives you an edge when facing the panel and answering such questions as 'why MBA', and if your had done some worthwhile work the impact is bound to be felt.
From this year onwards, you can appear for the CAT only if you have scored 50 per cent at the Bachelors degree level. However, there is a 5 per cent concession for SC/ST and physically disabled candidates.
Meanwhile, there is some good news for CAT aspirants struggling with time management. You now have an extra half hour to crack CAT.
Incidentally, CAT forms are now available online — just log onto www.iimcat2006.com. And for the not-so-net savvy, you can purchase the CAT bulletin from UTI Bank counters instead of SBI. Issue of forms from UTI and Post offices: July 17 onwards
In what may come as a breather for harried candidates, the IIMs have dropped the idea of adopting a two-tier admission process. I hope you've noted the D-day of reckoning this year: The CAT exam is slated for November 19, 2006. The application deadline: September 9, 2006. However, the last date for applying online is September 04.
Strive to soar
Q I would like to know which is best institute for training to be a helicopter pilot? Is it a very expensive?
— Harry
A Hindustan Aeronautics Ltd's (HAL) Rotary Wing Academy at Bangalore would be a good bet. The duration of the course is 17-18 months for a Commercial Helicopter Pilot's License (CHPL) and 6 months for the Private Helicopter Pilot's License (PHPL). The minimum eligibility criteria for CHPL is 18 years of age and plus two with Physics and Maths, while that for PHPL, is 17 years and a pass in Class X. Medical fitness as certified by a DGCA doctor is mandatory.
As part of the ground training students have to pass a written test in Air Regulations, Air Navigation, Aviation Meteorology, Technical (aircraft and engines) and signals exams as per the syllabi prescribed by the DGCA.
To comply with the flight-safety requirements followed worldwide, you need to clock 150 hours of mandatory flying time before you can get your CHPL. For a PHPL license, you need to clock a minimum of 40 hours.
The fee is approximately Rs 15 lakh.
The CHPL course will prepare you for employment with scheduled and non-scheduled operators (commercial). The PHPL qualifies you for flying privately owned helicopters.
For further information, contact: HAL Rotary Wing Academy, Helicopter Division, PB NO. 1790, Vimanapura Post, Bangalore 560017.
www.hal-india.com/helicopter/trainingacademy.asp.E-mail: rotorops@vsnl.com
The good news is that helicopter aviation is poised for 10-15% annual growth in India matched with a corresponding increase in the demand for helicopter pilots.
Counsellor's calling
Q I have a Doctorate in English from a Central University. Now I want to take up a career in counselling. I am assisting a counsellor. Please guide me so that I may set up my independent counselling cell. Do I have to obtain a diploma / degree in counselling to become one?
— Gayatri Singh
A Sure, confusion regarding career and educational choices is on the rise. And that means more people are seeking the support of a professional counsellor.
Before you decide on a career in this field, do check out if you possess all the attributes required of a counsellor:
Infinite capacity to give each client a patient hearing; empathy and ability to strike a rapport with your clients; a caring attitude that gives the client sufficient confidence to confide in you; ability to communicate with people from all strata of society.
You probably already have some of the skills already. You're probably a good listener. And people approach you with their problems, because they see you as a sympathetic person.
Now you can use those skills, overlaying them with professional counselling skills, to become a counsellor in your own right.
Counsellors use interviewing and testing procedures to assess the client's needs and then use counselling techniques to help alleviate the stress caused by confusion regarding career and educational problems.
In educational institutions, counsellors are involved in vocational and educational guidance and counselling while yet others prefer to work independently.
It is the nature of work that requires a counsellor to have a background in psychology as it equips you with various techniques of gaining an insight into human behaviour. You need a Master's in Psychology or in Education to pursue a recognised Post-diploma Course in Guidance and Counselling.
The course will teach you the skills of the counsellor's art: how to resolve the problems that people face; how to set up your own counselling practice; how to win clients; how to handle the client's problems.
You will also learn how to use standard psychometric tests and forms, and other useful information.
But a course in counselling is only the beginning. You need in-depth knowledge of the thousands of career avenues and how to qualify for them, what skills are required to succeed in a particular career and which courses to opt for from a bewildering array of options. After all, you are dealing with a person's future. Ignorance on one's part is unforgivable.
Calculated choice
Q I am a postgraduate in Mathematics and want to pursue MPhil in the subject through correspondence. Will you please tell me about the various universities from where I can pursue it?
— Darpan Sood
A The following universities offer an M.Phil in Mathematics through distance learning. For some strange reason, they are all based in the South:
Alagappa University, Directorate of Distance Education, Karaikudi-630003 (www.alagappauniv.org).

Annamalai University, Directorate of Distance Education, Annamalai Nagar-608002 (www.annamalaiuniversity.ac.in).

Bharathiar University, School of Distance Education, Coimbatore-641046 (www.b-u.ac.in).

Bharathidasan University, Centre of Distance Education, Tiruchirappalli-620023 (www.bdu.ac.in).

Kakatiya University, School of Distance Learning & Continuing Education, Warangal-506009 (www.kuwarangal.com).

Madurai Kamaraj University, Directorate of Distance Education, University Buildings, Palkalainagar, Madurai-625021 (www.mkuniversity.org).

Manomaniam Sunderanar University, Directorate of Distance & Continuing Education, Abhishekapatti, Tirunelveli-627012 (www.msuniversitytvl.org).

Periyar University, Periyar Instt of Distance Education, Salem-636011 (www.periyaruniversity.org).
Cultivate success
Q I am a final year student of B.Tech Agricultural Engg. I want to know the scope of jobs in India after I pass my degree. Please guide.
— Amlan Roy
A Job opportunities for Agricultural Engineers exist both in the private and public sectors, government departments and nationalised banks.
If you would like to be self-employed, you can go into manufacturing of farm equipment, drip and sprinkler equipment, wind and bio-energy gadgets or even set up a food processing unit.
Do also visit agriculture melas / fairs conducted by the agriculture universities of your region or log on to www.agrijobsindia.com, a job portal that focuses on recruitment in the agriculture sector. This will help you gain invaluable knowledge about the industry and other opportunities in this field.
— The writer is a noted career consultant
Please send in your query, preferably on a postcard, along with your full name, complete address and academic qualifications to: Editor, Jobs and Careers, The Tribune, Sector 29, Chandigarh-160030, or at careers@tribunemail.com