Move into multimedia
Nikita Singh
Multimedia has become a one-stop solution for today's communication demands. With its ability to integrate various media elements like text, graphics, animation, audio and video with computer interactivity, it has applications in numerous fields, ranging from entertainment and movies to educational tutors. Multimedia tools span a wide spectrum – from video and sound editing to special effects, virtual reality, animation, games and interactive multimedia programming.

Careercature
Sandeep Joshi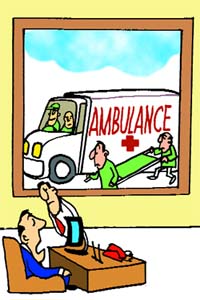 Who leaked the information that we are a sick unit?

Bag a job in retail
Nalini Ranjan
After the BPO industry, now the retail sector in our country is set for a big boom, specially after the announcement of an investment of Rs 10,000 crore in this sector by Mukesh Ambani of Reliance Industries. Reliance proposes to invest in 1500 big shopping malls in 150 small and big cities across the country.

IT majors offer 55,000 jobs; move to offset attrition
Domestic IT giants have begun the new fiscal on a strong note in terms of employee additions and the momentum is only likely to gather steam in the days ahead, going by the plans of Infosys and TCS to hire more than 55,000 employees in FY'07.

Salary negotiation
Cheque out these tips
Eileen Ambrose
For many new college graduates, it's time to learn a skill that will serve them throughout their careers— negotiating a salary. Yes, even those seeking entry-level jobs might be able to squeeze a little more out of a prospective employer by playing their cards right.

Tackling campus interviews
I.M. Soni
Employers who come to a campus to interview candidates are seeking to fill career openings in open areas, but today's demand for technically skilled people offers more to specialists. Research has shown that it is the specialised individual who has a better chance of entry in the job market.

'Devil' boss demystified
Amy Joyce
She called her new assistant by the wrong name and didn't care. Her coffee had to be on her desk first thing — hot — or else. She didn't want to hear an excuse, she just wanted it done. No matter what 'it' was. Thus are the traits of the devil boss in the movie "The Devil Wears Prada." Walking out of the theater, I could hear murmurs and whispers that went something like this: "I had a boss like that. One time he. ... "

Bits & bytes
Eight Indian teachers get educated in US space science
Eight Indian teachers were part of a group of 200 teachers selected for the Honeywell scholarships for an intensive educator curriculum focused on space science and exploration in Alabama. The teachers, part of a group of 200 science and math teachers from 19 countries and 43 US states, were sent on scholarships to attend the 'Honeywell Educators at Space Academy Programme' from June 16 to 28 at the US Space and Rocket Centre in Hunstville, Alabama, a Honeywell release issued in New Delhi said.

Smart Skills
Get a high by working as private eye
Usha Albuquerque
Detective work has been greatly dramatised in cinema and fiction. Right from the days of Sherlock Holmes to our desi Karamchand, the sleuth that solves the mystery — 'Who done it?' — has always captured the imagination. But in real life too, the role of Private Investigators has grown and is now compared favourably with those working for organised investigation agencies such as the CBI or the Police.

Career Hotline
Get a dose of pharmacy
Pervin Malhotra
Q I am B.Pharm graduate and I am thinking of doing an MBA in Pharma Management. What are the prospects and where can I pursue this course?