Move into multimedia
Nikita Singh
Multimedia is the gateway to a host of professions like animation, advertising, publishing, interior designing and others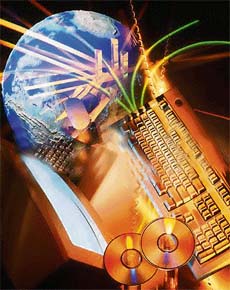 Multimedia has become a one-stop solution for today's communication demands. With its ability to integrate various media elements like text, graphics, animation, audio and video with computer interactivity, it has applications in numerous fields, ranging from entertainment and movies to educational tutors. Multimedia tools span a wide spectrum – from video and sound editing to special effects, virtual reality, animation, games and interactive multimedia programming.
Jobs galore
Multimedia was not such a rewarding career in the past, but now it opens doors to a wide range of career opportunities. Today, multimedia offers a wide variety of options with emerging vistas in the games and animation industries.
If we delve deeper into the world of multimedia, one would probably find that education can be fun while you learn the various aspects of multimedia, and grow from an uninitiated individual to a professionally qualified person.
Skills set
As multimedia education actually enhances one's ability and personality, it instantly makes a person stand out in a crowd and gives him status and recognition.
To become a multimedia professional, all it requires is an ability to work hard, visualise, understand the concept of design, implement it with clarity and a capacity to work towards it with perseverance. These are the only prerequisites to be a starter in the field of multimedia.
It offers opportunities in the following areas:
Publishing prospects
Print media is one of the oldest areas of work and has captured a big share in the Indian, Asian and global media market. Due to the wider acceptance and deliverability of print media, it will hold a confirmed berth in the industry for years to come. With Net publishing becoming the new buzzword, publishing has acquired newer and broader dimensions
There are lots of government and non-government professionally recognised institutions located across the country, where one can learn the art of design and development of printing technology and digital print media. The remuneration starts from Rs. 5000 and after gaining experience, a person can earn more than Rs.15,000 per month.
Entertainment industry
This industry has a lot in store for graphic designers, cameramen, sound recordists, compositors, games design specialists and animators.
This is one of the glamorous fields and a person can start earning up to Rs. 20,000 per month within two to three years.
World of web
With the emergence of e-commerce and interactive portals, the Internet has provided tremendous opportunities to multimedia specialists, and can be said to be the best example of multimedia application till date. Apart from the Internet, Interactive CD creation has also made a significant contribution to the growth of the multimedia industry. The career opportunities in this field are huge and the growth prospects unimaginable.
To initiate you into this field, there are various institutions providing training in Web Engineering. But one should be cautious and only choose the institute that has credibility in the industry and can help you in finding a suitable job. A fresher in this area will earn approximately Rs. 7000 a month and with a year or two of experience, he'll be able to earn more than Rs. 15,000 per month.
Fashion and interior designing
Though this field holds a lot of promise, it has more scope in the metropolises and is yet to achieve a mega scale in other parts of the country.
The fashion industry in India is supported by the Deptartment of Textiles, Government of India, and also by various non-governmental garment and textile organisations. There are lots of fashion designing institutes coming up in various parts of the country, but one should step in cautiously and look for the institute that has credibility and provides training by experts in this field.
This field is one of the most lucrative and creative ones, wherein a talented fresher may earn as high as Rs.15,000 per month.
The advent of design tools has given a broader scope and dimension to interior designing too. Static 3D object modelling and scene designing through computer graphics has helped this segment a lot.
Animation avenues
Animation is one of the fastest growing IT-enabled services and in India alone, 3,00,000 professionals are expected to be employed in the animation industry by 2008. Animation application areas include entertainment (movies, television), business (marketing demos, product promos), sales (presentations), education (CBTs/ WBTs), tourism (kiosks), publishing (graphics & printing), web design, virtual reality for simulations in defence, engineering, advertising (commercials, print ads), interior and fashion design. The employment opportunities for Indian professionals in this industry are in movie production, TV software companies, entertainment and ad agencies, educational multimedia segment and product and architecture design.
Visualisers, ink and paint artistes, special effects persons, character animators and modeling artistes are some of the professionals required for completing an animation project.
Special effects
Though SFX may be part of other industries such as entertainment, advertising and animation, its massive use in all forms of interactive presentation has made it a prime force in today's multimedia-savvy world. Advertisements, films, games, CBTs and a plethora of other mediums use special effects to spice up their content.
"Think of any film, be it 'Matrix Reloaded', 'Shrek', or Hindi films such as 'Main Hoon Na', 'Devdas', 'Dus', 'Paheli' or the numerous advertisements, special effects forms an integral part of it all," says a professional in this field. For a SFX person, entry level salary may range from Rs 3,000-10,000, but with a couple of years of experience and good projects, it can shoot up to Rs. 60,000 a month.
Getting into gaming
India has a huge potential and opportunity in games development for international markets. With a strong, established IT reputation, it is attracting the attention of the world's gaming companies. There are five main departments at an average game company: Art, Design, Programming, Sound, and Support. Many companies divide each into sub-categories. Art departments, for example, are often divided into 2D and 3D art, and animation, while the programming team may be split up to focus on AI, technology, and game play.
With the huge demand for trained games developers in India, salaries for freshers may range from Rs. 6,000-10,000 and will substantially increase with experience.
Advertising industry
The field of advertising, both online and offline, has been one of the key beneficiaries of multimedia technologies, and digital advertising is being used extensively by organisations today. Multimedia specialists use multiple types of media, text, graphics, sound, animation, and video, in any combination—to convey information and ideas through advertisements.
Training talk
Industrial Design Centre, IIT, Mumbai

Arena Multimedia

ApeeJay School of Design and Animation

Image College of Arts, Animation and Technology

Toonz Animation India

Animation Training School (ANTS)
(The list is not exhaustive)