Smart Skills
Get a high by working as private eye
Usha Albuquerque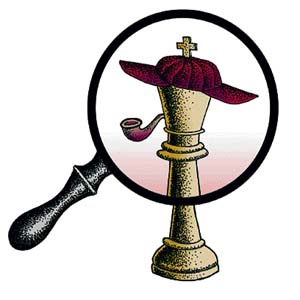 Detective work has been greatly dramatised in cinema and fiction. Right from the days of Sherlock Holmes to our desi Karamchand, the sleuth that solves the mystery — 'Who done it?' — has always captured the imagination. But in real life too, the role of Private Investigators has grown and is now compared favourably with those working for organised investigation agencies such as the CBI or the Police. In today's world, the nature and complexity of cases often goes beyond the scope of the police, and many more are now taking recourse to professional help.
The work of a private detective is mainly investigative and related to fact finding about the organization/product/individual under surveillance. A detective could be hired to provide information pertaining to:
Domestic problems: These may relate to divorce, child custody, unnatural deaths or to get information on other families before arranging a marriage.
Family disputes: May concern disputes over wills or property.
Industrial espionage: A detective may be employed to check the credentials of potential employees or cases of theft, fraud involving executives passing on industrial patents and know-how to rival organisations.
Corporate intelligence: Companies could hire detectives to get information about other organisations, infringements of trademarks and copyright, pirating goods or to verify the assets of someone who has applied for a loan. Pre and post-employment verifications are also often conducted by various companies, with the help of private detectives. Sometimes, private detective agencies may also train and deploy security services and bodyguards for different organisations.
Of late, many television news channels and news organisations are using the services of detective agencies for investigative journalism that provides audio-visual evidence of crimes and misdemeanors committed by those in positions of power and glamour. The Tehlka case which used hidden cameras to record politicians accepting bribes started this trend, which also netted film stars such as Aman Varma and Shakti Kapoor.
Forensic science is a specialised field where investigators use a variety of scientific tools and tests at the scene of a crime to collect evidence. It incorporates scientific knowledge from different disciplines and involves laboratory tests conducted in India by specialists working in forensic science laboratories run by government investigative agencies.
Clues to succeed
A detective's work is basically fact-finding which involves probing, investigation and knowledge of techniques such as finger printing, photography and trailing. The client discusses the case with the detective and all details are confidentially recorded. Special devices are available which can be used to aid the investigation such as recording machines capable of recording conversations at a distance or through a transmitter, special miniature cameras, etc. With the growth of investigative journalism, hidden cameras are now being used to provide audio-visual evidence of a crime. Although knowledge of areas such as forensics is sometimes required, detectives usually hand over this aspect to a specialist in the field.
In India, as yet, detectives do not need a licence to operate. So no particular academic qualifications or background are necessary for entering into this profession. A graduate degree in any discipline will essentially qualify a candidate for the one-year diploma offered by some institutes. However, most detective agencies offer in-house training programmes. Specific subjects are also taught as short-term courses run by private detectives and police academies.
A one-year diploma in the art of private investigation is offered at:
The Indore Christian College, Indore.

The National Institute of Private Investigation, New Delhi.

Short-term training courses for Investigators and Security Providers are also offered by private detective agencies such as :

ACE Detectives India International Securities, New Delhi.

All-India Private Detectives Association, New Delhi.

Lancers Network Limited, New Delhi.
Forensic science however, requires specialised qualifications of an MD in forensic medicine offered by most medical colleges, or an M.Sc in forensic science available at Sagar, Patiala and Madras Universities. There are also diploma courses in forensic science and criminology offered by several universities. The National Institute of Criminology and Forensic Sciences, Rohini, New Delhi, provides short-term courses for in-service professionals such as police, judicial officers, doctors and detectives.
Get cracking
However, more than an academic qualification, to become a Private Detective, you need to have a lot of patience, an inquisitive temperament, a keen sense of observation and perception and presence of mind. There are a lot of thrills, adventure and a certain amount of danger involved in this profession as well as a possible threat to life. Often you may have to work round the clock and during odd hours as well. On the positive side, the job is never mundane and can give tremendous satisfaction and confidence. You never know what kind of an adventure or excitement can come your way, therefore, there is a great deal of suspense and excitement involved for those who love living on the edge.
Detective agencies have a high rate of success today and their services are being increasingly sought after. Many parents have sought the services of detectives to keep an eye on their teenage sons and daughters and ensure they keep out of trouble. Marital conflicts, dowry demands, infidelity and corporate espionage are other cases that keep the modern Hercule Poirots busy. Many detective agencies therefore hire the candidates they train. Many registered agencies also have counterparts abroad, or are linked with agencies abroad for technical knowhow and expertise.
Those interested in joining the central government Protective services such as the Central Bureau of Investigation (CBI) and Central Intelligence Bureau (CIB) can directly apply for posts of Asst Sub-Inspector, Sub-Inspector, Deputy Superindent of Police and Public Prosecutor through advertisements in newspapers. For these posts you would need to be a graduate, 18-25 years, 167 cm height, 81 cm chest and eye vision of 6/6 in one eye and a maximum of 0.6 near vision in the other. The selection is also based on a written test in general knowledge and essay, followed by an interview.
Moreover, detectives can also set up their own investigative or security agencies after acquiring sufficient experience. So if you have an enquiring and keen logical mind, following in Sherlock Holmes footsteps may be just the case for you. And one where you sure need to leave traces!
The writer is a noted career expert