'We saw Hitler in person...'
This nonagenarian looks back and shares with Rashmi Talwar memorable snapshots — some historically significant and some evocative and personal




Full of memories:
P.C. Mehra
I hollered 'India, India!' into the hooter that I had made to cheer the Indian team and watch the finest dribbling the world had ever seen of Indian hockey wizard Dhyan Chand. This was at the Berlin Olympics in 1936. Our coat lapels flaunting the Indian National Congress flag (there was no Indian flag then), 25 of us Indians had the rare opportunity to watch sports history being made as India drubbed Germany 8-0," recalls 92-year-old Parkash Chand Mehra, who was then 22.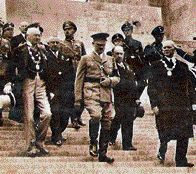 SIGNIFICANT CHAPTER IN HISTORY: Adolf Hitler along with other dignitaries coming down the stadium to inaugurate Berlin Olympics in 1936

"Only days earlier we had sat in the Berlin Olympics stadium, where we saw Adolf Hitler in person. We saw him descend the steps of the stadium in his military uniform and inaugurate the games. The dictator had literally made Olympics-1936 a showcase for extolling the 'greatness' of Germany under him. Towards this end, he instituted a torch-carrying ceremony in the parts of Europe under Nazi rule.
"Berlin was swamped with uniformed Germans and Nazi flags flying right next to Olympic flags. Photographs of the Fuehrer sold like hot cakes, while soldiers marched through the streets of Berlin — all this lent an unnerving feel to the place," remembers this resident of Amritsar, whose business of dyes and chemicals took him to different countries.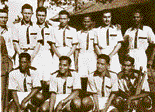 (Left) Hockey wizard Dhyan Chand and the Indian team that defeated Germany in the Berlin Olympics

Excitedly showing rare photographs of Dhyan Chand and the then Indian hockey team clicked with his camera (Roliflex model) in Berlin's Olympic Village, this nonagenarian said: "The visit was made possible by one Swami, manager of the Indian hockey team, who was from our Forman Christian College, Lahore. In fact, even before the Olympics, the masterful jugglery of Dhyan Chand had become legendry."
A prosperous businessman, Mehra reminiscences about two highlights of the Games: Dhyan Chand's jugglery that defeated the German team and Jesse Owen's (a Black) impressive victory that dented Hitler's propaganda about the 'superior Aryan race'.
Mehra, born in 1914 in Amritsar, incidentally shares his year and place of birth with Field Marshal Sam HFJ Manekshaw — who led India's victory over Pakistan in the 1971 war. They were classmates for a while at Hindu Sabha College.
Agile and with a sharp memory, Mehra recalls the aftermath of the Jallianwala Bagh massacre in Amritsar in 1919. Just five years old then, he admits that he didn't hear the booming gunshots ordered by General O'Dyer as they (Mehra's family) lived in the congested and noisy Sirkian Bandan Bazaar where the sound may not have carried. However he recollects standing near a large window and seeing men loot textile rolls and running helter-skelter. "Later, I saw troops coming to the bazaar. Our locality was agog with talk of people returning to their houses by crawling on their bellies at gunpoint. My father had left Jallianwala Bagh just 15 minutes before the firing started. A 12-year old cousin Jai Gopal was untraceable for some time and his return brought relief."
A year later, Mehra went to DAV school, Lahore, where he used to see freedom fighter Lala Lajpat Rai, a strong proponent of DAV institutions, almost daily in his house opposite the school. Then one day the headlines in Urdu newspapers Vir Pratap and Milap screamed of a barbarous attack on Lalaji by SSP, Lahore, J. A. Scott, during a silent protest on October 30, 1928, to boycott the Simon Commission. Eighteen days after this assault, Lalaji succumbed to his injuries. Angered by the brutality, Bhagat Singh, Rajguru and Sukhdev along with other freedom fighters decided to kill Scott.
Recalling the assassination of JP Saunders by Bhagat Singh, Rajguru and others, Mehra reminiscences, "It was a chilly day on December 15, 1928, the last day before winter break in DAV School — where Bhagat Singh had also studied. Saunders was shot outside the police station just opposite our school. Hidden behind the boundary wall grill in DAV College, adjoining the school, they fired shots from there and then escaped. Troops surrounded the police station soon after, while some chased the shooters. Our entire hostelo was searched. The next day the confusion cleared — ASP JP Saunders was killed and not SSP JA Scott."
Looking back, Mehra smiles at the recollection of the most magnificent moment when he watched the royal procession for Coronation of King George VI and Queen Elizabeth in London. George VI was the last to hold the title of 'Emperor of India' when India and Pakistan became independent.
On May 12, 1937, the coronation was the first televised event in history of Britain. Only about a handful of people could watch as the relay was limited. The live scene, however, held one spellbound.
Describing the royal spectacle, Mehra said: "As I stood as part of the crowd outside Westminster Abbey in London, I saw the King and Queen ride in the Grand Gold Coach. I saw little Princess Elizabeth (the present Queen, she was 11 years old then) with Princess Margaret Rose, wearing identical gowns with flowing trains and little coronets resting delicately on their heads. The event was a spectrum of activity with a galaxy of men in military uniforms, hundreds of troops — mounted and on foot — and scores of bands played martial tunes. The address of the new King was broadcast on radio. Days ahead, London was bathed in gossamer lights. Churches, banks, hotels, stores and private places were illuminated; gardens and parks were most enchantingly decorated. The Royal Canadian mounted Police looked bright in crimson coats, while as many as 600 Indians in turbans had come with trumpeters and drums.
Ten years after this event, Mehra witnessed the trauma of Partition in his hometown Amritsar, when riots broke out. Looting and hooliganism went on unabated as rumours ruled and truth became a casualty. Hordes of refugees came across the newly created Radcliff Line. "We kept an 'open house' where anyone was welcome. Half a dozen families stayed with us. They related stories of the maar-kaat. My family's flourishing raw silk business was temporarily affected."
Mehra, called Angrez by friends, talks of the holy city's Civil Lines that literally developed before his eyes. The Thandi Khui outside the summer palace of Maharaja Ranjit Singh was ironically 'partitioned' between Muslims and Hindus even before Partition. They went in for separate pulleys, buckets, glasses, but drew from the common (sanjaaha) water.
Mehra's is moved as he turns the yellowed pages of a letter in a photo-album. It has been written by a German girl, Hildegard Susmann, who he has been trying to locate for the past 50 years. This Angrez, whose fitness invites envy as he takes no pills and even walks without a walking stick, says he was in love with this German. Her family had suffered immensely during World War II. However the family — half-Jewish — carried his portrait made by Hildegard's artist mother when they were forced to abandon their house during bombardment in 1943. "I did not leave 'you' behind," wrote Hildegard to Mehra after fleeing Germany.
Family constraints made them drift apart. They met for the last time in 1957 in Rome. In a letter thereafter, she wrote: "A lovely dream, paradise on earth still lingers`85." That was the last he heard from her.
Despite the tragedy of losing his wife Kamlavati, daughter Rajeshwari and daughter-in-law Mini in quick succession — and all to cancer — Mehra prefers to stay alone but looks forward to the visits of his son Prem and his family. At the end of each day, Mehra quietly lays back on his rocking chair to listen to World Space Radio to update himself on the latest happenings in the world.