Shelley's India link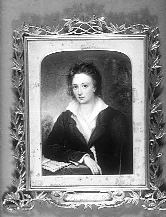 Even though famous for his Ode To the West Wind, (If winter comes`85can spring be far behind), Percy Byshe Shelley has an Indian connection too.
A rare pamphlet containing a hitherto unread poem by Shelley, containing references to British oppression in India and elsewhere, has been discovered. The pamphlet has excited scholars, who knew that it had been searched for in vain since 1811.
According to The Times, Percy Bysshe Shelley was a young undergraduate at Oxford when he produced his 172-line poem called Poetical Essay, which had a preface on politics and religion.
Shelley published the 20-page pamphlet under the anonymous pseudonym of "a gentleman of the University of Oxford", but his contemporaries at the university knew his identity, and his actions are thought to have precipitated his expulsion from Oxford.
Henry R. Woudhuysen, Professor of English at University College London, told The Times Literary Supplement: "It is rare for printed books of any period to be rediscovered after an absence of 200 years. It is all the more remarkable for its unexpected emergence and for the insights...it will give into Shelley's development as a poet and political thinker." The report says that in a line that reads "vices as glaring as the noonday sun", he is thought to have been referring to Castlereagh. Professor Woudhuysen said: "As former President of the Board of Control and Colonial Secretary, Castlereagh stands for the iniquities of British rule in India." In the preface he calls for "a total reform in the licentiousness, luxury, depravity, prejudice, which involve society."
The pamphlet is being sold by Quaritch, the antiquarian booksellers. Ted Hofmann, its director, told The Times: "It is one of the most exciting literary discoveries that I can remember. It was written about by Shelley scholars, but it was all a matter of conjecture. It's certainly a very important poem." The pamphlet's fate has been a mystery. No one knows how many copies were produced, whether Shelley sold any and whether the university authorities destroyed some of them. — IANS