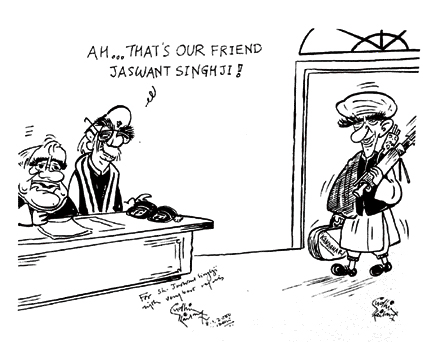 A
minister
remembers
Jaswant Singh
Former External Affairs Minister Jaswant Singh's book on his recollection of six years in office is an analysis of those times and the multiple challenges faced. The book gives his take on controversial events — Pokhran II, hijacking of the IC814 to Kandahar, the India-Pak summit at Agra, the Lahore bus journey and the Kargil conflict. Excerpts...
Because I am the author of A Call to Honour, and because my principal responsibility in the NDA government period spanned the "D, E and F of the governance of India" – Defence, External Affairs and Finance; in itself such an honour – naturally, my account will be heavily weighed in favour of foreign policy and of the challenges posed to our security.
Marvel that is Naggar
Roshni Johar on Naggar Castle, which is one of most striking examples of Pahari architecture
THE Naggar Castle overlooks the Kulu valley which is dotted with hamlets and interspersed with streams. Raja Gyan Singh had exchanged this prized castle for a rifle belonging to a British Major Hay. It is said Pandit Jawaharlal Nehru had spent some days here to pen his A Bunch of Letters.
On the crookedest street of the world
Emma Rogers
Lombard Street, a 400-yard stretch located in the posh Nob Hill/Russian Hill area of San Francisco city in the USA, is the crookedest street in the world. Within this short stretch, it has as many as eight hairpin bends.
'My sister is my best critic'
Srabanti Chakrabarti talks to Arzoo, younger sister of Aditi Govitrikar, who is creating waves on the small screen
Following the footsteps of elder sister Aditi Govitrikar, electronics engineer Arzoo Govitrikar has decided to enter the world of glamour. When asked if her decision was influenced by Aditi's fame, she says, "There is no doubt about it. She is my sole inspiration in this industry," says the blue-eyed beauty.
Animated with Icy 'N' Spicy
Manoj Kumar
The success of Hanuman, India's first animation film, has attracted many. Anil Goyal, who belongs to Narwana in Haryana, is making an animation film Icy'N' Spicy, expected to be launched in theatres around Divali this year. The music album of Icy'N' Spicy, which will be will be India's first 3D animation film, is being released next month.
'I'm not a messenger, I'm a storyteller'
I enjoyed making Yun Hota To Kya Hota. It was stimulating. I am enjoying the role of a director so much that I am not taking up so many acting assignments, Naseeruddin Shah tells Arpana
The much awarded and feted Naseeruddin Shah makes his debut as a director with the just released Yun Hota To Kya Hota, but says with characteristic candour that he isn't sure when he would make another movie.
Sayonara, Buttons
Red Buttons distinguished himself both as a character actor and a comedian in several Hollywood films. Vikramdeep Johal pays a tribute to the little big man who died on July 13
If the biblical Samson was renowned for his long locks, Hollywood comedian-cum-character actor Red Buttons was no less conspicuous for his red hair. Born Aaron Chwatt on February 5, 1919, he presumably got his first name from his hair colour and the second from the uniform he donned working as a singing bellboy during his schooldays in the Bronx.
Ahead of the times
Regarded as one of the all-time greats, R. D. Burman was one of the few composers who had a thorough knowledge of both western and Indian music, says Santanu Bose
They say humans die but the soul never does. And R.D. Burman had music in his soul. Although a dozen years have passed since the musical maestro's death, the charisma of his music refuses to die down.