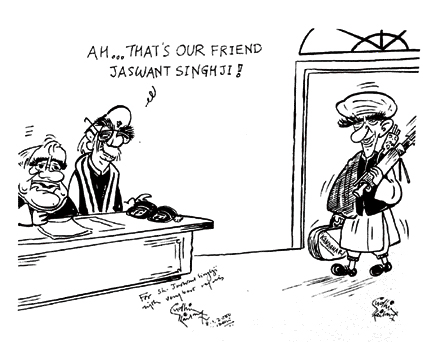 A
minister
remembers
Jaswant Singh




Former External Affairs Minister Jaswant Singh's book on his recollection of six years in office is an analysis of those times and the multiple challenges faced. The book gives his take on controversial events — Pokhran II, hijacking of the IC814 to Kandahar, the India-Pak summit at Agra, the Lahore bus journey and the Kargil conflict. Excerpts...
AYODHYA & GODHRA

On the BJP's scorecard, there are two major negatives. First, the getting out of hand of the Ayodhya Ram temple issue, the consequent vandalism at the site, the pulling down of it in December 1992. This failure of control over the Ram temple movement is accepted, and is greatly regretted. The other is the loss of state control, in 2002, in Gujarat, after a train-load of pilgrims returning from Ayodhya were trapped and their bogie set on fire in Godhra. Just under sixty people, men, women and children, died in that ghastly attack. This triggered reaction rioting in Gujarat, killing, as per figures provided by the government to Parliament in May 2005, 254 Hindus and 790 Muslims. These riots were a blot on Gujarat's face, they sullied the BJP too. Till this development there had not been a single communal riot. A mishandling of events, as a consequence of Godhra and whatever happened as a reaction, gave substance to the worst imaginings about the BJP, so were forced to observe even those who remain very sympathetic towards it. To the critics, these riots more than 'sullied' the BJP's name, for they 'justified' the worst fears of the self-styled 'secularists', and presented the worst possible face of what they called 'Hindu nationalism'. An impeccable record, of a riot-free India over six years, was compromised.
TESTING TIMES

Earlier attempts at testing went back to the 1980s, when R. Venkataraman, later India's president, was defence minister in Indira Gandhi's government. On two separate occasions, Venkataraman shared with me, all preparations had been made, the bore shaft had been dug, fully wired and prepared, and indeed that he (Venkataraman) had himself once, out of curiosity, gone down a shaft. In fact, a date had been set for the test. But then Indira Gandhi changed her mind and called the whole exercise off. In 1996, when P.V. Narasimha Rao demitted office as prime minister, he took aside his successor, Atal Bihari Vajpayee, and quietly said, " I could not do it though I wanted very much to, so it is really up to you now".
SALUTE TO SOLDIERS

Long after this conflict was over, when students of military craft from other countries visited the Kargil region, they found it impossible to believe that this simple, unassuming Indian soldier, not always equipped with the most advanced of personal weapons, had scaled these heights, mostly in the dark—so as to avoid direct, aimed fire—and had fought battle after battle, winning each of them and gaining back each of those heights. (By God! It makes me very proud to be of this fraternity.) Many were the doubters about this. For example, in that very period, Henry Kissinger had called on me, breaking journey in India en route to China, only to perceptively enquire, "Will you be able to evict them from those heights?' I had not known how to answer. Had I affirmed my faith in the Indian soldier, my worldly-wise and experienced visitor could well have scoffed at me inwardly. And I simply could not just say that our soldiers would fail, because I carried an internal conviction about them, an abiding faith, my instinct assured me that they would not fail, not fail me, not fail us, not fail India.
Because I am the author of A Call to Honour, and because my principal responsibility in the NDA government period spanned the "D, E and F of the governance of India" – Defence, External Affairs and Finance; in itself such an honour – naturally, my account will be heavily weighed in favour of foreign policy and of the challenges posed to our security. And though economic security is the very first security, the bulwark really of all our policy platforms, it does not find the same space in this narrative. Why? Because that is so much more difficult to recount, and because narrative accounts of economic policy management have far less 'sex appeal' for the reader.
Pokhran II Test
In 1996, after the favoured five had conducted over two thousand tests, a Comprehensive Test Ban Treaty (CTBT) was opened for signature, following two-and-a-half years of negotiations. This treaty, alas, was neither comprehensive nor related to disarmament. It was devoted only to ratifying the nuclear status quo. India's choices had narrowed critically. It had to ensure its nuclear options, developed and safeguarded over decades, by all the eight prime ministers and either successive governments of India between 1974 and 1996, and not eroded by self-imposed restraints.
*****
This 'ambiguous deterrence', as practised by both India and Pakistan from 1989 to 1999 had run its course; it was now increasingly dangerous (potentially), in the context of the jehad launched by external terrorists in Jammu and Kashmir, who, backed publicly by Pakistan, were capable of creating war-like interventions. It was also clear that notwithstanding the loud cries of horror from the N5, post-May 1998, they had all been fully aware of the 'ambiguous deterrence' or 'recessed deterrence' (call it what you will) being practised by India and Pakistan.
*****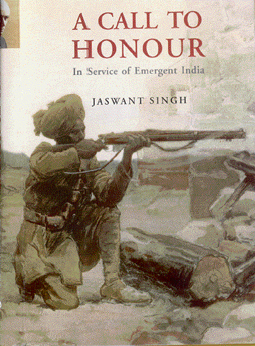 It was the morning of 11 May 1998. We waited expectantly, rather anxiously, on that fateful day at 5 Racecourse Road, the house and office, in central Delhi, of the Indian Prime Minister. The underground test, slated for around 8.30 am, had been postponed because the wind direction was not suitable, an important precaution as just about five kilometres east of the test site is an inhabited village. In the room, anxious minutes turned into hours, conversation faltered, for there is only so much empty talk one can engage in on such occasions. It was, after all, an event that would alter an existing order, it would confront us, we understand, with a phalanx of challenges the moment the formal announcement of it was made.

*****
Then, as the shadows began to lengthen on that midsummer day, the 'hotline' (telephone) suddenly jangled. Brajesh Mishra, then the principal secretary to the prime minister, picked up the receiver, listened without comment, the tension on his face visibly lessening as the conversation progressed. Quietly and without any fuss, he replaced the receiver, turned to the assembled ministers, in the midst of whom sat the prime minister, and announced: "The test has been successfully conducted". He looked at his watch and added, '`85 Exactly at 3.45 pm'. Was there any breaking open of champagne bottles or any similar cheering or rejoicing? No, there was not. But I do remember walking up to the prime minister soon after Mishra had finished, shaking him by the hand and saying simply, 'Congratulations. You have acted with great courage, Atalji.' L.K.Advani, rendered wordless by deeply-felt emotions, silently shook the prime minister's hand.
Kargil conflict
In the beginning of May, in what is known loosely as the 'Siachen sector' – where the highest Indian post, and probably the highest in the world, is at 22,000 feet – a shepherd brought news of some movement of unidentified people in the area of Batalik, a tiny village on the LoC.
A patrol sent out on 4 May could not reach the suspect area on account of heavy snow. Another patrol was sent a day later. This amounted to walking into a trap, the adversary already knew that they had been spotted. Inevitably, this patrol was ambushed, resulting in four fatal and five non-fatal casualties. The first shots in the Fifth Battle of Ladakh, for the Kargil sector, had been fired. On 7 May 1999, the Infantry Brigade Group, with responsibility for this sector, communicated relevant information to HQ. On 8 May the then Pakistan army chief, Pervez Musharraf, who incidentally, continues to be army chief, made an unannounced visit to his forward areas opposite Kargil. A day later, an ammunition dump was blown up in Kargil by enemy artillery shelling, destroying about 5,000 tonnes of ammunition. Though I had no formal intimation of any serious situation developing, I was by now concerned and made individual enquiries. I recommended that we consider the situation in this sector in the Cabinet Committee on Security. Two days later, 70 Infantry Brigade of the Indian Army launched Operation Vijay in the Batalik sector.
*****
Till this stage, use of the Air force had not received political assent. It was my view that the use of the Air Force at this point was not good policy. My reservations were born of two or three principal considerations. Should the adversary be determined to escalate the conflict, as all his early actions demonstrated, then we ought to be prepared for air casualties. The difficulty with air casualties, as against casualties on land is principally of imagery. The sheer optical value of the Air Force is so much greater, particularly in a limited and contained conflict. That is why the loss of an aircraft becomes so instantly an issue that catches the public eye, as compared to the loss of even a platoon of infantry. There was another aspect that concerned me greatly: to ask our Air Force to undertake these air missions and within such narrow, tight confines bound by the LOC was to send it on virtual suicide missions. And there was no way that the political leadership would permit cross-LOC operations. As such, there were but two routes for the Air Force to operate on, and both were extremely narrow funnels. `85High speed aircraft even at low altitude, or even helicopters chugging along peaks, would have difficulty in determining where exactly the LOC was.
*****
Madeleine Albright then called me on May 30 expressing 'regret' about developments in Kargil and indicating she had spoken to Nawaz Sharif, and telling me 'the United States knew fully well how the chain of events had started'. She did hint at the possibility of a 'ceasefire', following which a 'withdrawal of troops would be possible'. India had travelled on their route of 'ceasefire', etc. several times earlier and had learnt that ceasefire under such conditions had always been converted into a ploy for remaining in occupation of the land encroached upon, leading to endless, fruitless and largely purposeless dialogue. I offered to Albright that were the Pakistan government to restore the status quo ante then certainly we would examine the feasibility of a ceasefire.
*****
What truly was the greatest challenge to Prime Minister Vajpayee during this near sixty-day trial was his (the PM's) continued conviction to not expand the field of combat beyond the LOC, whatever the provocation. This obviously cost India many lives, it cost us time too, many gallant officers and soldiers had to lay down their lives because of this enormous restraint that India had placed upon itself. Perhaps, this too, was part of Pakistan's miscalculation that we would once again be hustled into expanding the scope of the conflict. Such an escalation, tactically advantageous, would have been a strategic error of incalculable dimensions, principally because of the nuclear status of both India and Pakistan, which for the world was the foremost worry.
*****
On January 4, 2000, Strobe Talbott wrote me a letter in which he very sincerely shared his views. 'During Kargil, India held fast to the moral high ground throughout the crisis, in the face of enormous provocation and resisted the temptation to take retaliatory steps which would at best have cost India its unprecedented international support. 'That was not all. During the Bangkok Asian Regional Forum Meet on July 27, 2000, I met Madeleine Albright, again. Unlike 1998, she greeted me with great warmth, and I got the appropriate hug and kiss on my cheeks. She was graceful and complimentary. 'Jaswant, it was a masterly handling of the Kargil crisis. You did not put a foot wrong.
Kandahar
Before writing about this event (hijacking of the IC814 to Kandahar), I reflect long on how I was to do it, how would I convey the enormity of the challenge that was then faced by us, as a nation and not simply as a government? Wounded as perhaps never before, I went through a searing experience. But how did my countrymen and women confront this challenge? As a great tragedy, or was the overriding reaction, in the political community, of schadenfreude? I still do not have the answer. How, in what fashion would I share this experience, clinically, dispassionately, perhaps even unfeelingly, and without permitting any subjective clutter?
*****
`85information reached me that the hijacked IC814 had landed at Amritsar. I almost yelled into the telephone, forgetting all diplomatic decorum, the army resurfacing and in a language that brooks no misunderstanding: `Get your bloody fingers out now. For heaven's sake, do anything, don't let the f`85.g aircraft leave Amritsar.'
It was not easy to decide to go to Kandahar, but somebody had to go. Vivek Katju, Ajit Duval and C.D. Sahay were not unanimous in saying, `Sir, please depute somebody to come to Kandahar`85we want somebody to be able to take decisions, on the spot`85.Naturally, I was inclined to go as it was the MEA's responsibility.
*****
Of the return flight, what memories do I carry? There was relief, because so much accumulated pain and agony burst open, like a long throbbing carbuncle. `85So many of the released passengers were so visibly traumatized—there was no way I could do anything other than meet each of them, individually, to welcome them and to do the best that I could to absorb and to assuage, at least in part, their pain. `85then there was that rather overwrought young mother, still trembling with anger and suppressed fear –[she] had clutched at my throat and yelled as loudly as she could, "Why have you come so late? Where were you all this time? You have betrayed all of us. Where are my children? Where is my family? And she banged her head against my chest angrily and finally broken down, crying bitterly. I stood there in the aisle and just held her and Vivek Katju stood next to me and we watched. What else could we do? Today a night binocular sits on one of the shelves to grimly remind me of that night.
Agra Summit
With the wisdom of the East and his years in Pakistan's Foreign Office, (Secretary Foreign Affairs Abdus) Sattar said, 'Jaswantji, I must share with you something. You have many years of service to your country behind you and many ahead, which you will perform with great distinction. But the task on which you and I are now sets as "negotiators of an arrangement", also" messengers of that agreement", is a perilous task. In such tasks, believe me, quite often, it is the messenger who gets shot.' And he laughed.
*****
I went and showed this (with initial ideas for a joint statement) paper to the prime minister, who then called his Cabinet colleagues to his suite. The collective view expressed there was that without sufficient and clear enough emphasis on terrorism, also accepting categorically that it must cease, how could there be any significant movement on issues that are concern or are a priority only to Pakistan? And none that are in the hierarchy of priorities for India? How can we abandon Shimla or Lahore? Or forget the reality of Kargil? I went back and reported failure to Sattar. He took it understandingly, as if he knew in advance that his was a long shot. He said words to the effect of 'I am sorry this has happened. I really wish, Jaswantji, that we had been able to do something, but then this has been the fate of India—Pakistan negotiations—many hopes have been belied in this fashion.'
Talks with Talbott
On Sunday, 25 August 1998, I reached Washington for the fourth round. `85The conversation was free-flowing. I spoke, therefore, at some length on 1947, on how the subcontinent, over the century, had seen many cataclysmic events arrive and flow over the land and its people, eventually to be absorbed by the resilience and the patience of its culture and civilisation. I also shared my view that the West continued to demonstrate an absence of understanding of Islam. I cautioned Strobe Talbott that the challenges and dangers from terrorism that India had been confronting all along, for decades now, would surely—though I hoped very much that they never did—visit the United States too. This was not any kind of warning, it was only the sharing of an apprehension, to a friend and to a friendly country.
*****
The year drew to a close with Kandahar. Drained and emotionally exhausted by the challenge of the hijack, I met with Strobe again, for the ninth time, in London on 18 and 19 January 2000. The atmosphere had changed beyond recognition. This was a post Kargil, post-Kandhar phase, we were relating to one another in a very different manner. It was not adversarial at all anymore, much more candid, much more trusting.
*****
Strobe had wanted to know about the Kandahar incident. The most I could say was it was a 'near impossible hijack to negotiate`85in Kandahar we did not even have a toehold'. I then shared a few thoughts about the American role before, during and after than hijack. Strobe personally had been most supportive. It was also in London that we discussed President Clinton's decision to visit India. Strobe reassured me that the visit 'was not related to any progress on NPT'.
*****
Indo-American relations were transformed when President Clinton visited India in March 2000. This presidential visit contributed more to a total transformation of Indo-American relations than possibly any other single event of recent times. During Kargil, for the first time in the India-Pakistan context, the Union States had come out clearly on the side of facts. President Clinton's statement that United States will not mediate to resolve the issue of Kashmir'—was a pleasantly novel experience for us. He had also clearly stood against violence propagated from across the border, dismissing the idea of a plebiscite in Jammu and Kashmir. As he told an audience in Pakistan, where he touched down for a few hours following his visit to India 'This era does not reward people who struggle to redraw borders in blood`85 There is no military solution to Kashmir. International sympathy, support and intervention cannot be won by provoking a bigger, bloodier conflict.'
Excerpted with permission from A Call to Honour: In Service of Emergent India by Jaswant Singh, Rupa. Pages 426 Rs 495