Marvel that is Naggar
Roshni Johar on Naggar Castle, which is one of most striking examples of Pahari architecture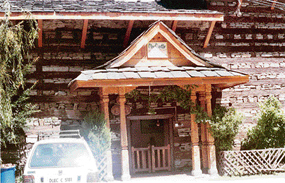 The castle is now a HPTDC hotel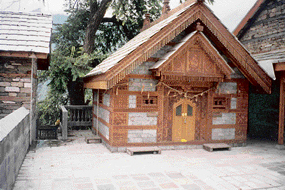 The ancient Jagati Pat temple.
— Photos by the writer
THE Naggar Castle overlooks the Kulu valley which is dotted with hamlets and interspersed with streams. Raja Gyan Singh had exchanged this prized castle for a rifle belonging to a British Major Hay. It is said Pandit Jawaharlal Nehru had spent some days here to pen his A Bunch of Letters.
This Himalayan destination is 23 km from Manali and lies 5,600 feet from the sea level on the banks of Beas, with snowy peaks of Deotiba, Gyenghang and Chandraghani looming in skies over it.
Its legends, history, temples, architecture and beauty all combine to make Naggar, a showcase of Kulu-Manali's pahari culture, luring Indian and western tourists alike. Naggar was once the capital of Kaluta (as Kulu was called in olden times), the latter being part of Katrayadi Gana, a central area of Trigarta.
Himachal's Gazette informs that Raja Sidh Singh had built Naggar Castle more than five centuries ago. Legend has it that not very far away lay the ruins of Gardhak, an abandoned palace of cruel Rana Bhonsal, below Baragaon village. Raja Sidh Singh ordered that a long chain of labourers be formed over the Beas, connecting its left and right banks. Thus stones of ruined castle were manually passed from this place to Naggar, to construct one of most striking examples of Pahari architecture i.e. the Naggar Castle. It stands today as an architectural marvel in stone and bonded timber, also containing woodcarvings of blue pine and spruce.
The castle is strongly built; its walls being 42 inches wide. It is so strong that it withstood the devastating earthquake of 1905 when most of the houses in the valley were destroyed. The nearby old city of Jawa was completely ruined by this quake. According to historians, the structure of the castle and the religious beliefs may have a link with Tibetan raids of Naggar in the past.
The castle is chiefly divided into two courtyards. Rooms surround the first one with a cascading weeping willow tree in centre of stone-paved floor. The famous Jagati Pat temple is enshrined in the second one.
In this temple, an ancient solid stone slab recounts the 'jagati pooch' legend. It reveals that in the past, it was ordained to make Naggar an ecclesiastical seat of all deities of the world, including althara kalrus or the 18 deities. Therefore, all gods and goddesses transformed themselves into honeybees. Bestowed with Herculean powers, these honeybees flew, carrying the massive stone slab bearing the Jagati Pat insignia from Bhrigu-tung hill named Dram-Dhog near Bahand village to Naggar. The local devis and devtas hold their yearly divine durbar here to end their miseries, including natural calamities.
In 1660, the capital of Naggar was shifted to Sultanpur, now Kulu. In course of time, Naggar Castle passed into the hands of Major Hay, the first Assistant Commissioner of Kulu, who had his headquarters here around a century ago. The castle came to function as an aristocratic English house. He sold it to the Punjab Government which served as a rest house and the court's office.
In 1978, the Himachal Pradesh Tourism Development Corporation converted the castle into a hotel, now a prized heritage property, having 16 rooms apart from a five-bed dormitory. A basement houses a museum depicting Himachal's arts and crafts like patoos, shawls, gudmas, nagaras, carpets, including figures of devis and devtas in traditional attire.
The region abounds in other ancient temple like those of Gauri Shankar, Vishnu, Murlidhar, the pagoda-shaped temple of Raj Rajeshwari Tripura Mata Sundara and chalet-styled one of Sandhya, that bring alive the true character of Himachal, truly called the Dev Bhoomi i.e. Abode of Gods. In the vicinity lies bara selas where several sati stones are embedded in earth. The road winds up to International Roerich Memorial Trust housing famous Roerich Art Gallery, once the estate of actress Devika Rani and her famed painter husband Svetsolav Roerich.