ĎMy sister is my best criticí
Srabanti Chakrabarti talks to Arzoo, younger sister of Aditi Govitrikar, who is creating waves on the small screen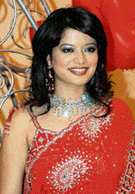 Following the footsteps of elder sister Aditi Govitrikar, electronics engineer Arzoo Govitrikar has decided to enter the world of glamour. When asked if her decision was influenced by Aditiís fame, she says, "There is no doubt about it. She is my sole inspiration in this industry," says the blue-eyed beauty.
"I come from a middle-class family. I was doing engineering when Aditi had become a famous model. Since my parents had seen Aditiís stature as a model go up, so they had no objection to my joining the glamour industry," explains a Arzoo.
Itís been around three years since Arzoo has been in the industry. "Initially, I did some modelling assignments. After almost two and a half years, there was an offer for a Malayalam film directed by Priyadarshan that I accepted."
Titled Kakakayuln, this film had Mohanlal and Suniel Shetty as her co-stars. She also did a Telugu film Manasutho and played Amitabh Bachchanís daughter-in-law in Baghbaan.
Thereafter, Arzoo started taking up almost anything that came her way and ended up doing a number of not-so-good films. Despite a great take-off, her films like Letís Enjoy and Dream fared badly.
"That is when the small screen bug hit me. Television today offers everything that an actor can ask for ó creative satisfaction, popularity and security," she says.
"Beginning with Kitni Masti Hai Zindagi, and Kamini Damini, came a turning point with Ek Ladki Anjaani Si."
In Ek Ladki Anjaani Si, Arzoo plays the role of Tulika ó a rich wife of a richer husband. She can stoop to any level to get her desire fulfilled. Her role as Shveta, a journalist in Kittu Sab Jaanti Hai, is also a negative one.
When asked if she feels she could be typecast as a vamp, she says, "Although both Tulika and Shweta are negative roles but I feel if the audience wants to see you that way, what is the harm."
Does she regret moving to the glamour world, while her batchmates are living cosy lifestyles in the Silicon Valley? "Not at all. Every job has its own share of problems. I often speak to my friends in the US ó all of them have their work pressures, deadlines and other issues at workplace. And to make matters worse, they are far away from their families and there is no recognition for their work. That way I am much better off. I am doing a creative job, earning decent money, getting recognised and also staying close to my family."
So where do you see yourself five years down the line? "Difficult to say`85but perhaps as a housewife ó married with kids. But here I would differ from my sister. While Aditi continued to work even after she married and had a kid, I donít think I will be able to do that. I would stop working and concentrate full-time on my family."
About her relationship with sister Aditi, she says, "There is nothing like sibling rivalry. In fact, Didi takes care of me a lot and makes the first call in the morning to find out how I am and whether everythingís fine. She is also my best critic and gives me suggestions for improvement," says Arzoo.