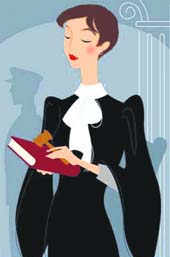 A strong case for legal outsourcing
Arvinder Kaur
With LPO (legal process outsourcing) expected to create 79,000 jobs in India by 2015, it is being tipped as the next big thing after BPO.

Except for fighting court cases in New York or London for law firms there, Indian lawyers are doing everything else for their western counterparts—litigation support, contract review, patent writing and paralegal services. Legal process outsourcing (LPO), as it is being called, has very high growth potential, and according to latest estimates, it can fetch 79,000 jobs in India by 2015. According to Nasscom, estimates of current addressable market potential for legal services outsourcable from the USA alone are pegged at $ 3-4 billion. It is estimated that only 2-3 per cent of the potential market has been tapped so far.




Internet jockeying the hot new job
Radio jockeys are already a part of folklore with even Bollywood movies being made on them. But it is the Internet jockeys or IJs who are spinning music right in the web space. With the Internet getting more and more popular, people no longer depend on television or radio for viewing or listening to their favourite music or songs. A listener of Jazz or pop can get access to music from around the world. The professionals who manage the music shows on the Internet are referred to as Internet jockeys.



Careercature
Sandeep Joshi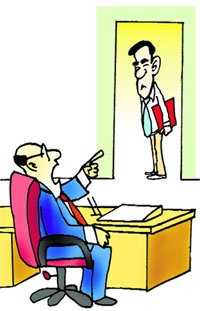 By calling me 'uncle' in office you'll get no relative gain.

Mastering maths, the online way
Leading e-learning solutions provider, Educomp Solutions Ltd, recently launched a new initiative in online learning, Mathguru.com, an innovative 24x7 math-help programme designed to help students solve every single maths problem as per their curriculum, text books or syllabus on an anytime-anywhere basis.

Smart Skills
Pharmacy is a good prescription
Usha Albuquerque
If getting into medical school is a problem, a fallback that makes for an exciting alternative career is pharmacy. With the complexities of modern medicine and the thousands of drugs being developed and dispensed every day, health professionals and the public have come to rely quite heavily on the specialised knowledge of pharmacists. This along with the massive growth in the pharmaceutical industry has created an increasing demand for trained pharmacists.

Career Hotline
No half-baked idea, this
Pervin Malhotra
Q I am 26 years' old and interested in opening my own bakery. Please tell me about the future in this field. Also, suggest some good institutes.
— Paramjit Singh
A Did you know that India has the world's second largest biscuit industry (after China)? And that the unorganised sector accounts for 60 per cent sales of all bakery products in India? Well, now that you do, just go ahead and check out some of these courses that will help you master the art (and craft) of baking. Once you've grasped the basics, some practice (a few burnt cookies and one or two stubborn, refusing-to-rise cakes) followed by loads of experimentation — you'll soon be perfect.