Bond with the best
If you can't tie the knot, fasten the thread of friendship around your pal's wrist for a bond that will last at least till your jeans fade. Else, lose your blues, along with some money, together in a discotheque on the Friendship Day this Sunday, says Saurabh Malik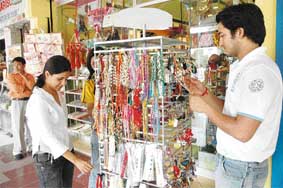 Threads of bonding: Youngsters are picking up fancy friendship bands available in town. Photo: Pradeep Tiwari
She just cannot hear the rhythmic notes of togetherness in the silent holding of hands. No wonder, city student Tanya Jasiwal and her friend Anita Sandhu do not enjoy companionship in the stillness of crowded parties.
Alone, they hop from one bash to another in the evenings to announce firm comradeship; and tie bands of friendship around each others wrist to fasten their alliance. If people think they are queer, the pair is just not bothered about it.
Now that the Friendship Day is fast approaching, the two have once again picked up nice little wristbands from gift and chunk jewellery shops across the city to tell the world that they live together in their own microcosm, merrily.
Sounds interesting folks! After all, you meet guys and gals hugging and kissing each other all the time in the name of friendship. Just because free mingling is the hallmark of polite society! But you hardly come across couples like Tanya and Anita. Right, in days when friendship fades before your best pair of denims wear-off!
Fresh ties
Bidding adieu to the conventional multicolored bands, the undergrads have picked up ribbons embellished with seashells and sequins for that eternal feeling of being tied with the best. For, these bands are the latest scream among teenyboppers ready to celebrate out-of-the-world friendship in materialistic terms.
"You may find it hard to believe, but we are actually selling something like 20 shell-and-leather bands a day even though the big day is still a couple of days away," says Raman of The Jewels in Sector 11. "The stuff is not very expensive. You can pick up the bands by pulling out less than 50 bucks from your wallet".
Date with history
Guys, before you go out and buy a strap for your pal, here is a strip of the day's history culled from the Internet just for you: Friendship Day across the world is celebrated on the first Sunday of August so that you can appreciated you pals present all around you in so many shapes, sizes and guises.
And now back to the gifts. Just in case the idea of tying a band around your friend's wrist does not sound appealing, write a nice card for your buddy. Pursuing graduation in commerce from a local college, Aditya Sharma has just spilled his heart out after picking up a "Friendship Day" special card.
"You actually have so much to choose from this time," says Krishna Sahoonja of Dewsun Greetings and Gifts Private Limited. "Cards commemorating the day were always there. But the messages were never so touching."
You can buy or prepare small presents for your pals. Go in for flowers, chocolates or anything else that catches your imagination! Plus-two student Tahira Nayyar has just prepared a paper flower for her childhood friend Nitya. Tahira plans to leave the gift anonymously at her doorstep for added intrigue!
Present perfect
Another thing! Record songs so closely associated with your lives. Like the number you heard when you went on a joint date. School student Vishesh Sharma is after his mother to record the song they play so often on way to their institute for gifting it to his chum.
Or else, take some time out of your busy schedule and make a special friendship book for your friend. Punjab and Haryana High Court advocate Raman Sharma has included photos, quotes and poetry for telling his friend Bhanu in Shimla how special he is.
Dancing on the ceiling
Also remember to call old friends you just haven't spoken to for ages now. Just in case you are hesitating, recall the time-honoured Girl Scout motto: "Make new friends, but don't forget old, because one is silver and the other gold"!
You can even invite your pals to your place. Rent some good classics and enjoy them on the small screen while munching popcorns, chocolate and all those unhealthy food you so often desist. "Right gals, you will remember the big day for this reason alone," says city-based fashion designer Neerja Dutta.
In the end, just hop into your car and rush down to the arcade for getting a computerised sketch of yours prepared. You will have to pull out something like Rs 100. But the memory is worth the price. One such machine is in the Fun Republic in Mani Majra
Else, go to a discotheque and dance your way down the memory lane. There is a pre-friendship day bash on Saturday from 11 am to 8 pm at Rendezvous in Sector 26. Another bash is being organised at Athena 9 pm onwards on Sunday. So folks, get out and get going.