Splashy numbers
The spectacle of rain-drenched lovers has been an old cliche in Hindi films. Bollywood or Hollywood, it boils down to comin' alive in the rain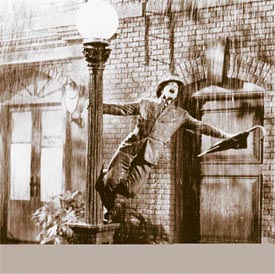 Gene Kelly in Singin' in the Rain
Isn't it a lovely day to be caught in the rain... sang Fred Astaire and Ginger Rogers in the classic musical Top Hat (1935). Seventeen years later, the sprightly Gene Kelly sang and danced his way into immortality with the title number of Singin' in the Rain. This is easily the greatest rain song to come from Hollywood — unmatched for its joie de vivre and romantic exuberance. It's the ideal number to celebrate a rainy day — and Valentine's Day as well (Shockingly, this song was on the lips of a gang of delinquents as they raped a girl in Stanley Kubrick's A Clockwork Orange).
Rex Harrison made Audrey Hepburn sing The rain in Spain stays mainly in the plain... in My Fair Lady (1964), while Paul Newman rode a bicycle while crooning the Oscar-winning Raindrops keep fallin' on my head... in Butch Cassidy and the Sundance Kid (1969). These two songs became quite popular, even though rain was conspicuous by its absence in both!
Kalidasa eulogised the lyrical beauty of rain in his classic poem Ritusamhara. Bollywood songwriters might not have produced something even remotely like that, but they have often come up with some memorable rain numbers. The voyeuristic spectacle of rain-drenched lovers has been an old cliche in Hindi films.
Raj Kapoor and Nargis shyly got a bit cosy under an umbrella as they crooned the Shailendra-penned Pyar hua iqraar hua... in Shree 420, while Kishore Kumar flirted with Madhu Bala by singing Ek ladki bheegi bhaagi si... (Chalti Ka Naam Gaadi). Amitabh Bachchan was pretty wild along with Smita Patil in Aaj rapat jayen... (Namak Halal), but he was sober and gentle in the company of Moushami Chatterjee in Rimjhim gire saawan... (Manzil).
If a couple of famous Hollywood songs had rain in the lyrics but not in the scene, in Bollywood films it has sometimes been the other way round. Take Mere khwabon mein jo aaye... (Dilwale Dulhaniya Le Jayenge) or even Pyar hua iqraar hua...
Back in the fifties and sixties, Hindi rain songs were awash with poetry. One can't have enough of gems like Zindagi bhar nahin bhoolegi woh barsaat ki raat... (Barsaat ki Raat) and O sajna, barkha bahaar aayee... (Parakh). In the past three decades or so, lyricism has taken a back seat, although sporadically there have come songs with an old-world charm, such as Rimjhim rimjhim... (1942 — A Love Story) and Chhoti si kahani se, baarishon ke pani se... (Ijaazat).
Mirror, mirror on the wall, who is the sexiest soaked siren of 'em all? Sridevi was at her sensuous best in Kaate nahin kat te... (Mr India). Raveena Tandon made a splash in Tip tip barsa pani... (Mohra), and Lara Dutta was mast in On the roof, in the rain... (Masti). Among the golden oldies, bheegi bhaagi ladki Madhu Bala oozed oomph. But the award goes to wet-and-wild Zeenat Aman, who scorched the screen in Hai hai yeh majboori... (Roti Kapda aur Makaan) and Bheegi bheegi raaton mein... (Ajnabee).
Rain songs in Hindi movies are not always about pyar-mohabbat and saawan ki agan. Villagers welcomed the much-awaited monsoon with Hariyala saawan dhol bajaata aaya... in Do Bigha Zameen (1953). A heavy cloud cover excited the drought-affected people of Champaner in Lagaan (2001), and they sang Ghanan ghanan.... in anticipation of rain. However, their hopes were dashed by the deceptive clouds, which simply moved on. There was a playful ode to the saawan raja in the nursery-rhyme-like Ghode jaisi chaal... (Dil To Pagal Hai). And who can forget Rabba rabba meenh varsa... from Monsoon Wedding, sung with great gusto by Sukhwindra Singh?
Bollywood or Hollywood, it boils down to singin' and dancin' in the rain — in short, comin' alive in the rain. — V. J.