FUN WITH FASHION
Golden bond of love
Rajiv Bhatia
Gold and silver jewellery are glittering like never before on Rakshabandhan. Brothers' quest to give something unique to their sisters to fortify the bond of love, combined with all-time low price of gold, is making the gift all the more memorable.
No wonder, lockets, bangles-cum-bracelets, earrings and pendants have proved to be the perfect gift for this rakhi.
"Jewellery is always the in-thing," says Vipin Anand, owner of Rama Jewllery in Sector 35. "But the collection was never so dazzling," he adds. The cost of bangles-cum-bracelets and pendants range between Rs 7,000 and Rs 12,000.
"With Rakshabandhan just round the corner, brothers are also going in for silver pendants and lockets for their sisters," says Raman of The Jewels in Sector 11. "This time silver jewellery, stone jewellery with multi-colours and some fancy pendants are in trend. We have sold near about 100 silver jewellery sets this week alone."
"I will go for nice jewellery items for my sister as she loves to wear jewellery," says Sumit, a resident of Sector 44.
So, on this Rakhi, gift your sister something that is close to her heart and she will always remember you for it!
Sensual in sparkle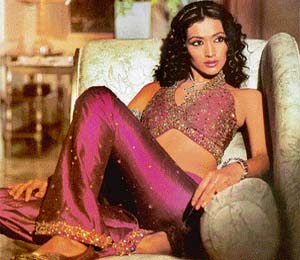 Looking good is something that occupies a major part of our energies and thought process. And so come those expensive cosmetics, branded jewellery and designer clothes. However, if your looks can be glammed up without blowing a fortune, wouldn't you rejoice? Well, you can stop reading and begin rejoicing as Indian designers are redefining prêt as spunk and sparkle.
Glamour-studded glitter, sparkling studs, loads of swarovskis and tons of mirror work— we can't get more flashy than that. The dazzle of these flashy embellishments is slightly maddening, in fact, blinding no less!
Shimming up the yesterday's plain-Jane looks are the exotic embellishments. Clinging delicately to those plunging necklines, riding hemlines and those delicate mulmuls and chanderis, these can make a woman feel sensual and very feminine, yet traditional. And for all those apsaras who wanna look sensual in sparkle, here are a few cues on what embellishments to go for.
Metal mad
No longer restricted to utensils and accessories, metals today are adorning feisty fabrics. And not just Gold and Silver. We have trimmings in copper and dull gold, which are a rage. And the shapes and patterns they are flaunting are mind boggling. Besides, hotfooting the city's markets are metals with Geeta Shlokas printed on them!
Colours galore
The brightest of colours play peak-a-boo on our garments, thanks to the coloured stone embellishments. Yes, they aren't something new to fashionistas, but are still very hot. Generally recommended for embellishing the V necklines of kurtis and borders of ghagras and skirts, they can be combined with golden thread embroidery for a regal effect.
Fashionably flashy
Mirrors definitely, have jumped out of the Moghul architecture, to shine and smile on our outfits. Tucked at those signature low necklines, these seem like a kingdom of sparkling and insane nymphets, longing to come out and play. "Sequin work has replaced the more flashy and spunky mirror work, that's ideal for semi-formal wear," informs designer Kavita Gautam of Mansi Boutique, Chandigarh.
Glamorous gold
jewellery may have been pushed backstage, in favour of precious stones, silver and diamond jewels, but Gold reigns supreme on outfits. Yes, Gold is the new bling in today's hot couture and seems just about everywhere. "Silver work is totally out and copper and dull gold work is ruling. Gold trimmings, Gota Patti work and golden thread embroidery is selling nowadays," informs Kavita.
Shelling out magic
Tassels have for long been hung with duppatas and skirts to sizzle their appeal. However, shells are being used nowadays for shooting up the garment's stylo meter. These shells flaunt different colours, as they are first dyed and then dappled with sparkle. Who says glittery little fantasies can't be seen? — AG