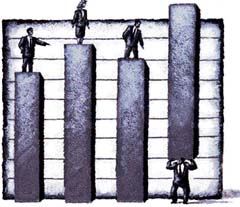 Chart out career graph in statistics
Sunit Dhawan
THANKS to the rapid strides in information technology and expansion of the means of communication, the present era can be termed as the age of information. The free flow of information has paved the way for easy access to data.

Bits & bytes
Dressed to skill
Chartered accountants to get corporate look
A dress code for practising chartered accountants will be out by the end of this month with the Institute of Chartered Accountants of India giving finishing touches to the recommendatory proposal to give its professionals a corporate look and don a new brand identity.

Careercature
Sandeep Joshi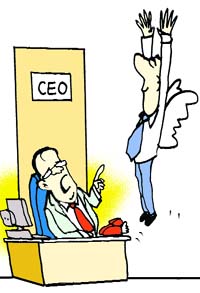 Come down. Don't take these motivational speeches so seriously.
KU launches new communication courses
In order to cater to some of the emerging manpower requirements in the fields of communication and media, the Institute of Mass Communication and Media Technology, Kurukshetra University, has launched some new courses.

IIT alumni global meet in Dec
President A.P.J. Abdul Kalam will inaugurate a three-day IIT Alumni Global conference in Mumbai later this year. The conference will be held from December 23 this year, and is expected to draw about 5,000 participants from across the globe, Chairman of the IIT Alumni 2006 Global Conference Ashank Desai said recently.

Smart Skills
CBI calling
Usha Albuquerque
Whether it is the Mumbai blasts, the Volcker Report or the much-flogged Bofors case, the Central Bureau of Investigation (CBI ) is on call, and very much in the news. As the premier investigating police agency, the CBI has a major role to play in preserving the integrity of the country and in ensuring the health of the national economy.

Career Hotline
Take stock of options
Pervin Malhotra
Q I have done M.Com from Punjabi University, and am doing MBA from IGNOU. I want to work with a stock exchange. Please tell me if any specific course is required for it and from where to pursue it? Is there any such course through distance learning? Also, guide me about the universities offering M. Phil in commerce through distance education. Since I am registered with IGNOU, can I pursue M. Phil from any other university?