THIS ABOVE ALL
Aam aadmi is better off today
Khushwant Singh

Prime Minister Manmohan Singh has belied forecasts of astrologers and political pundits by wielding power for more than two years: they had forecast he would be toppled within a few months. Day after day, doomsayers, soothsayers proclaim he won't last very long; he seems to be as firmly in the saddle as he was on the day he took over. On Independence Day, let us ponder over the way he has governed the country bearing in mind that he heads a coalition government and is constantly under pressure from his allies, including the President of the Congress, Sonia Gandhi.
He has no illusions about having a geographical political base; nevertheless he commands the respect of all educated Indians for his academic achievements, experience of running financial institutions and the second most important ministry of the Central Government with unquestioned efficiency. Most of all they respect him for his integrity and humility. He is never known to have lost his temper, spoken down to anybody nor ever shown favours to relations or friends.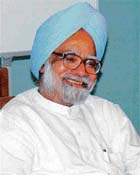 Manmohan Singh has not appointed a single friend to an important government post. This cannot be said about a single Prime Minister of the many we have had since Independence.
Besides his wife Gursharan Kaur, who has to discharge her duties as the wife of the Prime Minister, no other member of his family has ever been known to throw his or her weight about. He has not appointed a single friend to an important government post. This cannot be said about a single Prime Minister of the many we have had since Independence. Everyone of them promoted sons, daughters, sons-in-law, brothers, brothers-in-law, women friends, men friends, cronies or someone they wanted to oblige. For that matter no chief minister, past or present, nor any important political leader can be absolved of the charge of indulging in kunba prasti, and favouritism. That by itself makes Manmohan Singh unique and worthy of respect.
Having examined the credentials of the leader, let us examine how the country is faring under his leadership. There is still a lot of poverty in the country, in some states impoverished peasants under debt take their own lives; millions of educated cannot find jobs; there are more religious fanatics spouting hate; there is more corruption in all walks of life than ever before. However, also see the brighter side of life; there are more cars and buses on the roads, roads are in better shape than before; there are more trains running faster and giving better service to passengers; there are more people flying to their destinations, more shopping malls and more shoppers with more money to spend on food, drinks, clothes, gadgets like cellphones, watches and trinkets. You get a feeling that they are earning more, spending more. India may not be as shining as BJP netas claimed before they lost the polls but surely the aam aadmi is better off than ever before. I wish my readers a Happy Swatantrata Divas.
Beyond borders
Despite three wars fought between us and Pakistan; despite misunderstandings on incidents like recent bomb blasts in Mumbai trains, personal relations between people have not soured. On the contrary, they long to renew friendships.
A recent example is one of Jai Dev Hassija who came to see me for my comments on his books Yadon Kee Parchaian & Sachaian Jeevan Kee. He told me of his visit of his home town Jatoi near Multan.
Besides meeting many old friends, he met the grandson of Sardar Nasrullah Khan. Nasrullah Khan had proved himself to be a messiah for the Alipur tehsil. He had saved the entire Hindu-Sikh population of the tehsil and surrounding villages against Muslim goondas thirsting for the blood of non-Muslims fleeing to India. His gunmen not only patrolled the tehsil but he also provided shelter to Hindus and Sikhs at night. The inhabitants of the tehsil lauded his efforts by placing a gold mukut on his head. The detailed account of the Alipur tehsil have been recorded in the book Yadein Hee Yadein by Dr Satya Dev Choudhary.
This elder son of Sardar Nasrullah Khan, Sardar Nazar Mohammad Khan came with many friends to India in 1992 to meet Jatoiwalas in Ganaur and Sonepat. People of the Alipur biradari welcomed him with open arms. After this on January 23, 2006, his son Sardar Abdul Qayoom Khan visited Delhi and invited his hosts to visit Jatoi.
Jai Dev Hassija and his business partner, Des Raj Arya, visited their home town in June 2006. Sardar Abdul Qayoom Khan reciprocated and said "Sadian tey akhaan thhak gian tuhadee intzaar wichch (our eyes have tired of awaiting your arrival) and recited:
Aap kya aaye ghar hua roshan
Haasil-e-zindagi yeh eik gharee
Muddaton ek suroor rehta hai
Yeh inaayat kabhi, kabhi hee sahee
(You came and our homes were lit up
As if this was the moment we waited for
For ages this longing remains
This blessing may come again and again.)
The elusive koel
Early in May when mango trees came into flower, I complained that I had not heard the koel's call. According to legend, they should be at their loudest at the onset of summer. Many people from different parts of the country wrote to me saying they had not heard them either. Just to prove my gloomy forecast of their disappearance wrong, they are making up for lost time. As usual around 4 am when I opened my windows it was pitch dark and I heard koels calling. It was early July. Other birds, including spotted owlets, were still asleep and crows who rear koels offsprings had not started cawing, koels were in full-throated song. I wanted to ask the one hidden behind mango leaves: "The world sleeps, why are you calling at this unearthy hour? Is there another koel up listening to you? They are meant to be silent during the winter months, but I have heard them around midnight in December and January — not full-throated but recognisable as koels. Can you explain their strange behaviour?
In short
A college class was told they had to write a short story in as few words as possible. The instructions were: The short story had to contain the following three things: religion, sexuality, mystery. The one chosen as the best ran as follows: "Good God, I'm pregnant; I wonder who did it."
(Contributed by Vipin Bucksey, New Delhi)