AUDIOSCAN
Divine poetry
Rumi: Love At Its Zenith (Mystica Music)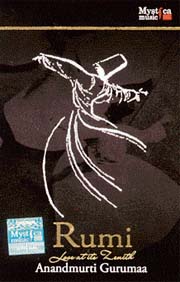 Sufi poetry is suffused with devotion and love of the highest order. And among Sufis, Rumiís name is highly revered. It is a pity that not many get to hear him here because of the language problem.
Even in translation, it is so very powerful, as proved by this album sung by Anandmurti Gurumaa. She only recites Rumi in Hindi to the accompaniment of appropriate music, and the words hit you right there in the solar plexus. As Gurumaa herself says in the beginning, if Rumiís poetry does not move you, it will only mean that you donít have a heart.
Hazrat Jalaluddin Rumi is one of the great spiritual masters and poetic geniuses and was the founder of the Mawlawi Sufi order.
He was born in Wakhsh (Tajikistan) on September 30, 1207, to a family of learned theologians. Escaping the Mongol invasion and destruction, Rumi and his family travelled extensively in Muslim lands. When his father Bahaduddin Valad passed away, Rumi succeeded his father in 1231 as professor in religious sciences. At 24, Rumi was already an accomplished scholar in religious and positive sciences.
Rumi is the author of a six-volume didactic epic work, the Mathnawi, and discourses, Fihi ma Fihi, written to introduce his disciples into metaphysics.
Absolute love of God is the thread running through Rumiís poetry. His influence on thought, literature and all forms of aesthetic expression in the world of Islam is phenomenal. Rumi died on December 17, 1273.
All this universal love is fully reflected in this unusual album, made special by the Sufi inclinations of the singer and also the use of Sufisí flute Ney by Kanchman Babbar. It has four music tracks, Ishq Ka Khanjar, Iltaja, Justaju and Kaun Hun Main, symbolising the four moods of the divine lover.
Yun Hota Toh Kya Hota (Times Music)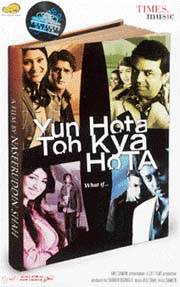 The film is the directorial debut of established actor Naseeruddin Shah. So a lot has to be offbeat. Music is one of them. There are only two original songs in the film. All the others are adaptations.
Composer Viju Shah has placed his bets on Ek Baar Jaana America that figures twice, first in the voice of Madhushree, Javed Ali, Kirti Sagatia and Devchand Gadhvi and then those of Paresh Rawal, Joi Barua, Kirti Sagatia and Devchand Gadhvi.
Besides this there is only the title song rendered by Sunidhi Chauhan and Kunal Ganjawala, and instrumental dance music featuring veteran musicians Tushar Parte (acoustic guitar) and Shyam Raj (tenor saxophone).
Now since this much is not enough to make a full-fledged album, there are five "bonus" tracks. These are Pyar Hai rendered by Sowmya Rao, Yaadon Mein (Shreya Ghoshal and Shaan) from the film Paisa Vasool, cult Gujarati classic Odhni Odhae in a remix done by DJ Suketu, Tu by Kunal Ganjawala from the film Mumbai Matinee and Man Ke Darpan Mein by fusion band OM.
ó ASC