COLUMNS



THIS ABOVE ALL

SIGHT AND SOUND

GOOD MOTORING

AUDIO SCAN

MUSIC ZONE

PUNJABI ANTENNA

WEBSIDE HUMOUR

FOR CHILDREN



CROSSWORD

RHYME TIME

ROOTS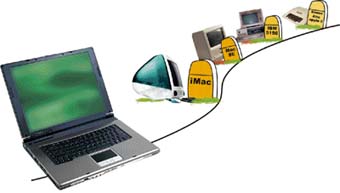 People's Choice
As a one-year-old in 1982, it was declared the 'Person of the Year' by Time magazine. Today, as it completes 25 years, the Personal Computer can boast of turning the world around and impacting lives as none before.
Roopinder Singh scrolls down the eventful years of the smart machine, which refuses to slacken its drive — Illustration by Gaurav Sood
'Our mission is giving loans to the poor'
Vikram Akula, CEO of India's fastest growing microfinance institution, speaks to
Ramesh Kandula in Hyderabad about his poverty alleviation plan
He has been named by Time magazine as one of 'The People Who Shape Our World' for 2006. Vikram Akula, the Founder and CEO of SKS Microfinance, one of the world's fastest growing microfinance institutions, is not resting on his laurels. The Hyderabad-based social entrepreneur wants to make a difference to the lives of seven lakh women by helping them become economically self-reliant by March next.
Harry Potter is stinking rich
Looking like Harry Potter can certainly be a blessing, especially if you're Daniel Radcliffe, for thanks to the boy wizard the actor not only has a huge fan following all around the world, but has also become the UK's highest paid teen. The 17-year-old star not only managed to conjure up almost six million pounds in earnings in 2005, but is also about to pull in a whopping eight million pounds more when he films the next movie Harry Potter and The Order of the Phoenix.