stamped impressions
A fair portrayal of women
Reeta Sharma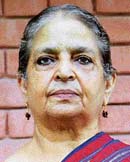 Writer of substance: Indu Bali
I first met Dr Indu Bali sometime in 1977-78 at her residence in Sector 16, Chandigarh. She and her husband, a chief engineer, lived in a government bungalow with a magnificent green cover. The sitting room, which was tastefully decorated, was full of writers, who had gathered to attend a meeting of Abhiviakti. My eyes instead of focusing on them travelled to the elegant decor of the room.
Soon Indu Bali entered the room, smilingly. I had never seen her before. But to me she appeared like a character straight from Sharat Chandraís or Shivaniís novels. She was wearing a white sari with a red border and sported a big red bindi. Her hair was tied in a traditional round bun.
When I met her she was already an established writer of stories in Hindi and was working as a lecturer. An eminent educationist, she was assigned the task of laying the foundation of Government College, SAS Nagar, in 1984. Though for the next five years she immersed herself in setting up this institution, she still took out time to write short stories and play her part as a perfect wife.
Indu Bali gives the entire credit for her personality to her husband. To my mind she represents the generation that respected life and marriage with blind devotion. In return, people of this generation also experienced contentment and ultimate faith in each other.
She has written nearly 20 books, including three novels, and received almost an equal number of awards. She has done PhD under the guidance of Dr Hazari Prasad Divedi.
Indu Baliís latest book Maano Na Maano is her 12th collection of short stories. Like her other writings, this collection too largely centres on women. Her own convictions get reflected in her works, as most of her women characters are portrayed as strong-willed and with values that may sound unreal in todayís world.
For instance, the heroine Tarlika in the story, Shesh Prashan, takes the decision of leaving her husband Shashank on hearing a conversation that he was planning to marry another woman who was rich and beautiful. Even though Tarlika loved him immensely yet she could not bear this insult. Hence, she decides to walk away to keep her self-respect intact.
The majority of her characters in her stories represent the upper middle class who lead an honest life. Her characters, in fact, appear to be from her own world.
Most of her stories in her latest book deal with women of extraordinary strength. So Sudhi of Maano Na Maano despite being handicapped is a woman of substance. It was her will and determination that made her grow out of her physical handicap.
Dr Kuntal Megh, a renowned signature in literature, in his foreword to Maano Na Maano has mentioned that Indu Bali in her portrayals of women is like a witness, friend and protector. Also, her characters are both idealistic as well as practical.
Dr Virender Mehendiratta, yet another renowned writer of Hindi literature who has known Indu Bali for over three decades, says: "Apart from being a very warm human being, it is her consistency in writing that is extremely admirable. The dimensions of upper middle class women have been so intricately dealt with by her that it gives you an opportunity to peep into the beliefs by which she has lived. She is a woman of substance who has faced many a challenge with grit, dignity and grace. All her colleagues and friends know that she is a meticulous worker who never postpones anything for tomorrow. Also, she excels in the art of building relationships with fellow human beings. Only such a person can write such sensitive literature."
Indu Baliís present book speaks volumes about her inner strength. Two years ago she lost her husband who had always held a torch for her. His death shattered her world of peace, warmth, contentment and togetherness, but she emerged from the void and penned Maano Na Maano. And she did not allow her personal grief to seep into this book. The stories deal with women who are stepping into the 21st century without shunning the traditional Indian value system. They zealously guard their self-respect and do not hesitate to take tough decisions and stand by them ó just like Indu Bali has done all her life.