Pirate tales create waves
Louise Jury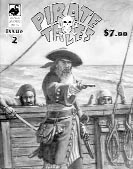 Pirates are swashing their buckle at the cinema box office and now they are taking over in bookstores. There has been an outbreak of piracy in children's fiction too. Vampirates: Tide of Terror by Justin Somper has just entered the children's books chart at number 14 after eager stores put it out on the shelves in advance of its publication date.
Pirateology by Dugald Steer, which purports to consist of documents found in a sea chest recounting the hunt for a female pirate Arabella Drummond, came out earlier this month and immediately stormed the children's top 10.
A survey of bookshop shelves reveals a clutch of similar titles from How to Be a Pirate by Cressida Cowell to Judy Brown's Pirate Princesses, Pandora and Portia.Graham Marks, children's editor for Publishing News, said pirates, like dinosaurs, had long been a staple of non-fiction for children.
But not since Captain Hook in JM Barrie's Peter Pan — and Long John Silver in Robert Louis Stevenson's Treasure Island before that — had there been such a choice of pirate heroes in literature.
"There has to be a certain element of serendipity because books take so long to make. Publishers couldn't have got so much out on the back of a movie a year ago," he said.
Part of the appeal was that both boys and girls love pirates, not least because there were female pirates, too, though they mainly operated in disguise. "There really were some very bad ladies out there," Marks said. One of the key characters in Vampirates, a female pirate Cheng-li is based on the true story of a bloodthirsty 17th century Chinese woman Cheng I Sao.
Justin Somper, whose first Vampirates book, Demons of the Ocean, was published last summer, had the idea - of a ship of piratical vampires - five years before and gave up his full-time job to pursue it.
"That's the extraordinary thing. I had my big idea quite a way ahead of the film." He was then very nervous about viewing the movie but now believes it is helpful.
"People are very excited by pirates at the moment. The fact that all the major book chains are doing pirate promotions and my book is in there is great." Dugald Steer, by contrast, admitted that his pirateology book, the fourth in a series of "ology" titles, was produced with one eye on the movie — and released to coincide with it.
"It is a book we would have done anyway, but I did check about a year and a half ago and noted with interest that Pirates of the Caribbean 2 was due out around (now)," he said. "Many kids I speak to are mad keen on pirates now even if they're far too young to see the film. There's a big buzz about pirates." The Pirates of the Caribbean movies, starring Johnny Depp and Keira Knightley, were inspired by a Disney ride of the same title.
After the success of the first, two follow-ups were filmed back to back. And the first of those sequels, Dead Man's Chest, has proved a recordbreaker, taking $132 million in America in its first three days, the biggest opening in film history.
It scored the biggest single day gross ever and was the fastest to hit the $100 million mark, helped by opening weekend takings of $25 million in the UK, $9 million in Korea and $8.1 million in Australia.
Its influence is stretching way beyond the multiplexes. The Globe theatre in London has its own pirates story in Under the Black Flag by Simon Bent. And the Watershed centre in Bristol has programmed a series of pirate films for August including Treasure Island and The Sea Hawk starring Errol Flynn.
— By arrangement with The Independent